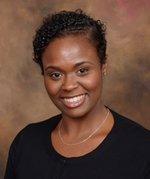 Diamond
Goodwin, MD, MHS
Resident Physician - PGY 1
Main Address
UCSF OB/GYN&RS Residency Program
550 16th Street, 7th Floor
OBGYN, Mailstop 0132
San Francisco, CA 94143-0132
| Location | Office Phone | Fax |
| --- | --- | --- |
| Mission Bay | (415) 476 - 5192 | (415) 476 - 1811 |
| Mount Zion | (415) 353 - 9240 | (415) 353 - 9509 |
| San Francisco General Hospital | (415) 206 - 3061 | (415) 206 - 3112 |
Research/Clinical Interests:  Reproductive justice, minimally invasive surgery, culturally-conscious contraceptive counseling, underserved and vulnerable populations.
Education/Training
Year

Institution
Degree
Field of Study
current
University of California, San Francisco
Residency
Obstetrics, Gynecology and Reproductive Sciences
2017
Meharry Medical College,Nashville, TN
MD
Medicine
2013
Meharry Medical College, School of Graduate Studies,Nashville, TN
MHS
Biomedical Science
2010
Spelman College,Atlanta, GA
BA
Sociology
Research & Professional Experience
| Year |   |
| --- | --- |
| 2015 | Robert Wood Johnson Foundation, Center for Health Policy at Meharry Medical College- Health Policy Scholar |
| 2014 | Jules Stein Eye Institute, Retinopathy of Prematurity |
| 2014 | Teaching Assistant, Department of Anatomy and Physiology |
| 2011 | University of California, Davis Pre-Medical Surgical internship, Mentorship, and Research Program |
| 2010 | Department of Sociology & Anthropology at Spelman College: Senior Thesis: Scripts and Stereotypes: The Performance and Construction of Black Masculinity in College-Aged Males |
Achievements & Recognition
Year
Major Honors
2016
Henry & Helen Beckett Scholarship - Sarah M. Ferguson Endowed Scholarship
2014
The Blue Cross Blue Shield of Tennessee Scholarship
Presentations
Meharry Medical College, 59th Annual Student Research Day: Incidence of Treatment-Requiring Retinopathy of Prematurity in Hispanic vs. Non-Hispanic Infants
Publications
Goodwin, D. M..Capsular Block Syndrome Following Combined Cataract and Vitrectomy Surgery in a Patient With Intraocular Gas. Ophthalmic Surgery, Lasers and Imagine Retina, Vol 46(9), p. 980-982. Doi: 10.3928/23258160-20151008-14.