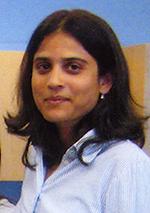 Aditi
Bhargava, PhD
Professor in Residence
Center for Reproductive Sciences
Contact Information
Mailing Address:
513 Parnassus Ave, Box 0556,
San Francisco, CA 94143
Office:
(415) 502-8453
Lab:

(415) 476-3336
Research Interests
The overarching goal of our research is to understand the molecular and cellular mechanisms by which corticotropin-releasing factor (CRF) family of neuropeptides and their G-protein coupled receptors mediate effect of stress on physiology, including changes at cellular level.
An estimated 57 million people in the US alone suffer from stress-related disorders. Twice as many women as men suffer from these conditions, which include autoimmune disorders, anxiety and depression. The same disease has gender-specific outcomes, but the cellular basis for these gender differences is not understood. The CRF system consists of the neuropeptides CRF and Urocortins 1-3 (Ucn1-3), and two G protein-coupled receptors (GPCRs), CRF1 and CRF2.The CRF family coordinates stress responses by acting both as a hormone to initiate the hypothalamic-pituitary-adrenal axis and as a neuromodulator in the brain and the periphery. Our research is focused on elucidating the precise role of the CRF system in mediating sex-specific cellular signaling and stress responses.
With acute or prolonged stress, CRF responses in the brain are more likely to shift into a dysregulated state in females. Others and we have shown that increased Ucn1 expression correlates with inflammatory resolution and protects against inducible inflammation. In contrast, CRFR2 dysfunction exacerbates inflammation and delays healing. Despite the preponderance of stress-related diseases in females, use of female animal subjects is perpetually lacking gender-specific molecular pathogenesis in disease responses remain vastly understudied.
The effect of stress is nowhere as profound as it is on the health of an unborn child and that of the pregnant mother. Besides being a major stress hormone, CRF also serves as the placental clock in most animals and that during pregnancy its levels steadily increase to go up over 10,000-fold during human labor. However, the role of CRF system in human pregnancy and pre-natal health remains poorly defined.
The work in my lab is characterized by its use of male and female animals and side-by-side comparison of cellular components that determine sex-specific responses. We use a combination of technically challenging cell biology approaches such as mass spectrometry, electron microscopy, and deep sequencing to identify and localize cellular interacting partners in tissue samples obtained from in vivo animal models of human disease and patient tissues.
Education/Training
| | | | |
| --- | --- | --- | --- |
| 1986 | University of Rajasthan, Jaipur, India | B.Sc. | Zoology |
| 1988 | University of Pune, India | M.Sc. | Molecular Biology |
| 1995 | University of Pune, India | Ph.D. | Molecular Biology |
Achievements & Recognition
| | |
| --- | --- |
| 2011 | T1 Translational Catalyst Award from CTSI, UCSF |
| 2012 | Inducted Fellow of the American Gastroenterological Association (AGAF) |
| 2012 | NIH/NIDDK Member Study Section (CIMG), Temporary member |
| 2012 | Organized Health Disparities in Endocrinology Summit, The Endocrine Society |
| 2012-2015 | Member, Research Affairs Core Committee (RACC), The Endocrine Society |
| 2013-2016 | Member, Breakthroughs in Bioscience Subcommittee, FASEB |
| 2013 | Nominated for the "2014 Ernest Oppenheimer Laureate Award" |
| 2013 | Member, CSR IAM Study section ZRG1 IFCN-Z (02) |
| 2014 | Nominated for the "2015 Weitzman Award", The Endocrine Society |
| 2014 | Member, NIH/CSR DKUS Special Emphasis Panel |
| 2014 | Organized and Moderated, "Inaugural Translational Research Workshop" at ICE/ENDO 2014 |
| 2015 | Chaired and Organized, "Translational Research Workshop" at ICE/ENDO |
| 2015 | Member, NIH/ CSR Study section ZRG1 IFCN-Z (02) |
| 2015 | Member, NIH/CSR Study Section ZRG1 IFCN- B-04M (October) |
Selected Publications
Gong K, Kung L-H, Magni G, Bhargava A, Jasmin L. 2014. Increased response to glutamate in small diameter dorsal root ganglion neurons after sciatic nerve injury. PloS One; 2014. Apr 18;9(4):e95491. PMID: 24748330; PMCID: PMC3991716
Mahajan S, Liao M, Barkan, P, Takahashi K, Bhargava A. 2014. Urocortin 3 expression at baseline and during inflammation in the colon: Corticotropin releasing factor receptors cross-talk. Peptides; 2014 Apr;54:58-66. PMID: 24462512; PMCID: PMC4006935
Kido M, Buddenkotte J, Kempkes C, Ikoma A, Cevikbas F, Akiyama T, Nunes F, Seeliger S, Hasdemir B, Mess C, Buhl T, Sulk M, Ulrich F, Metze D, Bunnett NW, Bhargava A, Carstens E, Furue M, Steinhoff M. 2014. Neural peptidase endothelin-coverting enzyme 1 regulates endothelin-1-induced pruritis. Journal of Clinical Invesitgation; 2014; 124(6):2683-95. PMID: 24812665; PMCID: PMC4038561
Gong K, Bhargava A, Jasmin L. 2015. GluN2B NMDA receptor and excitatory amino acid transporter 3 are upregulated in primary sensory neurons after seven days of morphine administration in rats: implication for opiate-induced hyperalgesia. Pain. PMID: 26335908
Liu S, Chang J, Long N, Beckwith K, Talhouarne G, Brokks JJ, Qu M-H, Ren W, Wood JD, Cooper S, Bhargava A. 2015. Endogenous CRF in rat large intestine mediates motor and secretory responses to stress. Neurogastroenterology and Motility Nov 26. PMID: 26611915