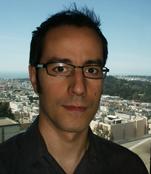 Miguel
Ramalho-Santos, PhD
Contact Information
Mailing Address:

35 Medical Center Way, Box 0667
Dolby Regenerative Medicine Bldg, Pod B
Rm 1016
San Francisco, CA 94143-0525

Academic Phone:
415/502-8534
Academic Fax:
415/514-2346
Research/Clinical Interests
Embryonic stem cells reside in the early mammalian embryo and have the ability to give rise to all cell types of the body. For this reason they are called pluripotent. Our lab is interested in understanding the genetic regulation of pluripotency. By identifying the molecular mechanisms that regulate pluripotency, two very important avenues of research will be open:
1. It may be possible to tailor the differentiation of embryonic stem cells to particular cell types of choice that are need by patients, such as insulin-producing beta-cells in the case of diabetes;
2. It may also be possible to reprogram cells from patients to become pluripotent like embryonic stem cells. This will allow the generation of patient-matched embryonic stem cells that would not be rejected upon transplantation.
My lab is pursuing projects in the two avenues above. We are investigating how the transcriptional program for pluripotency is maintained in pluripotent cells and how it can be revived in differentiated cells. We study the mechanisms that regulate pluripotency in embryonic stem cells and the embryonic germline, which is also pluripotent. We use techniques such as mouse genetics and embryology, microarrays, bioinformatics, mouse and human embryonic stem cell manipulation and RNA interference.
Other interests include fertility preservation for cancer patients.
Education/Training
| Year | Institution & Location | Degree | Field of Study |
| --- | --- | --- | --- |
| 1995 | University of Coimbra, Portugal | B.S. | Biology |
| 1997 | University of Coimbra, Portugal | M.Sc. | Cellular & Molecular Biology |
| 2002 | Harvard University, Cambridge, MA | Ph.D. | Biochemistry |
| 2003 | Harvard University, Cambridge, MA | Postdoc | Developmental Biology |
Achievements & Recognition
| Year | Major Honors |
| --- | --- |
| 1996 | Short-Term Fellowship, North Atlantic Treaty Organization |
| 1995-97 | Master's Fellowship, Ministry of Science, Portugal |
| 1997-2001 | Ph.D. Fellowship, Ministry of Science, Portugal |
| 2003 | Human Frontier Science Program, Post-doctoral Fellowship (declined |