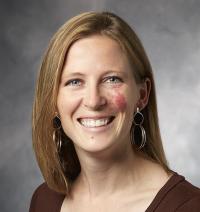 Nicole
Marjon, MD, PhD
Clinical Fellow, Gynecologic Oncology
Research/Clinical Interests:
Dr. Marjon's research interests include the role of the immune system in the development of gynecologic malignancies and co-opting the immune system to treat women with gynecologic malignancies, G protein-coupled receptor signaling.

Education/Training
2005

The University of New Mexico,
Albuquerque, NM

BS

Biochemistry

2015

The University of New Mexico,
Albuquerque, NM

MD, PhD

Medicine

2019

Stanford University Hospitals and Clinics, Stanford, CA

Resident Physician

Obstetrics and Gynecology

Anticipated 2022

University of California, San Francisco

Fellowship

Gynecologic Oncology
Achievements & Recognition
2019 Outstanding Resident in gynecologic Oncology
2016 Intern Medical Student Teaching Award, Stanford Obstetrics and Gynecology
2009-2013 Department of Defense Breast Cancer Research Program of the Office of the Congressionally Directed Medical Research Programs Predoctoral Traineeship Award
(3 year Predoctoral Grant)
2008 T32 Cardiovascular and Metabolic Disease Fellow, University of New Mexico
Selected Publications
Renz M, Marjon NA, Devereaux K, Folkins A, Karam A. Immediate intraoperative sentinel lymph node analysis by frozen section is predictive of lymph node metastasis in endometrial cancer. PMID 30687881. Journal of Robotic Surgery. 2019.

MacLaughlan David S, Marjon N, English D, Purington N, Han SS, Dizon DS. Palliative total pelvic exenteration for gynecologic cancers: A cross-sectional study of society of gynecologic oncology members. PMID 30371565. International Journal of Gynecologic Cancer. 2018

Wagener, BM, Marjon NA, Prossnitz ER. Regulation of N-Formyl Peptide Receptor Signaling and Trafficking by Arrestin-Src Kinase Interaction. PMID 26788723. PLoS One. 2016.
Higuchi T, Flies DB, Marjon NA, Mantia-Smaldone G, Ronner L, Gimotty PA, Adams SF. CTLA-4 Blockage Synergizes Therapeutically with PARP Inhibition in BRCA-1-Deficient Ovarian Cancer. PMID 26138335. Cancer Immunology Research. 2014.

Marjon NA, Hu C, Hathaway HJ, Prossnitz ER. G protein-coupled estrogen receptor (GPER) Regulates Mammary Tumorigenesis and Metastasis. PMID 25030371. Molecular Cancer Research. 2014.

Wagener BM, Marjon NA, Revankar CM, Prossnitz ER. Adaptor protein-2 interaction with arrestin regulates GPCR recycling and apoptosis. PMID 19602204. Traffic. 2009.