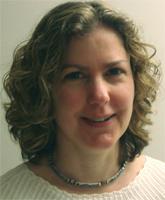 Katy
Williams, PhD
Contact Information
Mailing Address:
Clinical Sciences C-18, Box 0556
San Francisco, CA 94143
Academic Phone:
415/502-7502
Academic Fax:
415/476-5623
Research/Clinical Interests:
My research is focused on developing biology-directed mass spectrometry strategies for protein biomarker discovery and verification. These strategies encompass peptide enrichment and fractionation techniques, mass spectrometry methodology, and bioinformatics tools. Proteomics technologies have potential to be of great value in molecular medicine, and in my research I am investigating changes in protein expression that occur in preeclampsia, cancer, and other disease processes. High quality, well annotated human biospecimens are critical for these proteomics projects and my research includes a program to investigate the pre-analytical variables that may affect biospecimen integrity. The assays developed through this work will be used to determine and define the effects of pre-analytical processing on banked biospecimens that are to be used for proteomic analyses.
Education/Training
| Year | Institution & Location | Degree | Field of Study |
| --- | --- | --- | --- |
| 1987 | Univ. of Illinois at Chicago | B.S. | Biological Sciences |
| 1994 | Univ. of Illinois at Chicago | PhD | Biological Sciences |
| 1997 | Argonne National Laboratory | Postdoc | Proteomics |
Achievements & Recognition
| Year | Major Honors |
| --- | --- |
| 1986 | National Science Foundation Fellowship Honorable Mention |
| 1987 | Phi Beta Kappa |
| 1987 | University Graduate Fellowship |
Selected Publications
Williams K, Chubb C, Huberman E, Giometti CS. Analysis of differential protein expression in normal and neoplastic human breast epithelial cell lines. Electrophoresis. 1998;19(2):333-43.
Williams KE, Carver TA, Miranda JJ, Kautiainen A, Vogel JS, Dingley K, et al. Attomole detection of in vivo protein targets of benzene in mice: evidence for a highly reactive metabolite. Mol Cell Proteomics. 2002;1(11):885-95.
Smith-Beckerman DM, Fung KW, Williams KE, Auersperg N, Godwin AK, Burlingame AL. Proteome changes in ovarian epithelial cells derived from women with BRCA1 mutations and family histories of cancer. Mol Cell Proteomics. 2005;4(2):156-68.
Dong M, Yang LL, Williams K, Fisher SJ, Hall SC, Biggin MD. A "tagless" strategy for identification of stable protein complexes genome-wide by multidimensional orthogonal chromatographic separation and iTRAQ reagent tracking. J Proteome Res. 2008;7(5):1836-49.
Fagerquist CK, Garbus BR, Williams KE, Bates AH, Boyle S, Harden LA. Web-based software for rapid "top-down" proteomic identification of protein biomarkers with implications for bacterial identification. Appl Environ Microbiol. 2009.