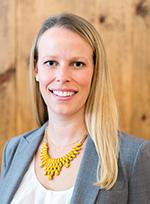 Martha
Noel, MD
Contact Information
Mailing Address:
499 Illinois, Sixth Floor, Box 0916,
San Francisco, CA 94158
Practice Phone:
415-353-3040
Dr. Noel's clinical and research interests include polycystic ovary syndrome, optimization of fertility treatment, and fertility preservation.
Education/Training
2002
Duke University, Durham, NC
B.S.
Biology
2009
Weill Cornell Medical College, New York, NY
M.D.
Medicine
2013
New York Presbyterian Hospital
Weill Cornell Medical Center, New York, NY
Residency
Obstetrics & Gynecology
2016
University of California, San Francisco, CA
Fellowship
Reproductive Endocrinology and Infertility
Achievements & Recognition
| | |
| --- | --- |
| 2009 | Sarah O'Laughlin Foley Prize in Clinical Medicine |
| 2009 | George Ladas Prize for Efficiency in Gynecology |
| 2006-2007 | Howard Hughes Medical Institute Research Scholar |
Selected Publications
Greenwood E, Noel M, Shinkai K, Kao CN, Pasch L, Cedars MI, Huddleston HG. Vigorous exercise is associated with improved outcomes in polycystic ovary syndrome independent of total exercise expenditure. Fertil Steril. Epub Nov 2015.
Noel M, Kao CN, Shinkai K, Pasch L, Cedars MI, Huddleston HG. Markers of insulin resistance predict metabolic syndrome in women with polycystic ovary syndrome. In submission.
Lowe J, Maller J, Pe'er I, Neale B, Salit J, Kenny E, Shea J, Burkhardt R, Smith J, Ji W, Noel M, Foo J, Blundell M, Skilling V, Garcia L, Sullivan M, Lee H, Labek A, Ferdowsian H, Auerbach S, Lifton R, Newton-Cheh C, Breslow J, Stoffel M, Daly M, Altshuler D, Friedman J. Genome-wide association studies in an isolated founder population from the Pacific island of Kosrae. PLoS Genetics. 5(2):e1000365. Epub Feb 2009.