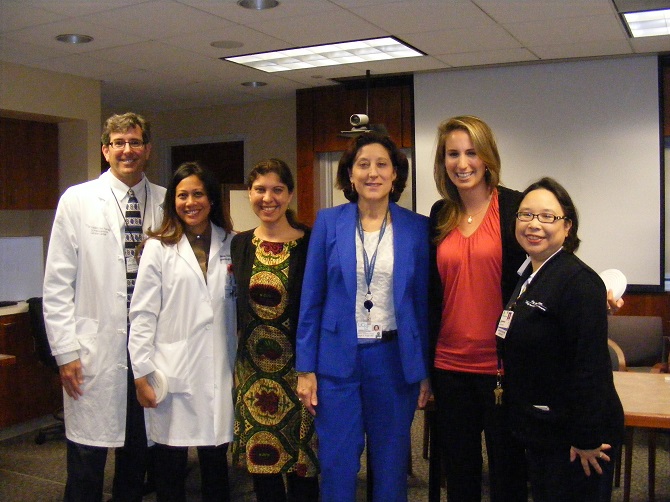 Left to right: Dr. Mike Rabow, Melissa Valdellon, Dr. Chloe Atreya, Dr. Hope Rugo, Jessica Erickson, Gayle Kojimoto
Melissa Valdellon, NP
Melissa Valdellon is a nurse practitioner with the gynecologic surgical oncology. She graduated with her Bachelor's of Science in Nursing from Rutgers University in New Brunswick, NJ and received her Master's of Science in Nursing at Thomas Jefferson University in Philadelphia, PA. She holds certification in Medical-Surgical nursing, Critical Care nursing, and as an Acute Care Nurse Practitioner. She primarily works on the Acute Care Surgical Unit at UCSF Mission Bay providing comprehensive care to women with gynecologic malignancies mostly in the inpatient setting. This includes post-operative management, chemotherapy, and symptom management. She works closely with OB/GYN residents by educating and training them with the focus on direct patient care. She was given the "Most Outstanding OB/GYN staff" award presented by the residents at their graduation banquet in 2013. She is also a recipient of the 2014 UCSF Mount Zion Symptom Management and Palliative Care Service Award.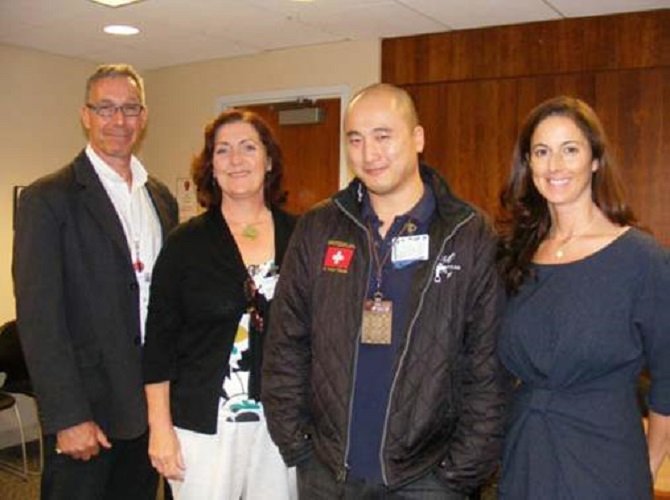 From Left to right: Michael Glover, Pauline Beggs, Jerry Chen, Kathleen Cavanaugh
Kathleen Cavanaugh, RN, MS, ANP-BC
Kathleen is a nurse practitioner in gynecologic oncology. She has a bachelor's degree in nursing and received her master's degree in nursing science at UCSF School of Nursing. She has interest and additional training in integrative medicine and takes a holistic approach to patient care. She has experience in the care of oncology patients and for 15 years she has managed patients undergoing chemotherapy. She is the recipient of numerous academic, research and patient care awards including the prestigious Ernest H. Rosenbaum, MD Symptom Management Service Commitment to Patient Care Award for her devotion to providing high-quality patient care. She follows patients during surgery, through treatment, and into survivorship. She co-leads several national clinic trials that investigate novel treatments for women with gynecologic malignancies.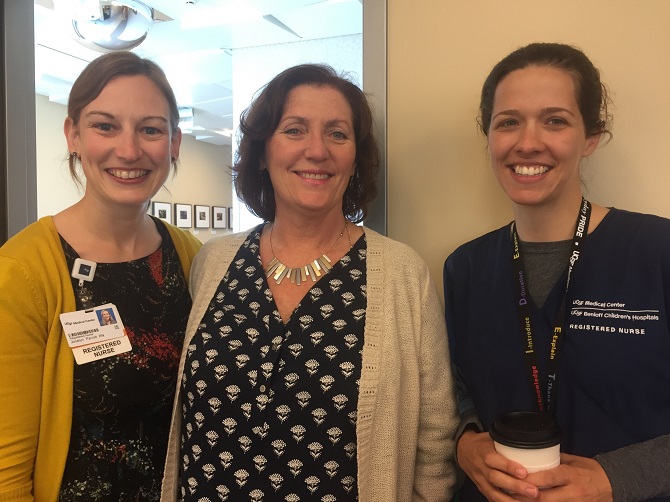 From left to right: Jocelyn Parrott, Pauline Beggs, Jennifer Brunger
Pauline Beggs, RN
Pauline Beggs is a registered nurse in gynecologic oncology at the UCSF Helen Diller Family Comprehensive Cancer Center, where her patients have valued her clinical expertise and warm demeanor for more than 10 years. Additionally, she is highly regarded for the calm, confident way that she works with her newly diagnosed patients and their families. Pauline also skillfully cares for her patients as they progress through treatment and she works with them to mitigate side effects. These skills and her 30 years of nursing experience have helped make her an integral member of the UCSF gynecologic oncology practice. Pauline received her nursing education in the United Kingdom and went on to complete postgraduate training in stress management. She is the recipient of the prestigious 2011 Ernest H. Rosenbaum, MD Symptom Management Service Commitment to Patient Care Award for her passionate devotion to providing exceptionally high-quality patient care. Additionally, she is a member of the American Holistic Nurses Association, which emphasizes treating the whole person and viewing healing as a partnership between a patient and their practitioner. She is also active in Imagery International and she has lectured around the country on the health and wellness benefits of guided imagery and stress management. Another one of Pauline's interests is patient education. Each year, she organizes and moderates the "Living with Gynecologic Cancer" events at UCSF. These popular programs raise awareness and bring support to her patients and the community. In addition, Pauline Beggs is one of the honorees of the prestigious the DAISY Award for Extraordinary Nurses in 2016. 
Jocelyn Parrott, RN, BSN, OCN
Jocelyn is a registered nurse in gynecologic surgical oncology in the outpatient setting. She holds a Bachelor of Science Degree in Dietetics from Miami University in Ohio and a Bachelor of Science in Nursing from Pace University in New York. Jocelyn started her Nursing career in oncology at Memorial Sloan-Kettering Cancer Center and has over eight years of experience working with oncology patients. She has maintained a certification in oncology as well as a chemotherapy and biotherapy provider card. She works primarily with patients triaging symptoms over the phone and participating in chemotherapy education. Jocelyn enjoys the opportunity to support and show compassion to her patients through the challenges of the cancer journey.
Jennifer Brunger, RN, BSN, OCN
Jenni is a registered nurse in our outpatient clinic. She has over 8 years of experience in gynecologic oncology and previously served as a Nurse Clinician/Clinical Instructor at UNC Chapel Hill. She completed her associate's degree in nursing at Tennessee State University and her bachelor's degree in nursing at Eastern Carolina University. She holds a certification in Oncology Nursing and has maintained chemotherapy/biotherapy provider card. She triages symptoms over the phone and provides comprehensive chemotherapy teaching. She enjoys delivering compassionate care to our patients and acting as a resource for patients and their families. Jenni is passionate about improving patient care and connecting patients with tools and information to empower them as they encounter challenging battles with gynecologic cancers.
Samantha Kahn
Sam is our practice manager. Sam managed the Gynecologic Oncology Practice, Orthopaedic Surgical Oncology, Head and Neck Surgical Oncology and Facial Plastic and Reconstructive Surgery at the UCSF Helen Diller Family Comprehensive Cancer Center. If you have some unresolved issues that required additional assistance, please feel free to reach out to Sam. She would be more than happy to assist you.
Janelle Pubols
Janelle is our administrative supervisor in the Gynecologic Oncology Practice. Janelle supports Sam to provide administrative assistance for our practice. 
Kelly Ngo
Kelly is our surgery scheduler in the Gynecologic Oncology practice. She has over 15 years experiences in surgery scheduling and referral management. Kelly supports Drs. Lee-may Chen, Edwin Alvarez and Yvonne Lin-Liu's practice.  Kelly speaks fluent Vietnamese and English. 
Priscilla Yup
Priscilla is our surgery scheduler. Priscilla is experienced in authorization and referral management and surgery scheduling. She is Drs. Stefanie Ueda and Jocelyn Chapman's practice assistant in the clinic. She helps with new patient referrals and scheduling surgeries. 
Andrew Phung
Andrew is our chemotherapy coordinator for the Gynecologic Oncology Practice at UCSF. He helps patients with chemotherapy and education scheduling. In addition, he helps obtaining nadir labs, getting authorizations for chemotherapy drugs, oral emetics and pain medication, processing disability paperwork, letter of excuse and other documents for patients.
Alejandra, Aguayo
Alejandra is the newest addition to our practice. Alejandra is our new patient coordinator. She helps scheduling new patients and getting records for our patients in the outpatient clinic. 
Shing Wen
Shing Wen is also a new employee in the Gynecologic Oncology Practice. Shing is our check out coordinator. She assists us in navigating resources, radiology referrals and securing appointments at the check out station for patients. 
Melissa Pond, MA
Melissa is our medical assisting supervisor for gynecologic oncology and head & neck surgery practice at UCSF. She was initially hired to help with the transition to the new Mission Bay campus and has been involved in creating systems and workflows for the new location. Melissa is from Boston, Massachusetts and moved to the Bay Area six years ago. She is honored to be a part of the prestigious Gyn Onc team and works hard every day to administer UCSF's excellent providers with outstanding medical assisting support. 
Caitlin Judson, MA
Caitlin is our medical assisting supervisor for the gynecologic oncology. Cailtin works closely with Sam and Melissa to provide support for our faculty and patients in our practice.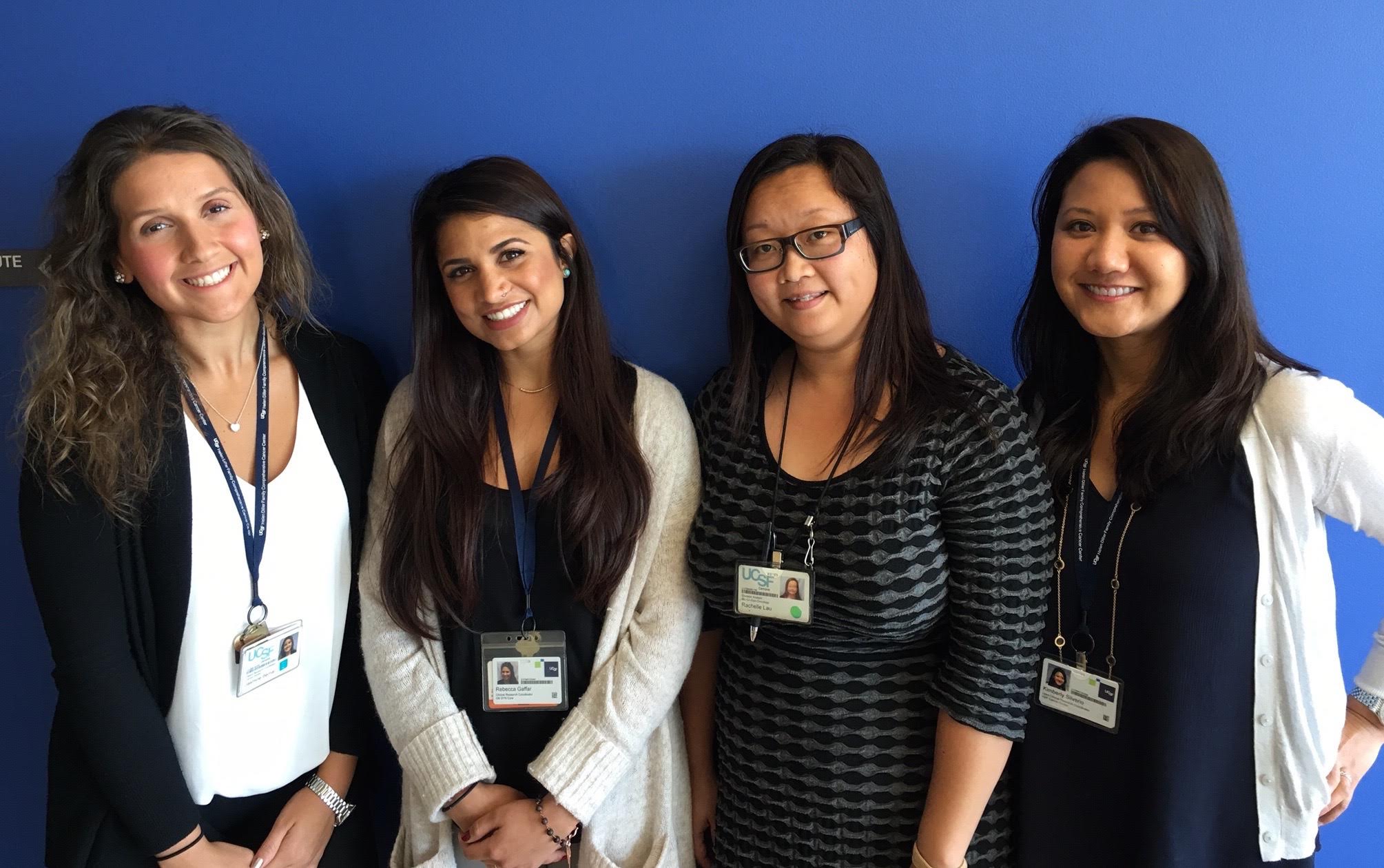 From left to right: Jasmine Bernal, Rebecca Gaffar, Rachelle Lau, Kimberly Silverio
Kimberly Silverio, M.S.
Kimberly is our protocol project manager/lead clinical research coordinator who joined the Gynecologic Oncology Team in 2014. She attended Rutgers University for her undergraduate degree in Biochemistry and Masters in Biomedical Sciences. She has a strong patient care background enhanced by her years at Memorial Sloan Kettering. She has co-authored papers in Stem Cell Biology. Her research interests include Cancer and Stem Cell Biology.
Jasmine Bernal, M.P.H
Jasmine joined the Gynecologic Oncology team at UCSF in 2015. She attended the University of San Francisco for her undergraduate degree in Biology with minors in Chemistry and Latin American Studies and Masters in Public Health. She is passionate about helping others and hopes to make a positive difference in many lives. She is excited to be a part of such an amazing team.
Rebecca Gaffar, B.A.
Rebecca is the newest addition to the clinical research team in Gynecologic Oncology. During the past year, Rebecca has been working in the academic office for our division while concurrently recruiting participants for another research study. Rebecca received her BA in Sociology from San Francisco State University in 2014 and during her time as an intern for faculty at SFSU's Health Equity Institute, she found her passion for research in women's health. Rebecca is eager to help the patients at UCSF and is dedicated to working with her team to improve the lives of women affected by gynecologic cancers.
Edward Elhauge, M.P.H
Edward earned his Bachelor's Degree in Physics and Mathematics from Carnegie Mellon University in Pittsburgh and his Master's Degree in Epidemiology and Biostatistics from the University of California, Berkeley.
Edward has extensive experience in Biostatistics, epidemiology and Bioinformatics. He is passionate about public health and computational-biology.
Theresa Abts, M.S.W., L.C.S.W.
Theresa Abts serves as the chief clinical social worker at the Helen Diller Comprehensive Cancer Center at UCSF Medical Center. Prior to joining UCSF, she was the director of Social Work Services at Doctors Medical Center in San Pablo, Calif. Abts has worked for many years in hospice care, cancer care, palliative care, and geriatrics. She earned a master's degree in social work from California State University, Long Beach and is a licensed clinical social worker.