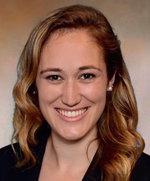 Pamela
Peters, MD
Resident Physician - PGY 1
Main Address
UCSF OB/GYN&RS Residency Program
550 16th Street, 7th Floor
OBGYN, Mailstop 0132
San Francisco, CA 94143-0132
| Location | Office Phone | Fax |
| --- | --- | --- |
| Mission Bay | (415) 476 - 5192 | (415) 476 - 1811 |
| Mount Zion | (415) 353 - 9240 | (415) 353 - 9509 |
| San Francisco General Hospital | (415) 206 - 3061 | (415) 206 - 3112 |
Research/Clinical Interests: Ovarian cancer, HPV & cervical cancer, palliative care, health disparities, reproductive justice, single payer healthcare systems
Education/Training
| Year | Institution | Degree | Field of Study |
| --- | --- | --- | --- |
| current | University of California, San Francisco | Residency | Obstetrics, Gynecology and Reproductive Sciences |
| 2017 | The University of Chicago Pritzker School of Medicine – Chicago, IL | MD | Medicine |
| 2013 | Washington University in St. Louis – St. Louis, MO | BA | Biology: Neuroscience and History |
Research & Professional Experience
| Year |   |
| --- | --- |
| 2014-2017 | Researcher at The University of Chicago: Department of Obstetrics and Gynecology, Section of Gynecologic Oncology – the role of the microenvironment in ovarian cancer chemosensitivity and disease progression; genetic variants in hereditary breast and ovarian cancer |
| 2017 | Researcher at The University of Chicago: Department of Obstetrics and Gynecology, Section of Gynecologic Oncology – patient factors influencing decision making of gynecologic cancer patients with malignant bowel obstruction |
| 2017 | Researcher at The University of Chicago: Department of Radiation Oncology – factors influencing cervical cancer outcomes with focus on demographics, tumor subtypes, and treatment |
| 2014-2016 | AAMC Central Region Legislative Affairs Delegate of the Organization of Student Representatives (OSR), University of Chicago Pritzker School of Medicine |
| 2013-2014 | Co-Director of Leadership Board, Maria Shelter Free Clinic in Chicago, IL |
| 2013 | Senior Honors Thesis at Washington University in St. Louis: Department of Neurology— ERK-mediated regulation of amyloid-β in a mouse model of Alzheimer's disease |
Achievements & Recognition
Year
Major Honors
2016
Inducted into Alpha Omega Alpha Honor Society, The University of Chicago
2016
Inducted into Gold Humanism Honor Society, The University of Chicago
2014
The Joseph B. Kirsner Research Award for Excellence, The University of Chicago
2013
Inducted into Phi Beta Kappa Honor Society, Washington University in St. Louis
2013
Inducted into Sigma Xi Scientific Research Honor Society, Washington University in St. Louis
Presentations
Theophanous, C., Peters P.N., O'Brien, P., Cousineau, M. 2017, February. "What Do Medical Students Think about Healthcare Policy Education?". Innovations in Medical Education Conference. Los Angeles, California.
Lu, E, Wiskel, T, Cales, E, Ferguson, A, Gillet, V, Liu, Y, Munroe, E, Peters, P.N., Tripp, R, Babcock, C. 2014, September. "Reproductive Health Needs Assessment in an Adult, Urban, Emergency Department." Association of Reproductive Health Professionals (AHRP) Annual Reproductive Health Conference. Charlotte, North Carolina.
Publications
Peters, P. N., Schryver, E. M., Lengyel, E., Kenny, H. Modeling the Early Steps of Ovarian Cancer Dissemination in an Organotypic Culture of the Human Peritoneal Cavity. J. Vis. Exp. (106), e53541, doi:10.3791/53541 (2015).