The Department of Obstetrics, Gynecology and Reproductive Sciences offers several career dinners a year designed to give students the opportunity to ask questions of faculty members and physicians practicing in a variety of settings and subspecialties. Also available are the ObGyn Interest Group (OGIG) and mentoring opportunities with faculty members or residents (Big Sib Program). In addition, we host an Annual Career Dinner and a Match Celebration dinner to offer information about the residency matching process and to give students the opportunity to ask graduating students questions about their experiences.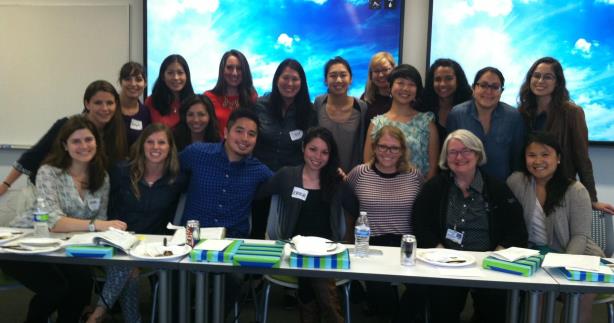 PIctured: The 2015 Class of Matching ObGyn MS4s, Julie Lindow, Dr. Patricia Robertson
---
2014-15 Essential Core Teaching Awards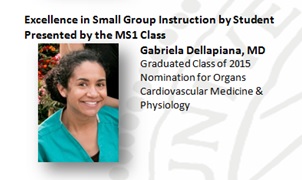 The Class of 2017, the Class of 2018, and the ECTA Committee have chosen UCSF graduate Gabby Dallapiana as one of their 2014-15 Essential Core Teach Award recipients. Congratulations Gabby!
---
Christine A Geehrer Inspiration in Medicine Award Recipient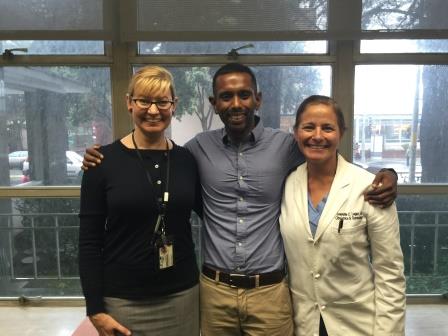 Left to Right: Julie Lindow, Medical Student Program Manager, Jerome Chelliah, MD Candidate Class of 2016, Dr. Jeannette Lager, Department Director of Medical Student Program Education
Jerome Chelliah, a fourth-year medical student interested in matching into an ObGyn residency in 2016, has won the prestigious Christine A. Geehrer Inspiration in Medicine Award. Each year, one medical student is selected for the award and receives assistance for taking on the challenge of medical school. 
---
For a list of career advisors or to participate in the mentoring program, please contact Medical Student Program Coordinator, Julie Lindow a Julie.Lindow@ucsf.edu