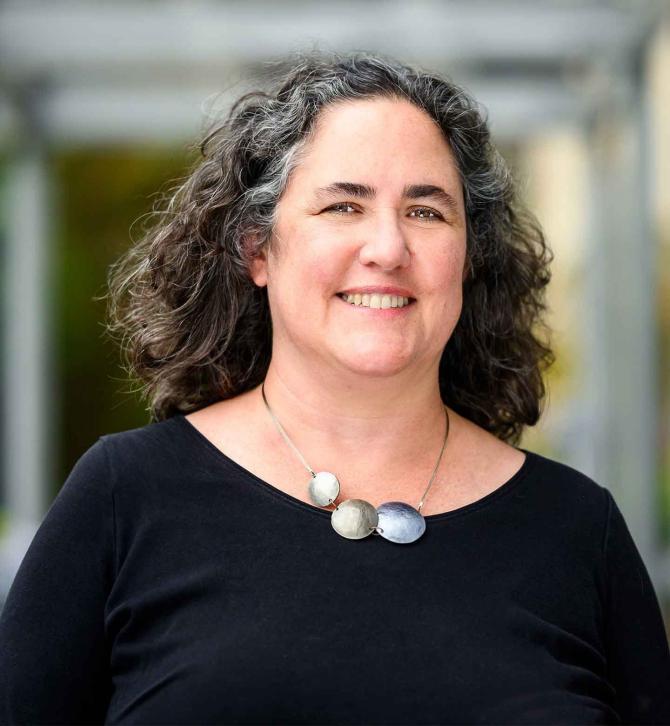 Diana Greene Foster - 2023 MacArthur Fellow
UCSF's Diana Greene Foster Selected as a 2023 MacArthur Fellow. 'Turnaway Study' lauded for capturing what happens when people are denied an abortion.
Diana Greene Foster, PhD, a UC San Francisco professor of obstetrics, gynecology and reproductive sciences who led a groundbreaking study on what happens to women who can't get abortions, has been named a 2023 MacArthur Fellow, one of the most coveted honors in academia, science and the arts.
The MacArthur Foundation on Oct. 4, 2023, announced Foster's selection along with 19 other recipients of the so-called "Genius Grant," an $800,000 no-strings-attached prize awarded annually to U.S. citizens or residents who have shown extraordinary creativity and dedication in their fields.
For more than two decades, Foster has been examining how the policies surrounding reproductive health care affect people's lives and has built a body of evidence on practices, access and outcomes. As a demographer, she uses quantitative models and analyses to track the consequences of family planning policies and unwanted pregnancies on people's lives.
Foster, 52, is best known for the Turnaway Study, which examined the physical, mental and socioeconomic effects of abortion over five years on the lives of nearly 1,000 women who sought abortions at 30 facilities across the country. The 2020 study, which led to more than 50 research articles and a book, found that receiving an abortion does not harm health or well-being but, rather, being denied one leads to negative financial and health outcomes.
Now that the U.S. Supreme Court has overturned Roe v. Wade, the landmark decision that protected the right to abortion, Foster's work has provided timely and vital insight into the health and economic effects on individuals of state decisions to severely limit or ban access to the procedure.
"Diana has provided us with the best evidence yet of the long-term consequences this issue has on women and their children," said UCSF Chancellor Sam Hawgood, MBBS. "She has produced research that is indispensable to understanding the impact that abortion restrictions are having across the country."
Wide-ranging health implications
Foster credited UCSF for its long history of fostering an environment that supports research in reproductive health care. "It's not random that it's someone at UCSF who was able to do this because UCSF has taken the topic of abortion and contraception seriously for decades," she said.
Foster, who joined UCSF in 2007, received her undergraduate degree from UC Berkeley, and her MA and PhD in demography and public policy from Princeton University. As a researcher affiliated with UCSF's Advancing New Standards in Reproductive Health (ANSIRH) program, she has authored more than 120 scientific papers. Her earlier research includes demonstrating that providing a year's supply of oral contraceptives, rather than requiring monthly refills, reduces unintended pregnancies and reduces health care costs. For the Turnaway Study, she was named one of the top 10 most influential scientists in 2022 by Nature.
Foster stressed the importance of using data to inform policy decisions. "My hope is that state judges and state legislators will look at the effect on their constituents and fellow citizens and understand this decision is not an easy one politically, but has wide-ranging implications for people's health and the wellbeing of kids," she said.
For Foster, the award means this labor-intensive, time-consuming and costly work can continue with less fear of facing funding gaps. She is currently collaborating with scientists across the country to better understand how people are navigating the confusing patchwork of laws in a post-Roe era.
Foster said that while the MacArthur award was given to her, it does not reflect the collaborative nature of her work. "I have all these brilliant collaborators – at UCSF and beyond," she said.
written by Victoria Colliver and published on UCSF.edu October 4, 2023