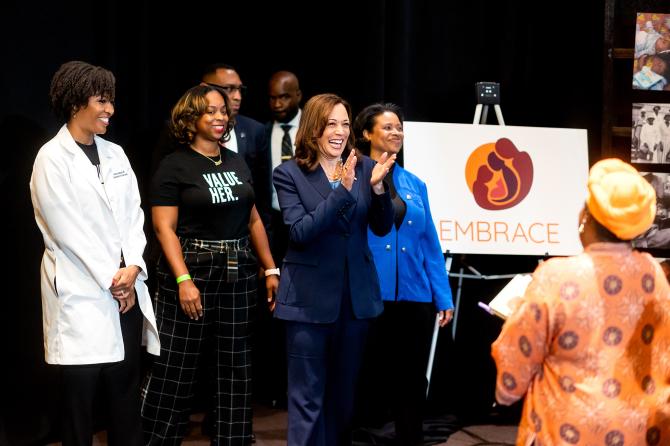 Vice President Harris Recognizes EMBRACE Program
VP Harris Visits UCSF to Support Black Maternal Health
Vice President Kamala Harris visited UCSF April 21 to draw attention to the critical need for addressing disparities nationwide in health care for Black people during pregnancy.
In an afternoon event at the UCSF Rutter Center, Harris met with leaders of EMBRACE, a nearly four-year-old clinical program that was developed to provide perinatal care for Black mothers, Black pregnant individuals, and their families from an intentional angle of racial consciousness.
Her visit included four segments: a personal interaction with an EMBRACE participant during an ultrasound; a group meeting with the current EMBRACE cohort of six expecting or postpartum participants and their partners; a roundtable discussion with physicians, doulas, ​midwives, and other Black care providers to discuss the challenges and joys of their work; and a press conference with other public leaders.