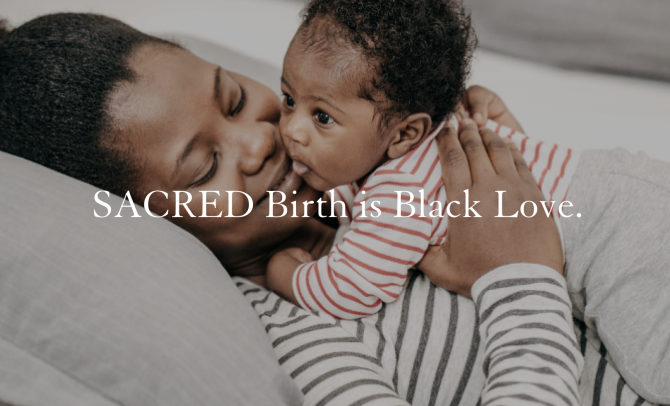 Sacred Birth Study
The UCSF Department of Obstetrics, Gynecology & Reproductive Sciences is proud to announce our participation in the SACRED Birth study designed to measure and record the experiences of Black mothers and birthing people in hospital settings. This study was developed and is led by Dr. Karen Scott, a member of our Hospitalist Program team in the OGGS division.

The SACRED Birth study is designed for, by, and with Black mothers and Black birthing people to share information about their patient experiences in hospital settings during labor, birth, and postpartum in six key areas:
Safety, Autonomy, Communication, Racism, Empathy, and Dignity.

The goal is to test a new survey tool called a Patient-Reported Experience Measure of OBstetric racism (PREM-OB Scale). The information gained from the PREM-OB Scale will help hospitals, health plans, scientists, funders, and the public better understand how racism and other forms of discrimination and neglect affect the way hospitals provide care, services, and support to Black mothers and birthing people during labor, birth, and postpartum.
As one of several programs registered as a SACRED Birth Partner, our Department will gain access to complementary training and technical assistance for clinicians and staff in order to increase patient and public awareness and involvement with the SACRED Birth Study.

As partners, we commit to support patient expert recruitment and to work with SACRED Birth researchers to advance racial equity in perinatal health.
We are proud to participate in this ground-breaking and important study with the aim of uncovering and understanding obstetric racism in clinical interactions, communications, counseling, decision-making, and documentation during hospitalization for labor, birth, and postpartum care and the higher goal of providing equitable care with dignity and humanity to each of our Black mothers, birthing people, and their families.
Eligibility criteria for patient experts include:
identify as Black or African American
are 18 years of age or older
gave birth to a live newborn in 2020 in a hospital in California

To refer a potential patient, please go to the SACRED Birth website, or refer your patients directly.
For more information about the study, please contact Dr. Karen Scott, PI, or any of the SACRED Birth Champions.