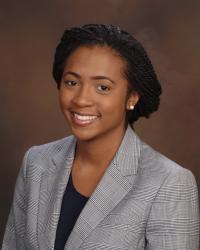 Jerrine Morris, MD, MPH
Graduated Former Fellow,
Reproductive Endocrinologist
If you are a patient, please do not contact a physician by email without her prior expressed consent due to confidentiality concerns.
Contact Information
Mailing Address:
550 16th St, Box 0132
San Francisco, CA 94143
Practice Phone:
415-353-7475
Research/Clinical Interests
Dr. Morris' research interests include the psychosocial factors associated with fertility treatment, factors affecting IVF success among underrepresented minorities, recurrent pregnancy loss, and reproductive physiology with focus on disorders in ovulation. New areas she would like to explore include stress and its contribution to subfertility. Her clinical interests include increasing access to fertility services among disparate populations.
Education/Training
| | | | |
| --- | --- | --- | --- |
| 2009 | Virginia Polytechnic and State University | B.S. | Biology and Psychology |
| 2011 | Tulane University School of Public Health and Tropical Medicine | M.P.H. | Epidemiology |
| 2015 | Virginia Commonwealth University | M.D. | Medicine |
| 2019 | Emory University | Residency | Gynecology and Obstetrics |
| Present | University of California San Francisco | Fellow | Reproductive Endocrinology & Infertility |
Achievements & Recognition
| | |
| --- | --- |
| 2018 | Dr. Robert Hatcher Award, Emory University |
| 2015 | Student Leadership Award Recipient, Virginia Commonwealth University SOM |
| 2013 | David E. Satcher, MD Research Fellow, Student National Medical Association |
| 2011 | Distinguished Service Award Recipient, Tulane University SPHTM |
Selected Publications
Capelouto, SM., Archer, SR., Morris, JR., Kawwass, JF., Hipp, HS. "Sex selection for non-medical indications: a survey of current pre-implantation genetic screening practices among U.S. ART clinics". Journal of Assisted Reproduction and Genetics (2017) doi: 10.1007/s10815-017-1076-2 (PMID: 29080968)