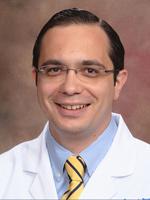 Hakan
Cakmak, MD
Assistant Professor
Obstetrics, Gynecology & Reproductive Sciences
 
Contact Information
Mailing Address:
499 Illinois, 6242, Box 0916,
San Francisco, CA 94158
Practice Phone:
415-353-3040
Research/Clinical Interests
Dr. Cakmak has special interest and clinical expertise in assisted reproduction, fertility preservation, endometriosis, pelvic pain and minimally invasive surgery including laparoscopic/hysteroscopic surgery. He has over 40 publications in leading scientific journals in the fields of infertility, assisted reproduction, fertility preservation, assessment of egg quality, endometriosis and implantation. His current research is focused on the investigation of the regulation of gene expression during egg and early embryo development, and the prevention of toxic effects of cancer treatments on the ovary.
Education/Training
| Year | Institution & Location | Degree | Field of Study |
| --- | --- | --- | --- |
| 2003 | Istanbul University, Cerrahpasa School of Medicine, Turkey | MD | Medicine |
| 2011 | Yale University, New Haven, CT | Residency | Obstetrics & Gynecology |
| 2014 | University of California, San Francisco, CA | Fellowship | Reproductive Endocrinology and Infertility |
Achievements & Recognition
Year
Major Honors
2013
American Society for Reproductive Medicine Fertility Preservation Special Interest Group's Prize Paper Award
2011
Yale University John J. Meehan—Clifford R. Miller Award for academic excellence
2011
Yale University "Resident of Excellence Award" for research
2011
Society of Laparoendoscopic Surgeons' Outstanding Laparoendoscopic Resident Surgeon Award
2005/
2013
Two President's Presenter Awards from the Society for Gynecologic Investigation for his work on infertility
Selected Publications
Cakmak H, Tran ND, Zamah AM, Cedars MI, and Rosen MP: A Novel "Delayed Start" Protocol with GnRH Antagonist Improves Outcomes in Poor Responders. Fertil Steril. 2014 May;101(5):1308-14.
Chen J, Torcia S, Xie F, Lin CJ, Cakmak H, Onodera C, Horner K, Song JS, Cedars MI, Ramalho-Santos M and Conti M: Somatic cells regulate maternal mRNA translation and developmental competence of mouse oocytes. Nat Cell Biol. 2013 Dec;15(12):1415-23.
Cakmak H, Katz A, Cedars MI and Rosen MP: Effective Method for Emergency Fertility Preservation: Random Start Controlled Ovarian Stimulation. Fertil Steril. 2013 Dec;100(6):1673-80.
Cakmak H and Rosen MP: Ovarian Stimulation in Cancer Patients. Fertil Steril. 2013 May;99(6):1476-84.
Cakmak H, Fujimoto VY, Zamah AM, Rosen MP, Tran ND, Cedars MI and Rinaudo PF: Metaphase II (MII) Oocytes Obtained at Different Time Points in the Same in Vitro Fertilization Cycle. J Assist Reprod Genet. 2012 Nov;29(11):1203-5.
Cakmak H, Basar M, Seval-Celik Y, Osteen KG, Duleba AJ, Taylor HS, Lockwood CJ and Arici A: Statins Inhibit Monocyte Chemotactic Protein-1 Expression in Endometriosis. Reprod Sci. 2012 June;19(6):572-579.
Cakmak H and Taylor HS: The Implantation Failure: Molecular Mechanisms and Clinical Treatment. Hum Reprod Update. 2011 Mar-Apr;17(2):242-253.