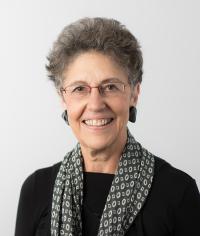 Linda C.
Giudice, MD, PhD, MSc
Contact Information
Mailing Address:
UCSF Box 0556
513 Parnassus Avenue, HSE 1600
San Francisco, CA 94143
Practice Phone:
415-353-7475
Academic Phone:
415-502-2637
Academic Fax:
415-502-7866
Academic Assistant:
Ally Power, 415-502-4742
Research/Clinical Interests
Dr. Giudice is a biochemist, gynecologist, and reproductive endocrinologist whose research focuses on environmental impacts on reproductive health, steroid hormone signaling in human endometrium, endometrial-placental interactions, endometrium as a mucosal tissue, and translational applications of human embryonic and endometrial stem cells. Her clinical interests are endometriosis, infertility, assisted reproduction, and implantation and ovulatory disorders. She is director of the Center for Research on Origins and Biological Consequences of Human Infertility and the UCSF Women's Reproductive Health Research Career Development Center.
Education/Training
Year
Institution & Location
Degree
Field of Study
1969
Columbia University, New York
BS
Engineering
1971
Washington University, St. Louis, Mo
MSc
 
1976
University of California, Los Angeles
PhD
Biochemistry
1982
Stanford University, Stanford, CA
MD
Medicine
1982-83
Kaiser Foundation Hospital, Santa Clara, CA
Internship
General Internal Medicine
1983-84
Stanford University Medical Center
Residency
Gynecology and Obstetrics
1984-86
Barnes Hospital, Washington University, St. Louis, MD
Residency
Obstetrics and Gynecology
1986-87
Stanford University Medical Center, Stanford, CA
Fellow
Reproductive Endocrinology and Infertility
Achievements & Recognition
Year
Major Honors
2002
Elected, Institute of Medicine of the National Academies
2006-2007
President, Society for Gynecologic Investigation
2006
Academia Nazionale dei Lincei Arnaldo Bruno International Prize, Italian Academy of Sciences
2008
American Medical Women's Association, Woman in Science Award
2008
SGI Distinguished Scientist Award
2008
American Fertility Society Illuminations Award
2008
American Society for Reproductive Medicine Distinguished Researcher Award
2009
NICHD, NIH, DHHS
The Perinatology Research Branch Wall of Honor
2013
Journal of Women's Health Award for Outstanding Achievement in Women's Health Research
Selected Publications
Tazuke SI, Mazure NM, Sugawara J, Carland G, Faessen GH, Suen LF, Irwin JC, Powell DR, Giaccia AJ, Giudice LC. Hypoxia stimulates IGFBP-1 gene expression in HepG2 cells: A possible model for IGFBP-1 expression in fetal hypoxia. Proc Natl Acad Sci USA 1998; 95:10188-93.
Kao LC, Tulac S, Lobo S, Imani B, Yang JP, Germeyer A, Osteen K, Taylor RN, Lessey BA, Giudice LC. Global gene profiling in human endometrium during the window of implantation. Endocrinology 2002; 143:2119-38.
Giudice LC, Conover CA, Bale L, Faessen GH, Ilg K, Sun I, Imani B, Suen L-F, Irwin JC, Christiansen M, Overgaard MT, Oxvig C. Identification and regulation of the IGFBP-4 protease and its physiological inhibitor in human trophoblasts and endometrial stroma: evidence for paracrine regulation of IGF-II bioavailability in the placental bed during human implantation. J Clin Endocrinol Metab. 2002; 87: 2359-2366.
Tulac S, Nayak NR, Kao LC, van Waes M, Huang J, Lobo S, Germeyer A, Lessey BA, Taylor RN, Suchanek E, Giudice LC. Identification, characterization, and regulation of the canonical Wnt signaling pathway in human endometrium. J Clin Endocrinol Metab 2003; 88:3860-6.
Lobo SC, Huang ST, Germeyer A, Dosiou C, Vo KC, Tulac S, Nayak NR, Giudice LC. The immune en-vironment in human endometrium during the window of implantation. Am J Repro Immun 2004; 52:244-51.
Tulac S, Hamilton A, Zuchereck S, Giudice LC. Silencing lamin A/C in human endometrial stromal cells: a model to investigate endometrial gene function and regulation. Mol Hum Reprod. 2004; 10:705-711.
Hyman, RW, Fukushima, M, Diamond, L, Kumm, J, Giudice, LC and Davis, RW. Microbes on the human vaginal epithelium. Proc Natl Acad Sci U S A. 2005; 102:7952-7957.
Talbi S, Hamilton AE, Vo KC, Tulac S, Overgaard MT, Dosiou C, Le Shay N, Nezhat CN, Kempson R, Lessey BA, Nayak NR, Giudice LC. Molecular phenotyping of human endometrium distinguishes menstrual cycle phases and underlying biological processes in normo-ovulatory women. Endocrinology 2006;147:1097-121.
Burney RO, Talbi S, Hamilton AE, Vo KC, Nyegaard M, Nezhat CR, Lessey BA, Giudice LC. Gene Expression Analysis of Endometrium Reveals Progesterone Resistance and Candidate Susceptibility Genes in Women with Endometriosis. Endocrinology. 2007;148(8): 3814-3826.
Aghajanova L, Hamilton AE, Kwintkiewicz J, Vo KC, Giudice LC. Steroidogenic enzyme and key decidualization marker dysregulation in endometrial stromal cells from women with vs. without endometriosis. Biol Repro, September 24, 2008. [Epub ahead of print].