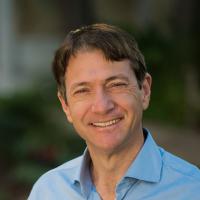 Paolo F.
Rinaudo, MD, PhD
Associate Professor
Obstetrics, Gynecology & Reproductive Sciences
 
Contact Information
Mailing Address:
2356 Sutter Ave, 7th Floor, Box 0916,
San Francisco, CA 94143
Practice Phone:
415-353-3040
Academic Phone:
415-476-2704
Academic Fax:
415-353-7744
Research/Clinical Interests
The focus of our research is to understand how in vitro fertilization (IVF) and in vitro culture prior to implantation in the uterus of the mother affect fetal and adult development. This has particular relevance in light of the widespread use of artificial reproductive techniques. In fact, fetal adaptations in utero to adverse conditions can lead to specific diseases in the adult, including diabetes, high blood pressure and coronary heart disease. This phenomenon, termed the developmental origin of adult health and disease or the Barker hypothesis, has been extrapolated back to preimplantation embryo development.
Other research interests include gene expression, microarray, artificial reproductive techniques, long term effects of in vitro culture.
Education/Training
Year
Institution & Location
Degree
Field of Study
1997
Torino University
Torino, Italy
PhD
Biology
1997-2001
Yale University
New Haven, CT
Residency
Obstetrics and Gynecology
2001-2004
University of Pennsylvania
Philadelphia
Fellowship
Reproductive Endocrinology and Infertility
Achievements & Recognition
| Year | Major Honors |
| --- | --- |
| 2006 | ASRM Poster Prize Committee |
| 2003 | Recipient of the President Presenter Award at the 50th Annual Meeting of the Society for Gynecological Investigation, Washington, DC |
| 2004 | Recipient of the 2004 PARES (Philadelphia Association of Reproductive Endocrinology and Infertility) prize for best presentation |
| 2006 | Abstract pre selected for young scientist award and for media attention at 22 Annual Meeting of The European Society of Human Reproduction and Embryology. Prague, Czech Republic June 18-22, 2006 |
Selected Publications
Giritharan G, Li MW, De Sebastiano F, Esteban FJ, Horcajadas JA, Lloyd KC, Donjacour A, Maltepe E, Rinaudo PF. Effect of ICSI on gene expression and development of mouse preimplantation embryos.  Hum Reprod. 2010 Oct 1. [Epub ahead of print] PMID: 20889529.
Delle Piane L, Lin W, Liu X, Donjacour A, Minasi P, Revelli A, Maltepe E, Rinaudo PF. Effect of the method of conception and embryo transfer procedure on mid-gestation placenta and fetal development in an IVF mouse model. Hum Reprod. 2010 Aug;25(8):2039-46. Epub 2010 Jun 24. PMID: 20576634.
Valley JK, Swinton P, Boscardin WJ, Lue TF, Rinaudo PF, Wu MC, Garcia MM. Preimplantation mouse embryo selection guided by light-induced dielectrophoresis.  PLoS One. 2010 Apr 13;5(4):e10160. PMID: 20405021.
Rosen MP, Shen S, Rinaudo PF, Huddleston HG, McCulloch CE, Cedars MI. Fertilization rate is an independent predictor of implantation rate. Fertil Steril. 2010 Sep;94(4):1328-33. Epub 2009 Jun 27. PMID: 19560757.
Rosen MP, Zamah AM, Shen S, Dobson AT, McCulloch CE, Rinaudo PF, Lamb JD, Cedars MI. The effect of follicular fluid hormones on oocyte recovery after ovarian stimulation: FSH level predicts oocyte recovery. Reprod Biol Endocrinol. 2009 Apr 23;7:35. PMID: 19389255.