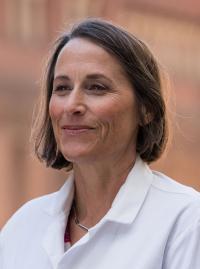 Rebecca Jackson, MD Named Interim Chair
Rebecca Jackson, MD will serve as the interim Chair of the Department, effective July 1, 2022. 
Dr. Jackson is a professor in the Department of Obstetrics, Gynecology and Reproductive Services and Chief of the Zuckerberg San Francisco General Hospital and Trauma Center (ZSFG) Division. Her broad interest in women's issues and patient advocacy led her to co-found Solid Start, a multi-departmental, donor-initiated program for low income pregnant women and children, which includes a robust evaluation component to determine whether offering non-medical services at the time of healthcare visits improves health outcomes.
With a passion for advancing medical education, Dr. Jackson, who is the Robert B. Domush Chair of Obstetrics and Gynecology Education, is one of the core clinician-educators at ZSFG and teaches clinical Ob/Gyn to a variety of learners. She has received a number of teaching awards from residents and medical students and is a member of the Academy of Medical Educators (AME). 
In her role at ZSFG, Dr. Jackson has supported the creation of innovative clinical programs such as Team Lily, a multidisciplinary care model that provides wrap-around services including integrated prenatal care, substance use treatment, mental health services, and intensive case management to pregnant people facing these challenges; and the SF Respect Initiative (SFRi) to reduce pregnancy care inequities in San Francisco through programs such as the Pregnancy Pop-Up Village, a one-stop shop for multiple pregnancy-related services. 
Devoted to issues of anti-racism, equity, and inclusion, Dr. Jackson is an active member of the Department's Diversity Committee, where she has empowered many faculty and staff members to engage in this work on a local level in their clinical spaces and research groups, resulting in numerous incremental improvements.
Dr. Jackson received her undergraduate degree in Chemical Engineering from the University of Arizona, Tucson, and completed her medical education, residency, and fellowship at UCSF, prior to joining the faculty in 2002.
Given Dr. Jackson's exemplary track record in the fields of gynecology, gynecologic surgery, and family planning, and her deep commitment to cross-disciplinary teaching and training, I have no doubt she will be a steadfast leader through this transition and an asset to the Department's continued efforts to improve the lives and health of all women.
Please click here for some highlights of Dr. Murtha's many contributions and accomplishments, join me in thanking her for her work, and welcoming Dr. Jackson to her new interim role.
Sincerely,
Talmadge E. King, Jr., MD
Dean, School of Medicine