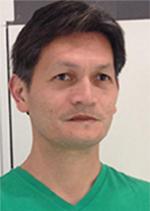 Roy
Gerona, PhD
Contact Information
Mailing Address:
505 Parnassus Ave
Moffitt Hospital M879B
San Francisco, CA 94143
Office:
415/514-5749
Lab:
415/502-1446
Email:

[email protected]
Research Interests
Mass spectrometry, General suspect screening, Environmental biomonitoring, Environmental health, Endocrine disruptors, Maternal-fetal toxin transport, Analytical Toxicology, Clinical Toxicology, Designer drugs, Synthetic cannabinoids, Synthetic cathinones, HIV/AIDS Therapeutic drug monitoring, Hair antiretroviral analysis, Hair TB drug analysis
Education/Training
| Year | Institution & Location | Degree | Field of Study |
| --- | --- | --- | --- |
| 1991 | University of the Philippines | B.S. | Chemistry, Cum Laude |
| 1998 | University of the Philippines | M.S. | Biochemistry |
| 2008 | University of Wisconsin, Madison | Ph.D. | Biochemistry |
| 2011 | University of California, San Francisco | Fellowship | Clinical Chemistry |
Achievements & Recognition
| Year | Major Honors |
| --- | --- |
| 2016 | TB/HIV Research Prize, International AIDS Society, International AIDS Conference |
| 2015 | Outstanding Speaker Award, American Association for Clinical Chemistry |
| 2013 | Young Investigator Travel Award, Mass Spectrometry Applications to the Clinical Laboratory Conference |
| 2013 | Best Original Scientific Poster Award, American Association of Poison Control Centers, North American Congress of Clinical Toxicology Annual Meeting |
| 2012 | Travel Award, Mass Spectrometry Applications to the Clinical Laboratory Conference |
| 2011 | Distinguished Abstract Award, National Academy of Clinical Biochemistry, American Association for Clinical Chemistry Annual Meeting |
| 2010 | Distinguished Abstract Award, National Academy of Clinical Biochemistry, American Association for Clinical Chemistry Annual Meeting |
| 2010 | Best Poster Award, Therapeutic Drug Monitoring/ Toxicology Division, American Association for Clinical Chemistry, American Association for Clinical Chemistry Annual Meeting |
Selected Publications
Zee T, Bose N, Zee J, Beck JN, Yang S, Parihar J, Yang M, Damodar S, Hall D, O'Leary MN, Ramanathan A, GERONA RR, Killilea DW, Chi T, Tischfield J, Sahota A, Kahn A, Stoller ML, Kapahi P. 2017. α- Lipoic acid treatment prevents cystine urolithiasis in a mouse model of cystinuria. Nature Medicine, Feb 6, 2017, EPub ahead of print.
Adams AJ, Banister SD, Irizarry L, Trecki J, Schwartz M, GERONA R. 2016. "Zombie" outbreak caused by synthetic cannabinoid AMB-FUBINACA in New York. New England Journal of Medicine 376(3): 235-242.
Springer YP, GERONA R, Scheunemann E, Shafer SL, Lin T, Banister SD, Cooper MP, Castrodale LJ, Levy M, Butler JC, McLaughlin JB. 2016. Increase in adverse reactions associated with use of synthetic cannabinoids: Anchorage, Alaska, 2015-16. MMWR Morb Mortal Wkly Rep 65(40): 1108-1111.
Armenian P, Olson A, Anaya A, Kurtz A, Ruegner R, GERONA R. 2016. Fentanyl and a Novel Synthetic Opioid U-47700 Masquerading as Street "Norco" in Central California: A Case Report. Annals of Emergency Medicine 69(1): 87-90.
VandeVoort CA, GERONA R, Vom Saal, F, Tarantal A, Hunt PA, Hillenweck A, Zalko D. 2016. Bisphenol A pharmacokinetics in the pregnant rhesus monkey: uptake by the placenta, distribution in maternal and fetal tissues, and conjugation in sulfate and glucuronidated forms. PLoS One, 11(12):e0165410.
GERONA R, J Pan, A Zota, J Schwartz, M Friesen, JA Taylor, P Hunt, T Woodruff. 2016. Direct measurement of Bisphenol A (BPA), BPA glucuronide and BPA sulfate in a diverse and low-income population of pregnant women reveals high exposure, with potential implications for previous exposure estimates: a cross-sectional study. Environ Health, Apr 12, 2016; 15:50.
GERONA R, Wen A, Chin AT, Koss CA, Bacchetti P, Metcalfe J, Gandhi M. 2016. Quantifying Isoniazid Levels in Small Hair Samples: A Novel Method for Assessing Adherence during the Treatment of Latent and Active Tuberculosis. PLoS One 11(5):e0155887.
Trecki J, R GERONA, M Schwartz. 2015. Synthetic Cannabinoid-Related Illnesses and Deaths. New England Journal of Medicine 373:103-107.
MacIsaac, J, RR GERONA, P Blanc, L Apatira, M Friesen, M Coppolino, S Janssen. 2014. Healthcare Worker Exposures to the Antibacterial Agent Triclosan. J Occup Environ Med 56(8): 834-9.
GERONA, RR, TJ Woodruff, CA Dickenson, J Pan, JM Schwartz, S Sen, M Friesen, VY Fujimoto, and PA Hunt. 2013. BPA, BPA glucuronide and BPA sulfate in mid-gestation umbilical cord serum in a northern California cohort. Environ Sci Technol 47(21): 12477-85.