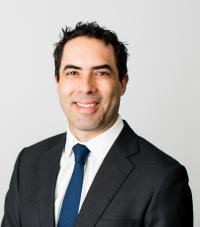 Edwin A.
Alvarez, MD
Professor
Director for Clinical Trials, Division of Gynecologic Oncology
Board certified Gynecologic Oncologist
 
Contact Information
Mailing Address:

Division of Gynecologic Oncology
Dept of Ob/Gyn & Reproductive Sciences
490 Illinois Street, Floor 10, Box 0132
San Francisco, CA 94143

Academic Phone:
415-885-7561 /415-885-7204
Academic Fax:
415-885-3586
Research/Clinical Interests
Dr. Edwin Alexander Alvarez is a board certified gynecologic oncologist. He specializes in gynecologic malignancies at the University of California, San Francisco, Helen Diller Family Comprehensive Cancer Center. His primary focus is the surgical and medical treatment of ovarian cancer, cervical cancer, endometrial cancer and other malignancies of the female reproductive system. Dr. Alvarez performs both open and minimally invasive gynecologic oncology and complicated gynecologic surgery.
As Director of Clinical Trials for the Division, Dr. Alvarez is involved with NRG Oncology, the NCI sponsored cooperative group for oncology clinical trials. Dr. Alvarez has a strong commitment to teaching of medical students, residents and fellows.
Dr. Alvarez has made on-going contributions to diversity, mentoring numerous at risk youth, medical students and in particular LatinX residents. He has been involved with cultural sensitive indigent care in gynecologic oncology. He is fluent in Spanish.  
Education/Training
| Year | Institution & Location | Degree | Field of Study |
| --- | --- | --- | --- |
| 1995 | University of California, Berkeley | B.A. | Sociology |
| 2000 | University of California, San Diego | M.D. | Medicine |
| 2004 | University of Southern California, Keck School of Medicine | Residency | Obstetrics & Gynecology |
| 2007 | University of Miami, Miller School of Medicine | Fellowship | Gynecologic Oncology |
Achievements & Recognition
| Year | Major Honors |
| --- | --- |
| 2004 | Research award, University of Southern California Ob/Gyn 19th annual Senior Research Day |
| 2007 | Women's Reproductive Health Research Award (NIH K12) PI: Tom Moore, MD K12 HD001259-12; University of California, San Diego |
Selected Publications
1. A phase I study of docetaxel as a radiosensitizer for locally advanced squamous cell cervical cancer. Alvarez EA, Wolfson AH, Pearson JM, Crisp M, Mendez LE, Lambrou NC, Lucci JA 3rd. Gynecologic Oncology. 2009 May; 113(2): 195-9.
2. Combined Src and ER blockade impairs human breast cancer proliferation in vitro and in vivo. Chen Y, Alvarez EA, Azzam D, Wander SA, Guggisberg N, Jordà M, Ju Z, Hennessy BT, Slingerland JM. Breast Cancer Res Treat. 2011 Jul; 128 (1): 69-78.
3. Ureteral-arterial fistula: A case report and review of the literature. McCullough MC, Oh EE, Lucci JA 3rd, Alvarez EA. Journal of Obstetrics and Gynaecology. 2012 Oct; 32(7): 617-20.
4. Tight junction proteins claudin-3 and claudin-4 control tumor growth and metastases. Shang X, Lin X, Alvarez E, Manorek G, Howell SB. Neoplasia. 2012 Oct;14(10):974-85
5. Phase II Evaluation of Combination Bevacizumab and Temsirolimus (CCI-779) in the Treatment of Recurrent or Persistent Endometrial Carcinoma: a Gynecologic Oncology Group study. Alvarez EA, Brady WE, Walker JL, Rotmensch J, Zhou XC, Kendrick JE, Yamada SD, Schilder JM, Cohn DE, Harrison CR, Moore KN, Aghajanian C. Gynecologic Oncology. 2013 Apr;129(1):22-7