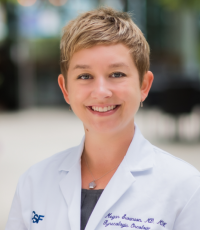 Megan
Swanson, MD, MPH
Assistant Professor
Board Certified Gynecologic Oncologist

Mailing Address:


Division of Gynecologic Oncology
Dept of Ob/Gyn & Reproductive Sciences
490 Illinois Street, Floor 10, Box 0132
San Francisco, CA 94143

Academic Phone:

415-885-7561 /415-885-7204

Academic Fax:

415-885-3586
Research/Clinical Interests: 
Megan Swanson is a gynecologic oncologist who cares for women with cervical, vulvar, uterine and ovarian cancers, as well as women with cervical dysplasia (a precancerous condition). Her expertise encompasses both surgical and medical care.
Swanson's research focuses on cervical cancer, particularly the striking disparities in access to care and in outcomes between women in high-income countries and those in low- to middle-income countries, as well as in the availability of effective screening and prevention methods. She has worked on identifying barriers and facilitators to cervical cancer screening and care in East Africa, and is currently developing innovative pilot projects in Uganda to increase screening and treatment opportunities.
While completing her gynecologic oncology fellowship, she was awarded a GloCal Health Fellowship from the Fogarty International Center of the National Institutes of Health. This allowed her to spend a year in Kampala, Uganda, working at Makerere University College of Health Sciences, Mulago National Referral Hospital and the Uganda Cancer Institute.
Swanson is a member of the Society of Gynecologic Oncology, International Gynecologic Cancer Society, International Papillomavirus Society, American Society of Clinical Oncology and American College of Obstetricians and Gynecologists.
Education/Training
| | | | |
| --- | --- | --- | --- |
| 2004 | Stanford University | BA | Human Biology with Honors |
| 2010 | University of California Berkeley, School of Public Health | MPH | Maternal Child Health |
| 2011 | University of California San Francisco, School of Medicine | MD | Medicine |
| 2015 | UCSF Department of Ob/Gyn and Reproductive Sciences | Residency | Ob/Gyn and Reproductive Sciences |
| 2019 | University of California, San Francisco | Fellowship | Gynecologic Oncology |
Achievements & Recognition
2004    Departmental Honors, Human Biology, Stanford University
2007    UCSF School of Medicine First Year Dean's Scholarship
2014    Teaching Excellence Award for Cherished Housestaff, UCSF School of Medicine
2015    Ryan Program Resident Award for Excellence in Family Planning
2015    James R. Green, MD, Memorial Award, Department Ob/Gyn UCSF
2016    Outstanding Resident Teaching Award, Department Ob/Gyn
2016    UC Global Health Institute and the NIH Fogerty International Center, GloCal Health                  Fellowship
Selected Publications
Nakalembe, M., Makanga, P., Mubiru, F., Swanson, M., Martin, J., & Huchko, M. (2019). Prevalence, correlates, and predictive value of high-risk human papillomavirus mRNA detection in a community-based cervical cancer screening program in western Uganda. Infectious Agents and Cancer, 14, 14-14.
Swanson, M., Ibrahim, S., Blat, C., Oketch, S., Olwanda, E., Maloba, M., & Huchko, M. J. (2018). Evaluating a community-based cervical cancer screening strategy in Western Kenya: a descriptive study. BMC Women's Health, 18(1), 116-116.
Swanson, M., Ueda, S., Chen, L., Huchko, M. J., Nakisige, C., & Namugga, J. (2018). Evidence-based improvisation: Facing the challenges of cervical cancer care in Uganda. Gynecologic Oncology Reports, 24, 30-35.
Swanson, M., Gimei, P., Huchko, M. (2017). Rethinking the ASCO Resource-Stratified Cervical Cancer Screening Guidelines in the Context of Existing Health Infrastructure in Basic Settings. Journal of Global Oncology, 4, 1-3