Providing Information and Support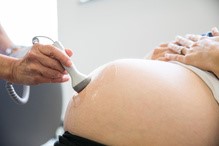 The Prenatal Diagnostic Center at University of California, San Francisco Medical Center (UCSF) provides comprehensive counseling, screening, and diagnostic testing for fetal defects. The decision to make use of these services in unique for each woman and her partner. As a result, we are committed to providing the information and support that patients need to make the choices that are right for them.
The Prenatal Diagnostic Center is part of UCSF Women's Health – a nationally designated Center of Excellence in Women's Health – and patients are ensured the highest quality care and service. They benefit from the most advanced technology and procedures. Our practitioners bring a wealth of experience and expertise, having performed more than 40,000 amniocenteses and 17,000 chorionic villus sampling procedures over the last 35 years.
In addition to providing the most advanced testing available today, the Prenatal Diagnostic Center is working to develop new and less invasive methods for the screening and diagnosis of genetic and chromosomal disorders. Research studies are available for women interested in participation.
The center has satellite clinics in Northern California, in addition to our main San Francisco office.
For more information please call 415-476-4080.