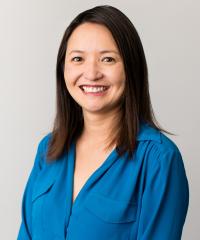 Stephanie
Gaw, MD, PhD
Contact Information
| | |
| --- | --- |
| Mailing Address: | 513 Parnassus, HSE Room 1623, San Francisco, CA 94143 |
| Practice Phone: | 415-353-2566 |
| Lab webpage: | gawlab.ucsf.edu/ |
Research/Clinical Interests
Placental malaria; Genetic evolution of Zika Virus; Vaginal birth after cesarean delivery; Twin pregnancies and preterm birth rate
Education/Training
1998

University of California, Berkeley

B.A.
BA in Molecular and Cellular Biology- Immunology (With Honors)
2009

Albert Einstein College of Medicine, Bronx, NY

M.D.
Ph.D.
Medicine
Microbiology and Immunology
2013

University of California at San Francisco

Residency
Obstetrics and Gynecology
2016

University of California at Los Angeles,

Fellowship
Maternal-Fetal Medicine
Achievements & Recognition
| | |
| --- | --- |
| 2009 | Rudin Foundation Scholar, Albert Einstein College of Medicine |
| 2009 | Dean's Recognition Award, Albert Einstein College of Medicine |
| 2012 | Research Excellence Award, Society for Maternal Fetal Medicine |
| 2013 | Consultant of the Year, Award by Nurse-Midwives of San Francisco General Hospital |
| 2015-2017 | Scholar, Reproductive Scientist Development Program, NIH/NICHD |
| 2015 | Best Poster Award, OB/GYN Assembly of Southern California Annual Meeting |
| 2016 | Best Scientific Presentation, Infectious Diseases Society of Obstetrics and Gynecology Annual Meeting |
| 2016 | Queenan Fellowship for Global Health Research Award, Foundation for SMFM |
| 2017 | Career Development Award, UCSF National Center of Excellence in Women's Health |
Selected Publications
Valderramos SG, Valderramos JC, Musset L, Purcell LA, Mercereau-Puijalon O, Legrand E, and DA Fidock. (2010) Identification of a mutant PfCRT-mediated chloroquine tolerance phenotype in Plasmodium falciparum. PLoS Pathoog. 6(5):e1000887. PMID: 20485514; PMCID:PMC2869323.
Brasil P, Pereira JP Jr, Moreira ME, Ribeiro Nogueira RM, Damasceno L, Wakimoto M, Rabello RS, Valderramos SG, Halai UA, Salles TRS, Zin AA, Horovitz D, Daltro P, Boeschat M, Raja Gabaglia C, Carvalho de Sequeira P, Pilotto JH, Medialdea-Carrera R, Cotrim da Cunha D, Abreu de Carvalho LM, Pone M, Machado Siqueira A, Calvet GA, Rodrigues Baiao AE, Neves ES, Nassar de Carvalho PR, Hasue RH, Marschik PB, Einspieler C, Janzen C, Cherry JD, Bispo de Filippis AM, and K Nielsen-Saines. (2016) Zika Virus Infection in Pregnant Women in Rio de Janeiro. N Eng J Med. 75:2321-34. DOI: 10.1056/NEJMoa1602412. PMID:26943629 PMCID: PMC5323261.
Wang L*, Valderramos SG*, Wu A, Ouyang S, Li C, Brasil P, Bonaldo M, Coates T, Nielsen-Saines K, Jiang T, Aliyari R, and G Cheng. (2016) From Mosquitos to Humans: Genetic Evolution of Zika Virus. Cell Host Microbe, 19(5):561-5. doi: 10.1016/j.chom.2016.04.006. PMID: 27091703. PMCID: PMC5648540 (*Co-first author)
Valderramos SG, Rao RR, Scibetta EW, Silverman NS, Han CS, Platt LD. Cell-free DNA screening in clinical practice: abnormal autosomal aneuploidy and microdeletion results. Am J Obstet Gynecol. 2016 Nov; 215(5):626.e1-626.e.10. doi:10.1016/j.ajog.2016.06.039.Epub 2016 Jun 28. PubMed PMID: 27371353.
Kapisi J, Kakuru A, Jagannathan P, Muhindo MK, Natureeba P, Awori P, Nakalembe M, Ssekitoleko R, Olwoch P, Ategeka J, Nayebare P, Clark TD, Rizzuto G, Muehlenbachs A, Havlir DV, Kamya MR, Dorsey G, and SL Gaw. (2017) Relationships between infection with Plasmodium falciparum during pregnancy, measures of placental malaria, and adverse birth outcomes. Malar J. 16(1):400.doi:10.1186/s12936-017-2040-4. PMID: 28982374; PMCID:PMC5629777.
Lopes Moreira ME, Nielsen-Saines K, Brasil P, Kerin T, Damasceno L, Pone M, Carvalho LMA, Pone SM, Vasconcelos Z, Ribeiro IP, Zin AA, Tsui I, Adachi K, Gaw SL, Halai UA, Salles TS, da Cunha DC, Bonaldo MC, Raja Gabaglia C, Guida L, Malacarne J, Costa RP, Gomes SC, Reis AB, Soares FVM, Hasue RH, Aizawa CYP, Genovesi FF, Aibe M, Einspieler C, Marschik PB, Pereira JP, Portari EA, Janzen C, Cherry JD. Neurodevelopment in Infants Exposed to Zika Virus In Utero. N Engl J Med. 2018 Dec 13; 379(24):2377-2379. PMID:30575464
Pereira Jr JP, Nielsen-Saines K, Sperling J, Maykin MM, Damasceno L, Cardozo RF, Valle HA, Dutra BR, Gama HD, Adachi K, Zin AA, Tsui I, Vasconcelos Z, Brasil P, Moreira ME, and SL Gaw. Association of Prenatal Ultrasonographic Findings With Adverse Neonatal Outcomes Among Pregnant Women With Zika Virus Infection in Brazil. JAMA Netw Open. 2018:1(8):e186529. doi:10.1001/jamanetworkopen.2018.6529. PMID:30624579.
Pereira Jr. JP*, Maykin MM*, Vasconcelos Z, Avvad-Portari E, Zin AA, Tsui I, Brasil P Nielsen-Saines K, Moreira ME, and SL Gaw. The Role of Amniocentesis in the Diagnosis of Congenital Zika Syndrome. Clin Infect Dis. 2019 Jan 8. doi: 10.1093/cid/ciz013. [Epub ahead of print]. PMID: 30624579. (*Co-First author)