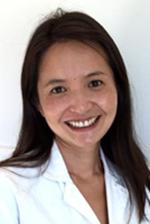 Stephanie
Gaw, MD, PhD
Contact Information
| | |
| --- | --- |
| Mailing Address: | 550 16th St, Box 0132 San Francisco, CA 94143 |
| Practice Phone: | 415-353-2566 |
Research/Clinical Interests
Placental malaria; Genetic evolution of Zika Virus; Vaginal birth after cesarean delivery; Twin pregnancies and preterm birth rate
Education/Training
1998

University of California, Berkeley

B.A.
BA in Molecular and Cellular Biology- Immunology (With Honors)
2009

Albert Einstein College of Medicine, Bronx, NY

M.D.
Ph.D.
Medicine
Microbiology and Immunology
2013

University of California at San Francisco

Residency
Obstetrics and Gynecology
2016

University of California at Los Angeles,

Fellowship
Maternal-Fetal Medicine
Achievements & Recognition
| | |
| --- | --- |
| 2009 | Dean's Recognition Award, Albert Einstein College of Medicine |
| 2012 | Research Excellence Award for Best Poster, Society for Maternal Fetal Medicine |
| 2013 | Consultant of the Year, Awarded by Nurse-Midwives of San Francisco General Hospital |
| 2015 | Best Poster, OB/GYN Assembly of Southern California Annual Meeting |
Selected Publications
Wang L*, Valderramos SG*, Wu A, Ouyang S, Li C, Brasil P, Bonaldo M, Coates T, Nielsen-Saines K, Jiang T, Aliyari R, and G Cheng. (2016) From Mosquitos to Humans: Genetic Evolution of Zika Virus. Cell Host Microbe, Epub before print, April 15, 2016. PMID: 27091703. (*Co-first author)
Brasil P, Pereira JP Jr, Raja Gabaglia C, Damasceno L, Wakimoto M, Ribeiro Nogueira RM, Carvalho de Sequeira P, Machado Siqueira A, Abreu de Carvalho LM, Cotrim da Cunha D, Calvet GA, Neves ES, Moreira ME, Rodrigues Baião AE, Nassar de Carvalho PR, Janzen C, Valderramos SG, Cherry JD, Bispo de Filippis AM, and K Nielsen-Saines. (2016) Zika Virus Infection in Pregnant Women in Rio de Janeiro - Preliminary Report. N Eng J Med. Epub before print. PMID: 26943629.
Yee LM., Valderramos SG, Pena S, Cheng YW., and K Bianco. (2013) Perinatal Outcomes in euploid pregnancies with "double-positive" first trimester prenatal screening for trisomy 18 and 21. J Perinatol. 33(11):836-40. PMID: 23887195.
Lehane AM, van Schalkwyk DA, Valderramos SG, Fidock DA, and K Kirk. (2011) Differential drug efflux or accumulation does not explain variation in the chloroquine response of Plasmodium falciparum strains expressing the same isoform of mutant PfCRT. Antimicrob. Agents Chemother. 55(5):2310-8. PMID: 21343459.
Valderramos SG, Scanfeld D, Uhlemann, AC, Fidock DA, and S Krishna. (2010) Investigations into the role of the Plasmodium falciparum SERCA (PfATP6) L263E in artemisinin action and resistance. Antimicrob. Agents Chemother. 54(9):3842-52. PMID: 20566762.