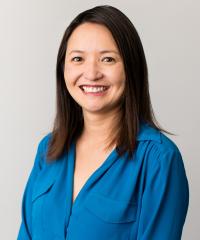 Stephanie
Gaw, MD, PhD
Contact Information
| | |
| --- | --- |
| Mailing Address: | 513 Parnassus, HSE Room 1623, San Francisco, CA 94143 |
| Practice Phone: | 415-353-2566 |
| Lab webpage: | gawlab.ucsf.edu/ |
Research/Clinical Interests
Infections in pregnancy (malaria, Zika virus, COVID-19), maternal-fetal immunology, placental inflammation, fetal growth restriction, environmental exposures in pregnancy, global health
Education/Training
1998

University of California, Berkeley

B.A.
BA in Molecular and Cellular Biology- Immunology (With Honors)
2009

Albert Einstein College of Medicine, Bronx, NY

M.D.
Ph.D.
Medicine
Microbiology and Immunology
2013

University of California at San Francisco

Residency
Obstetrics and Gynecology
2016

University of California at Los Angeles

Fellowship
Maternal-Fetal Medicine
2022
University of California at San Francisco
 
Diversity, Equity, and Inclusion Champion Training
2022
University of California at San Francisco
 
Inclusive Research Mentor/Manager Training
Achievements & Recognition
| | |
| --- | --- |
| 2009 | Rudin Foundation Scholar, Albert Einstein College of Medicine |
| 2009 | Dean's Recognition Award, Albert Einstein College of Medicine |
| 2012 | Research Excellence Award, Society for Maternal Fetal Medicine |
| 2013 | Consultant of the Year, Award by Nurse-Midwives of San Francisco General Hospital |
| 2015-2017 | Scholar, Reproductive Scientist Development Program, NIH/NICHD |
| 2015 | Best Poster Award, OB/GYN Assembly of Southern California Annual Meeting |
| 2016 | Best Scientific Presentation, Infectious Diseases Society of Obstetrics and Gynecology Annual Meeting |
| 2016 | Queenan Fellowship for Global Health Research Award, Foundation for SMFM |
| 2017 | Career Development Award, UCSF National Center of Excellence in Women's Health |
| 2017-2019 |  Loan Repayment Program Award in Clinical Research, NIH/NICHD |
| 2019-2021 | Loan Repayment Program Award in Clinical Research, NIH/NICHD, renewal |
| 2020 | Outstanding Resident Teaching Award, UCSF |
| 2021 | Outstanding Resident Teaching Award, UCSF |
| 2022 | Exceptional Research Mentorship Award, UCSF |
| 2022 | Outstanding Resident Teaching Award, UCSF |
Selected Publications
Brasil P, Pereira Jr JP, Moreira ME, Ribeiro Nogueira RM, Damasceno L, Wakimoto M, Rabello RS, Valderramos SG, Halai UA, Salles TS, Zin AA, Horovitz D, Daltro P, Boechat M, Raja Gabaglia C, Carvalho de Sequeira P, Pilotto JH, Medialdea-Carrera R, Cotrim da Cunha D, Abreu de Carvalho LM, Pone M, Machado Siqueira A, Calvet GA, Rodrigues Baiao AE, Neves ES, Nassar de Carvalho PR, Hasue RH, Marschik PB, Einspieler C, Janzen C, Cherry JD, Bispo de Filippis AM, Nielsen-Saines K. Zika Virus Infection in Pregnant Women in Rio de Janeiro. N Engl J Med. 2016 12 15; 375(24):2321-2334. PMID: 26943629; PMCID: PMC5323261.
Wang L*, Valderramos SG*, Wu A, Ouyang S, Li C, Brasil P, Bonaldo M, Coates T, Nielsen-Saines K, Jiang T, Aliyari R, Cheng G. From Mosquitos to Humans: Genetic Evolution of Zika Virus. Cell Host Microbe. 2016 May 11;19(5):561-5. doi: 10.1016/j.chom.2016.04.006. Epub 2016 Apr 15. PMID: 27091703; PMCID: PMC5648540. (*Co-first author)
Pereira Jr JP, Nielsen-Saines K, Sperling J, Maykin MM, Damasceno L, Cardozo RF, Valle HA, Dutra BR, Gama HD, Adachi K, Zin AA, Tsui I, Vasconcelos Z, Brasil P, Moreira ME, Gaw SL. Association of Prenatal Ultrasonographic Findings With Adverse Neonatal Outcomes Among Pregnant Women With Zika Virus Infection in Brazil. JAMA Netw Open. 2018;1(8):e186529. doi:10.1001/jamanetworkopen.2018.6529. PMID: 30646333; PMCID: PMC6324324
Quanquin NM, Barres LG, Aliyari R, Day NT, Gerami H, Fisher SJ, Kakuru A, Kamya M, Havlir D, Feeney M, Dorsey G, Cheng G, Gaw SL. Gravidity-dependent Associations Between Interferon Response and Birth Weight in Placental Malaria. Malar J. 2020 Aug 5;19(1):280. doi: 10.1186/s12936-020-03351-0. PMID: 32758231; PMCID: PMC7409479.
Blauvelt CA, Nguyen KC, Cassidy AG, Gaw SL. Perinatal Outcomes Among Patients With Sepsis During Pregnancy. JAMA Netw Open. 2021 Sep 1;4(9):e2124109. doi: 10.1001/jamanetworkopen.2021.24109. PMID: 34477848.
Matsui Y†, Li L†, Prahl M, Cassidy AG, Ozarslan N, Golan Y, Gonzalez VJ, Lin CY, Jigmeddagva U, Chidboy MA, Montano M, Taha TY, Khalid MM, Sreekumar B, Hayashi JM, Chen P, Warrier L, Song D, Jegatheesan P, Govindaswami B, Rincon M, Myatt L, Asiodu IV, Flaherman VJ, Afshar Y, Jacoby VL, Murtha AP, Ott M, Greene WC**, Gaw SL**. Neutralizing Antibody Activity Against SARS-CoV-2 Variants in Gestational Age-Matched Mother-Infant Dyads. JCI Insight. 2022 May 17:e157354. doi: 10.1172/jci.insight.157354. Epub ahead of print. PMID: 35579965. PMCID: PMC9309042. †Co-first authors; **Co-corresponding authors.
Prahl M**, Golan Y, Cassidy AG, Matsui Y, Lin L, Alvarenga B. Wu AHB, Chen H, Jigmeddagva U, Lin CY, Gonzalez VJ, Chidboy MA, Warrier L, Buarpung S, Murtha AP, Flaherman VJ, Greene WC, Lynch K, Rajan J, Gaw SL**. Evaluation of transplacental transfer of mRNA vaccine products and functional antibodies during pregnancy and early infancy. Nat Commun. 2022 Jul 30;13(1):4422. doi: 10.1038/s41467-022-32188-1. PMID: 35908075; PMCID: PMC9338928.**Co-corresponding authors