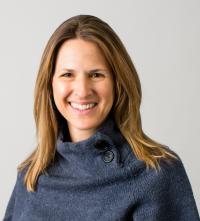 Jocelyn
Chapman, MD, FACS, FACOG
Assistant Professor
Board certified Gynecologic Oncologist
Contact Information
Mailing Address:

Division of Gynecologic Oncology
Dept of Ob/Gyn & Reproductive Sciences
490 Illinois Street, Floor 10, Box 0132
San Francisco, CA 94143

Practice Phone:
415-353-9600
Academic Phone:
415-885-7204 / 415-885-7561
Academic Fax:
415-885-3586
Research/ Clinical Interests
Dr. Jocelyn Chapman brings expertise in computational genomics to the gynecologic oncology division and collaborates with UCSF cancer center researchers to understand the genetic vulnerabilities in gynecologic cancer that can be exploited for therapeutic targeting. Her current work focuses on the molecular signals in circulation that might be used to detect early ovarian cancers. She has a clinical trial ongoing to help gain insights into these molecular fingerprints with a goal to develop a non-invasive ovarian cancer detection test. She also collaborates with the immuno-oncology program to understand the immunologic responses induced by mutationally complex tumors and how this signaling interacts with the mutational processes driving tumorigenesis in gynecologic malignancies. Understanding the immune signaling between gynecologic cancer cells and their microenvironment components will help illuminate how anti-tumor immune signaling is propagated, how it may be short-circuited and may reveal mechanisms to control or interrupt this signaling for therapeutic benefit. Her research has been published in Gynecologic Oncology, Journal of the National Comprehensive Cancer Network and Nature Biotechnology.
Education/Training
| Year | Institution & Location | Degree | Field of Study |
| --- | --- | --- | --- |
| 1998 | Carnegie Mellon University, Pittsburg, PA | B.F.A | Piano Performance |
| 2008 | Boston University, Boston, MA | M.D. | Medicine |
| 2012 | University of California San Francisco, San Francisco, CA | Residency | Obstetrics and Gynecology |
| 2015 | Stanford University / University of California San Francisco | Fellowship | Gynecologic Oncology |
Achievements & Recognition
| Year | Major Honors |
| --- | --- |
| 1995 | Merit Scholarship at Carnegie Mellon University |
| 2009 | UCSF Outstanding Resident Award |
| 2010 | UCSF Alpha Omega Alpha Award |
| 2011 | Resident Scholar, Association of Professors of Gynecology and Obstetrics |
| 2013-2014 | UCSF Outstanding Fellow in Medical Student Teaching |
Chapman JS, Asthana S, Cade L, Chang MT, Wang Z, Zaloudek CJ, Ueda S, Collisson EA, Taylor BS. Clinical Sequencing Contributes to a BRCA-Associated Cancer Rediagnosis That Guides an Effective Therapeutic Course. J Natl Compr Canc Netw. 2015 Jul; 13(7):835-45.

Chapman JS, Roddy E, Westhoff G, Simons E, Brooks R, Ueda S, Chen L. Post-operative enteral immunonutrition for gynecologic oncology patients undergoing laparotomy decreases wound complications. Gynecol Oncol. 2015 Apr 16.

Chapman JS, Jacoby V, Chen LM. Managing symptoms and maximizing quality of life after preventive interventions for cancer risk reduction. Curr Opin Obstet Gynecol. 2015 Feb; 27(1):40-4.

Yadav BS, George P, Sharma SC, Gorsi U, McClennan E, Martino MA, Chapman J, Chen LM, Prakash G, Malhotra P, Tantravahi SK, Glenn MJ, Werner TL, Baksh K, Sokol L, Morris GJ. Primary non-Hodgkin lymphoma of the ovary. Semin Oncol. 2014 Jun; 41(3):e19-30.

Henderson JT, Harper CC, Gutin S, Saraiya M, Chapman J, Sawaya GF. Routine bimanual pelvic examinations: practices and beliefs of US obstetrician-gynecologists. Am J Obstet Gynecol. 2013 Feb; 208(2):109.e1-7.

Chapman JS, Powell CB, McLennan J, Crawford B, Mak J, Stewart N, Chen LM. Surveillance of survivors: follow-up after risk-reducing salpingo-oophorectomy in BRCA 1/2 mutation carriers. Gynecol Oncol. 2011 Aug; 122(2):339-43.

Saleeby E, Chapman J, Morse J, Bryant A. H1N1 influenza in pregnancy: cause for concern. Obstet Gynecol. 2009 Oct; 114(4):885-91.

Friedman S, Chen C, Chapman JS, Jeruss S, Terrin N, Tighiouart H, Parsons SK, Wilson JM. Neurodevelopmental outcomes of congenital diaphragmatic hernia survivors followed in a multidisciplinary clinic at ages 1 and 3. J Pediatr Surg. 2008 Jun; 43(6):1035-43.

Chen C, Jeruss S, Chapman JS, Terrin N, Tighiouart H, Glassman E, Wilson JM, Parsons SK. Long-term functional impact of congenital diaphragmatic hernia repair on children. J Pediatr Surg. 2007 Apr; 42(4):657-65.