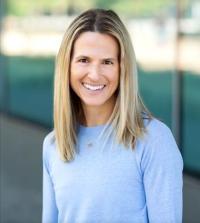 Jocelyn
Chapman, MD, FACS, FACOG
Associate Professor
Board certified Gynecologic Oncologist
Contact Information
Mailing Address:

Division of Gynecologic Oncology
Dept of Ob/Gyn & Reproductive Sciences
490 Illinois Street, Floor 10, Box 0132
San Francisco, CA 94143

Practice Phone:
415-353-9600
Academic Phone:
415-885-7204 / 415-885-7561
Academic Fax:
415-885-3586
Research/ Clinical Interests
Dr. Jocelyn Chapman brings expertise in computational genomics to the gynecologic oncology division and collaborates with UCSF cancer center researchers to understand the genetic vulnerabilities in gynecologic cancer that can be exploited for therapeutic targeting. Her current work focuses on the molecular signals in circulation that might be used to detect early ovarian cancers. She has a clinical trial ongoing to gain insights into these molecular fingerprints with a goal to develop a non-invasive ovarian cancer detection test. She also collaborates with the immuno-oncology program to understand the immunologic responses induced by mutationally complex tumors and how this signaling interacts with the mutational processes driving tumorigenesis in gynecologic malignancies. Understanding the immune signaling between gynecologic cancer cells and their microenvironment components will help illuminate how anti-tumor immune signaling is propagated, how it may be short-circuited and may reveal mechanisms to control or interrupt this signaling for therapeutic benefit.
Dr. Chapman's clinical research interests involve optimizing the rational and economical delivery of medical care to our gynecologic oncology patients. To this end, she has successfully implemented post-operative immunonutrition with a demonstrable reduction in post-operative wound complications and post-surgical pathways with a demonstrable reduction in hospital length of stay. She has also improved peri-operative education to facilitate improved recovery and patient satisfaction. Current efforts are focused at developing a tool to improve our post-operative opioid prescribing patterns to minimize the impact of opioid over prescribing in our community. Her research has been published in Science Immunology, Clinical Cancer Research, Gynecologic Oncology, Journal of the National Comprehensive Cancer Network and Nature Biotechnology.
Education/Training
| Year | Institution & Location | Degree | Field of Study |
| --- | --- | --- | --- |
| 1998 | Carnegie Mellon University, Pittsburg, PA | B.F.A | Piano Performance |
| 2008 | Boston University, Boston, MA | M.D. | Medicine |
| 2012 | University of California San Francisco, San Francisco, CA | Residency | Obstetrics and Gynecology |
| 2015 | Stanford University / University of California San Francisco | Fellowship | Gynecologic Oncology |
Achievements & Recognition
Year

Major Honors

2015
Leo Lagasse award for best resident or fellow presentation at the 2015 Western Association of Gynecologic Oncologist's Annual Meeting Western Association of Gynecologic Oncologists
2016
UCSF Great Save Award in recognition of efforts to reduce waste and increase value in care delivery at UCSF.
2017
Academy for Medical Educators: 2017 Excellence in Teaching Award Winner
2018
Customer Service Honor Roll

2015-2019

2021

Outstanding Resident Teaching Award

Blue Ribbon Award for High-Value Care at the 5th Annual UCSF Health Improvement Symposium
Chapman JS, Jacoby V, Chen LM. Managing symptoms and maximizing quality of life after preventive interventions for cancer risk reduction. Curr Opin Obstet Gynecol. 2015 Feb; 27(1):40-4. PMID: 25502430
Chapman JS, Asthana S, Cade L, Chang MT, Wang Z, Zaloudek CJ, Ueda S, Collisson EA, Taylor BS. Clinical Sequencing Contributes to a BRCA-Associated Cancer Rediagnosis That Guides an Effective Therapeutic Course. J Natl Compr Canc Netw. 2015 Jul; 13(7):835-45. PMID: 26150578
Chapman JS, Roddy E, Westhoff G, Simons E, Brooks R, Ueda S, Chen L. Post-operative enteral immunonutrition for gynecologic oncology patients undergoing laparotomy decreases wound complications. Gynecol Oncol. 2015 Apr 16. PMID: 25888979
Chang MT, Asthana S, Gao SP, Lee BH, Chapman JS, Kandoth C, Gao J, Socci ND, Solit DB, Olshen AB, Schultz N, Taylor BS. Identifying recurrent mutations in cancer reveals widespread lineage diversity and mutational specificity. Nat Biotechnol. 2016 Feb; 34(2):155-63. PMID: 26619011.
Chapman JS, Roddy E, Ueda S, Brooks R, Chen LL, Chen LM. Enhanced Recovery Pathways for Improving Outcomes After Minimally Invasive Gynecologic Oncology Surgery. Obstet Gynecol. 2016 Jul; 128(1):138-44. PMID: 27275797
Klauschen F, Bläker H, Stenzinger A, Chapman JS, Collisson EA, Taylor BS. Clinical Sequencing Contributes to a BRCA-Associated Cancer Rediagnosis That Guides an Effective Therapeutic Course. Re: PMID: 26957621
Roddy E, Chapman JS. Genomic insights in gynecologic cancer. Curr Probl Cancer. 2017 Jan - Feb; 41(1):8-36. PMID: 28088330
Ohliger MA, Hope TA, Chapman JS, Chen LM, Behr SC, Poder L. PET/MR Imaging in Gynecologic Oncology. Magn Reson Imaging Clin N Am. 2017 Aug; 25(3):667-684. PMID: 28668166
Manrriquez E, Chapman JS, Mak J, Blanco AM, Chen LM. Disparities in genetics assessment for women with ovarian cancer: Can we do better? Gynecol Oncol. 2018 04; 149(1):84-88. PMID: 29605055
Ladwig NR, Schoolmeester JK, Weil L, Chapman JS, Zaloudek C, Umetsu SE. Inflammatory Myofibroblastic Tumor Associated With the Placenta: Short Tandem Repeat Genotyping Confirms Uterine Site of Origin. Am J Surg Pathol. 2018 Jun; 42(6):807-812. PMID: 29505427
Ahmad TR, Chen LM, Chapman JS, Chen LL. Medicaid and Medicare payer status are associated with worse surgical outcomes in gynecologic oncology. Gynecol Oncol. 2019 Sep 03. PMID: 31492539
Heskett MB, Sanborn JZ, Boniface C, Goode B, Chapman J, Garg K, Rabban JT, Zaloudek C, Benz SC, Spellman PT, Solomon DA, Cho RJ. Multiregion exome sequencing of ovarian immature teratomas reveals 2N near-diploid genomes, paucity of somatic mutations, and extensive allelic imbalances shared across mature, immature, and disseminated components. Mod Pathol. 2020 Jan 7. PMID: 31911616
Pierson WE, Peters PN, Chang MT, Chen LM, Quigley DA, Ashworth A, Chapman JS. An integrated molecular profile of endometrioid ovarian cancer. Gynecol Oncol. 2020 Apr; 157(1):55-61. PMID: 32139151
Peters PN, Pierson WE, Chen L, Westphalen A, Chapman JS, Hsu I. PET‑detected asymptomatic recurrence is associated with improved survival in recurrent cervical cancer. Abdom Radiol. 2020 Jul 8. PMID: 32638077
Seed RI, Kobayashi K, Ito S, Takasaka N, Cormier A, Jespersen JM, Publicover J, Coombes A, Ches NW, Chapman JS, Krummel MF, Lou J, Marks J, Cheng Y, Baron JL, Nishimura SL. A tumor-specific mechanism of Treg enrichment mediated by the integrin αvβ8. Sci Immunol. 2021 Mar 26. doi: 10.1126/sciimmunol.abf0558
Craig AD, Garcia E, Peters PN, Chen L, Chapman JS. Primary treatment of advanced ovarian cancer: how does the real world practice? Future Oncol. 2021 Aug 26. PMID: 34435878.
McNamara B, Guerra R, Qin J, Craig AD, Chen L, Varma MG, Chapman JS. Survival impact of bowel resection at the time of interval cytoreductive surgery for advanced ovarian cancer. Gynecologic Oncology Reports Vol 38, Nov 2021.
Korenaga T, Yoshida EJ, Pierson W, Chang J, Ziogas A, Swanson ML, Chapman JS, Sinha S, Chen L. Better late than never: brachytherapy is more important than timing in treatment of locally advanced cervical cancer. Gynecol Oncol. 2021.
Seed RI, Kobayashi K, Ito S, Takasaka N, Cormier A, Jespersen JM, Publicover J, Trilok S, Combes AJ, Chew NW, Chapman J, Krummel MF, Lou J, Marks J, Cheng Y, Baron JL, Nishimura SL. A tumor-specific mechanism of T reg enrichment mediated by the integrin αvβ8. Sci Immunol. 2021. PMID: 33771888.
Guix I, Liu Q, Pujana MA, Ha P, Piulats J, Linares I, Guedea F, Mao J, Lazar A, Chapman JS, Yom SS, Ashworth A, Barcellos-Hoff MH. Validation of anti-correlated TGFβ signaling and alternative end-joining DNA repair signatures that predict response to genotoxic cancer therapy. Clin Can Research Jan 2022.