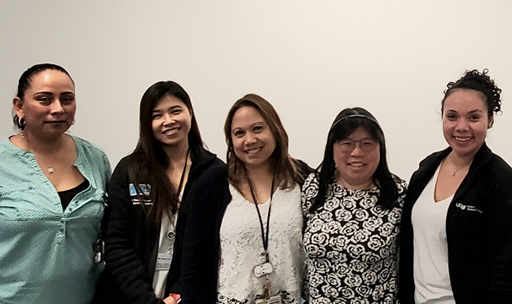 (left to right) Janett Zarate, Ann Marie Rivera, Fatima Alegado, Lee-may Chen, MD,
Alejandra Aguayo
Gynecologic Oncology Practice
Our Gynecologic Oncologists are committed to meeting the complex needs of women with cancers of the reproductive tract. Our unique multidisciplinary team of physicians and health care staff gynecologic specialists, radiation oncologists, medical oncologists and nurses all have specialized training in caring for patients with gynecologic cancers. Using a team approach, we are able to advise women and their families of the latest treatment options and offer timely, innovative and compassionate care in a personal and supportive environment.
The gynecologic oncologists have expertise in treating many types of female pelvic cancers including cancers of the ovary, uterus, cervix, vulva and trophoblast (placenta). The scope of services provided includes screening examinations; diagnostic imaging; treatment of gynecologic cancer including surgery, radiation therapy, and/or medical oncology; outpatient chemotherapy; counseling services; innovative plastic reconstructive surgery and second opinions for women with gynecologic cancer.
Undiagnosed Pelvic Mass
Consultation for Advanced Metastatic Cancer
Family History of Gynecological Cancer
Molar Pregnancy
Gestational Trophoblastic Disease
Gynecologic Dysplasia Clinic
Established over 50 years ago, the UCSF/Mount Zion Dysplasia Clinic is a specialty clinic focused on the care of individuals with diseases of the cervix, vulva and vagina associated with human papillomavirus (HPV). These diseases include dysplastic (precancerous) lesions.
The overarching goals of the Dysplasia Clinic are to educate patients about the meaning of abnormal test results (Pap tests and HPV tests) and to discuss contemporary evidence-based approaches in patient management. We believe that empowering patients with knowledge is an important part of the healing process, and we encourage each patient to participate in choosing options that best align with their preferences and values.
Our clinic has a referral base spanning the greater Bay Area, Northern California and the Central Valley and provides care to complex patients with medical comorbidities who have multifocal HPV-related diseases. We offer diagnostic colposcopy (a magnified view of the cervix with biopsy) and excisional treatments such as loop excision (LEEP) and cone biopsy. It is one of few clinics that offers alternatives to excisional treatments in reproductive-aged women (cryotherapy and office-based laser); these have been associated with fewer complications in future pregnancies. It also offers various treatment options for vulvar dysplasia, including a variety of topical therapies as well as laser.
Abnormal Cervical Cancer Screening Test Results
Genital Warts
Vulva Disease / Pain
UCSF Hereditary Cancer Clinic
The Gynecologic Oncology Program works closely with the UCSF Hereditary Cancer Clinic to offer patients and families with genetic mutations linked to hereditary cancers – such as mutations of BRCA1 or BRCA2 – personalized care and planning for their long-term health. Our counseling encompass symptom review, chemoprevention, early detection, and risk-reducing surgery. We also coordinate surveillance and follow-up care, with referrals to other specialty clinics at UCSF as needed. The clinic is part of the UCSF Center for BRCA Research. Our team of clinicians and investigators is dedicated to developing new treatments, improving patient outcomes and survival rates, and providing more personalized care to families who carry mutations linked to hereditary cancers.
Please send us a copy of any original genetic test reports for you or your family members. If you have not seen a genetic counselor, we would be happy to see you in conjunction with one through the Hereditary Cancer Clinic. If you are having difficulty getting the original report, our assistants can help you.