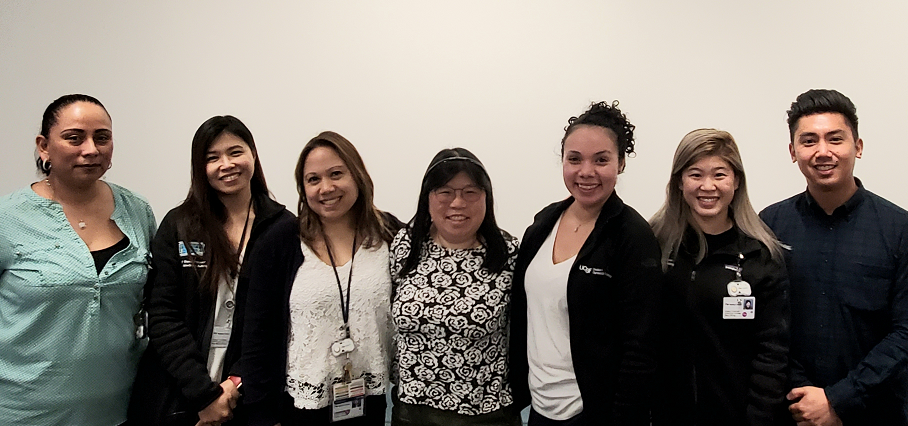 (left to right) Janett Zarate, Ann Marie Rivera, Fatima Alegado, Lee-may Chen, MD,
Alejandra Aguayo, Alice Zhong, Aaron Sales)
Gynecologic Oncology Practice
Our Gynecologic Oncologists are committed to meeting the complex needs of women with cancers of the reproductive tract. Our unique multidisciplinary team of physicians and health care staff gynecologic specialists, radiation oncologists, medical oncologists and nurses all have specialized training in caring for patients with gynecologic cancers. Using a team approach, we are able to advise women and their families of the latest treatment options and offer timely, innovative and compassionate care in a personal and supportive environment.
The gynecologic oncologists have expertise in treating many types of female pelvic cancers including cancers of the ovary, uterus, cervix, vulva and trophoblast (placenta). The scope of services provided includes screening examinations; diagnostic imaging; treatment of gynecologic cancer including surgery, radiation therapy, and/or medical oncology; outpatient chemotherapy; counseling services; innovative plastic reconstructive surgery and second opinions for women with gynecologic cancer.
Undiagnosed Pelvic Mass
Consultation for Advanced Metastatic Cancer
Family History of Gynecological Cancer
Molar Pregnancy
Gestational Trophoblasyic Disease
Gynecologic Dysplasia/ Cervical Cancer Prevention Clinic
The UCSF Cervical Dysplasia / Cervical Cancer Prevention Clinic offers integrated state-of-the-art care for abnormal Pap smears, genital warts and vulva disease/pain. A full range of diagnostic and therapeutic options are offered to our patients including colposcopy, loop excision, laser therapy, cryotherapy, screening and enrollment in a variety of clinical trials. Because our doctors are involved in research, patients at the clinic may have the opportunity to enroll in clinical trials which are studies to test the safety and effectiveness of new medications and treatments. Our philosophy is that information and knowledge are powerful aspects of the healing process and we encourage our patients to participate in the choice of treatment options.