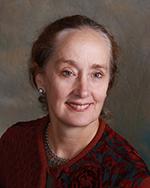 Karen
Smith-McCune, MD, PhD
Board Certified Gynecologist
Contact Information
Mailing Address:
2340 Sutter St., Rm S-229
San Francisco, CA 94143-0128
Academic Phone:
415/476-7882
 
 
Research/Clinical Interests
Dr. Karen K. Smith-McCune is the John Kerner Endowed Professor in Gynecologic Oncology in the Department of Obstetrics, Gynecology and Reproductive Sciences and is the director of the Dysplasia Clinic at the UCSF Helen Diller Family Comprehensive Cancer Center. Her research interests are focused in abnormal pap smears, cervical pre-cancer, cervical cancer screening, Human Papilloma Virus (HPV) and vulvar disease. One of her main goals is to identify drugs that merit clinical testing for treatment of cervical dysplasia or cancer as well as to improve tests used by clinicians to quickly and accurately distinguish low-grade cervical dysplasias from high-grade ones. She is also one of the principal investigators on a project in Zimbabwe examining a barrier contraceptive and HPV acquisition. Her research involving gynecologic malignancies and dysplasia has been published in journals such as The New England Journal of Medicine and The American Journal of Obstetrics and Gynecology, as well as others.
Education/Training
| Year | Institution & Location | Degree | Field of Study |
| --- | --- | --- | --- |
| 1975 | McGill University, Montreal, Quebec, Canada | BSc | Biochemistry |
| 1976 | University of Cambridge, London, UK | Diploma | History & Philosophy of Science |
| 1982 | Rockefeller University, New York | PhD | Biological Chemistry |
| 1986 | Stanford University, Stanford, CA | MD | Medicine |
| 1990 | University of California, San Francisco | Internship & Residency | Obstetrics & Gynecology |
Achievements & Recognition
| Year | Major Honors |
| --- | --- |
| 1987 | Julius R. Krevans Award for Clinical Excellence, UCSF |
| 1998 | ASCCP Colposcopy Recognition Award |
| 1998 | John Kerner Endowed Chair of Gynecologic Oncology |
| 2006 | Award of Merit, American Society of Colposcopy and Cervical Pathology |
Selected Recent Publications
KK Smith-McCune, JC Chen, RM Greenblatt, BL Shacklett, U Shanmugasundaram, JF Hilton, BA Johnson, F Barragan, JC Irwin, M Takeda, J Pannell, J Perry, LC Giudice Unexpected Inflammatory Effects of Intravaginal Gels (Universal Placebo Gel and Nonoxynol-9) on the Upper Female Reproductive Tract: an Observational Crossover Study, submitted
Huchko MJ, Sneden J, Sawaya G, Smith-McCune K, Maloba M, Abdulrahim N, Bukusi EA, Cohen CR. Accuracy of visual inspection with acetic acid to detect cervical cancer precursors among HIV-infected women in Kenya. Int J Cancer. 2014 May 29. doi: 10.1002/ijc.28996. [Epub ahead of print]
Cendejas BR, Smith-McCune KK, Khan MJ. Does treatment for cervical and vulvar dysplasia impact women's sexual health? Am J Obstet Gynecol. 2014 May 29. [Epub ahead of print] PMID: 24881827
Smith-McCune KK. Choosing a screening method for cervical cancer: Pap testing alone or with HPV testing. JAMA Int Med 2014 Jul 1;174(7):1027-8. PMID: 24796546
Khan MJ and Smith-McCune KK. Treatment of cervical precancers: Back to basics. Obstet Gynecol. 2014 Jun;123(6):1339-43. PMID: 24807323
Zhang C, Park JS, Grce M, Hibbitts S, Palefsky JM, Konno R, Smith-McCune KK, Giovannelli L, Chu TY, Picconi MA, Piña-Sánchez P, Settheetham-Ishida W, Coutlée F, De Marco F, Woo YL, Ho WC, Wong MC, Chirenje MZ, Magure T, Moscicki AB, Sabol I, Fiander AN, Chen Z, Chan MC, Cheung TH, Burk RD, Chan PK. Geographical Distribution and Risk Association of Human Papillomavirus Genotype 52-Variant Lineages. J Infect Dis. 2014 May 30. pii: jiu310. [Epub ahead of print] PMID: 24879800
Woo VG, Liegler T, Cohen CR, Sawaya GF, Smith-McCune K, Bukusi EA, Huchko MJ. Association of Cervical Biopsy with HIV Type 1 Genital Shedding Among Women on Highly Active Antiretroviral Therapy. AIDS Res Hum Retroviruses. 2013 Jul;29(7):1000-5. PMID: 23594240
Shanmugasundaram U, Critchfield JW, Pannell J, Perry J, Giudice LC, Smith-McCune K, Greenblatt RM, Shacklett BL. Phenotype and Functionality of CD4+ and CD8+ T Cells in the Upper Reproductive Tract of Healthy Premenopausal Women.Am J Reprod Immunol. 2013 Dec 6. PMID: 24313954
Van der Straten A, Cheng H, Wasdo S, Montgomery L, Smith-McCune K, Booth M, Gonzalez D, Derendorf H, Morey TE, Dennis DM. A novel breath test to directly measure use of vaginal gel and condoms. AIDS Behav. 2013 Jul;17(6):2211-21. doi: 10.1007/s10461-012-0390-z.
Huchko MJ, Woo V, Liegler T, Leddy A, Smith-McCune K, Sawaya GF, Bukusi EA, Cohen CR. Is There an Association Between HIV-1 Genital Shedding and Cervical Intraepithelial Neoplasia 2/3 Among Women on Antiretroviral Therapy?J Low Genit Tract Dis. 2013 Jul;17(3):354-60. doi: 10.1097/LGT.0b013e3182712286.PMID: 23486070
Woo VG, Liegler T, Cohen CR, Sawaya GF, Smith-McCune K, Bukusi EA, Huchko MJ. Association of Cervical Biopsy with HIV Type 1 Genital Shedding Among Women on Highly Active Antiretroviral Therapy. AIDS Res Hum Retroviruses. 2013 Jul;29(7):1000-5. doi: 10.1089/AID.2012.0341. Epub 2013 May 15. PMID: 23594240
Huchko M, Woo V, Liegler T, Leslie H, Smith-McCune K, Sawaya G, Bukusi E, Cohen C. Impact of loop electrosurgical excision procedure for cervical intraepithelial neoplasia on HIV-1 genital shedding: a prospective cohort study. BJOG. 2013 May 7. doi: 10.1111/1471-0528.12258. [Epub ahead of print] PMID: 23647852
Yang YS, Smith-McCune K, Darragh TM, Lai Y, Lin JH, Chang TC, Guo HY, Kesler T, Carter A, Castle PE, Cheng S. Direct HPV E6 whole cell ELISA- Objective measurement of E6 oncoproteins in cytology samples. Clin Vaccine Immunol. 2012 Jul 18. [Epub ahead of print] PMID: 22815148
Houlihan CF, Larke NL, Watson-Jones D, Smith-McCune KK, Shiboski S, Gravitt PE, Smith JS, Kuhn L, Wang C, Hayes R. HPV infection and increased risk of HIV acquisition: A systematic review and meta-analysis. AIDS. 2012 Aug 7. [Epub ahead of print] PMID: 22874522
Abkevich V, Timms KM, Hennessy BT, Potter J, Carey MS, Meyer LA, Smith-McCune K, Broaddus R, Lu KH, Chen J, Tran TV, Williams D, Iliev D, Jammulapati S, Fitzgerald LM, Krivak T, Deloia JA, Gutin A, Mills GB, Lanchbury JS. Patterns of genomic loss of heterozygosity predict homologous recombination repair defects in epithelial ovarian cancer. Br J Cancer. 2012;107:1776-82 PMC3493866
Chan PK, Zhang C, Park JS, Smith-McCune KK, Palefsky JM, Giovannelli L, Coutlée F, Hibbitts S, Konno R, Settheetham-Ishida W, Chu TY, Ferrera A, Alejandra Picconi M, De Marco F, Woo YL, Raiol T, Piña-Sánchez P, Bae JH, Wong MC, Chirenje MZ, Magure T, Moscicki AB, Fiander AN, Capra G, Young Ki E, Tan Y, Chen Z, Burk RD, Chan MC, Cheung TH, Pim D, Banks L. Geographical distribution and oncogenic risk association of human papillomavirus type 58 E6 and E7 sequence variations. Int J Cancer. 2012 PMID: 23136059
Patanwala IY, Bauer HM, Miyamoto J, Park IU, Huchko MJ, Smith-McCune KK. A systematic review of randomized trials assessing human papillomavirus testing in cervical cancer screening. Am J Obstet Gynecol. 2012 Nov 15. [Epub ahead of print] PMID: 23159693
Chan PK, Luk AC, Park JS, Smith-McCune KK, Palefsky JM, Konno R, Giovannelli L, Coutlée F, Hibbitts S, Chu TY, Settheetham-Ishida W, Picconi MA, Ferrera A, De Marco F, Woo YL, Raiol T, Piña-Sánchez P, Cheung JL, Bae JH, Chirenje MZ, Magure T, Moscicki AB, Fiander AN, Di Stefano R, Cheung TH, Yu MM, Tsui SK, Pim D, Banks L. Identification of human papillomavirus type 58 lineages and the distribution worldwide. J Infect Dis. 2011;203:1565-73. PMID: 21592985
Diouf K, Sawaya GF, Shiboski S, Magure T, Makunike-Mutasa R, Darragh TM, Tuveson J, Chipato T, Palefsky JM, Moscicki AB, Chirenje M, Smith-McCune K. Investigating possible associations between cervical procedures and risk of HIV acquisition. ISRN Obstet Gynecol 2011;2011:789106. Epub 2011 Nov 28. PMID: 22191049