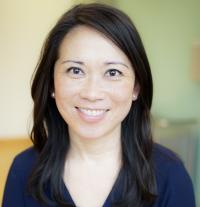 Katherine
Fuh, MD, PhD
Associate Professor
Director of Basic and Translational Research
John A. Kerner Chair in Gynecologic Oncology
Contact Information
Mailing Address:

Division of Gynecologic Oncology
Dept of Ob/Gyn & Reproductive Sciences
490 Illinois Street, Floor 10, Box 0132
San Francisco, CA 94143

Academic Phone:
415-885-5761 / 415-885-7204
Academic Fax:
415-885-3586
Department:
Obstetrics, Gynecology & Reproductive Sciences
Research/Clinical Interests
Dr. Katherine Fuh is a board-certified gynecologic oncologist and has clinical expertise in the management and treatment of gynecologic cancers such as advanced stage ovarian and uterine cancers. She returns to UCSF in 2022 after spending 9 years at Washington University in St. Louis. She serves on national committees for clinical trials and translational research including Translational Co-Chair for the Uterine Corpus Committee for the NRG Clinical Trials Group. She is the international PI for GOG-3059/ENGOT OV-66 which is a Phase 3, Randomized, Double-Blind, Placebo-Controlled/Paclitaxel Study in Combination with Batiraxcept, an AXL inhibitor, for Platinum-resistant, High-Grade Serous Ovarian, Fallopian-Tube, and Peritoneal Cancer. She is the principal investigator on multiple grants from various federal and foundation sources. She is committed to developing better treatments for women with gynecologic cancers.
Education/Training
Year
Institution & Location
Degree
Field of Study
1995-1999
Johns Hopkins University Baltimore, Maryland
B.A.
Biology and East Asian Studies

2000-2001

Georgetown University Washington, District of Columbia
M.S.
Physiology
2001-2005
Georgetown University Washington, District of Columbia
M.D.
Medicine 
2005-2009
Stanford University School of Medicine, Stanford, California
Postgraduate
Resident in Obstetrics and Gynecology
11-12/2007
Memorial Sloan Kettering Cancer Center Department of Surgery
Residency
Galloway Residency Rotation Gynecologic Oncology
2009-2012
Combined Program Stanford University and University of California, San Francisco
Fellowship
Gynecologic Oncology, Ob/Gyn Combined Program
2009-2013
Stanford University, Stanford, California
PhD
Cancer Biology
Thesis Advisor: Amato Giaccia, PhD
Achievements & Recognition
| Year | Major Honors |
| --- | --- |
| 1999 | Multicultural Diversity Award, Johns Hopkins University |
| 6/2007 | Bayer HealthCare Best Ob/Gyn Resident Teaching Award |
| 2008 | James A. Roberts Award for Outstanding Clinical Care as a Resident in Gynecologic Oncology |
| 2008-2009 | Lucile Packard Children's Hospital Clinical Fellow in Obstetrics and Gynecology Research Award |
| 2008-2009 | Administrative Chief Resident, Stanford Obstetrics and Gynecology |
| 2009 | Chief residency graduation awards: Outstanding Resident Instructor and Excellence in Surgical Performance |
| 2009 | Advanced Residency Training at Stanford (ARTS) program recipient: NIH sponsored program for clinical residents or fellows to pursue a PhD degree |
| 2013-2018 | Reproductive Scientist Development Program Scholar |
| 2019 | American Cancer Society Research Scholar Award |
Selected Recent Publications
Bruce SF, Huysman B, Bharucha J, Massad LS, Mullen MM, Hagemann AR, Fuh KC, McCourt CK, Thaker PH, Khabele D, Powell MA, Mutch DG, Kuroki LM. Impact of the COVID-19 pandemic on referral to and delivery of gynecologic oncology care. Gynecol Oncol Rep 2022 Feb; 39: 100928. PMID 35024405. PMCID: PMC8739812.

Mullen M, Noia H, Fuh K. Culturing Primary Human Mesothelial Cells. Methods Mol Biol 2022; 2424:147-154. Doi: 10.1007/978-1-0716-1956-8_9. PMID: 34918292.
Toboni MD, Lomonosova E, Bruce SF, Tankou JI, Mullen MM, Schab A, Oplt A, Noia H, Wilke D, Kuroki LM, Hagemann AR, McCourt CK, Thaker PH, Powell MA, Khabele D, Mutch DG, Fuh KC. Inhibition of AXL and VEGF-A has improved therapeutic efficacy in uterine serous cancer. Cancers (Basel). 2021 Nov 23; 13(23):5877. doi: 10.3390/cancers13235877. PMID: 34884986.
Mullen, MM, Lomonosova E, Toboni MD, Oplt A, Cybulla E, Blachut B, Noia H, Wilke D, Rankin EB, Kuroki LM, Hagemann AR, Hagemann IS, McCourt CK, Thaker PH, Mutch DG, Powell MA, Mosammaparast N, Vindigni A, Fuh KC. GAS6/AXL inhibition enhances ovarian cancer sensitivity to chemotherapy and PARP inhibition through increased DNA damage and enhanced replication stress. Molecular Cancer Research 2021 Oct; Online ahead of Print.
Sun H, Cao S, Mashl RJ, Mo CK, Zaccaria S, Wendl MC, Davies SR, Bailey MH, Primeau TM, Hoog J, Mudd JL, Dean DA 2nd, Patidar R, Chen L, Wyczalkowski MA, Jayasinghe RG, Rodrigues FM, Terekhanova NV, Li Y, Lim KH, Wang-Gillam A, Van Tine BA, Ma CX, Aft R, Fuh KC, Schwarz JK, Zevallos JP, Puram SV, Dipersio JF; NCI PDXNet Consortium, Davis-Dusenbery B, Ellis MJ, Lewis MT, Davies MA, Herlyn M, Fang B, Roth JA, Welm AL, Welm BE, Meric-Bernstam F, Chen F, Fields RC, Li S, Govindan R, Doroshow JH, Moscow JA, Evrard YA, Chuang JH, Raphael BJ, Ding L. Comprehensive characterization of 536 patient-derived xenograft models prioritizes candidates for targeted treatment. Nature Commun. 2021 Aug 24; 12(1): 5086. PMID: 34429404.
Henke LE, Stanley JA, Robinson C, Srivastava A, Contreras JA, Curcuru A, Green OL, Massad LS, Kuroki L, Fuh K, Hagemann A, Mutch D, McCourt C, Thaker P, Powell M, Markovina S, Grigsby PW, Schwarz JK, Chundury A. Phase I Trial of Stereotactic MRI-Guided Online Adaptive Radiation Therapy (SMART) for the Treatment of Oligometastatic Ovarian Cancer Int J Radiat Oncol Biol Phys 2021 Aug 30: S0360. PMID: 34474109.
Qian J, LeSavage BL, Hubka KM, Ma C, Natarajan S, Eggold JT, Xiao Y, Fuh KC, Krishnan V, Enejder A, Heilshorn SC, Dorigo O, Rankin EB. Cancer-associated mesothelial cells promote ovarian cancer chemoresistance through paracrine osteopontin signaling. J Clin Invest 2021; 131(16):e146186. PMID: 34396988.

Johns EA, Stanley JA, Toboni MD, Schwarz JK, Zhang F, Hagemann AR, Fuh KC, Thaker PH, McCourt CK, Mutch DG, Powell MA, Khabele D, Kuroki LM. Radiation therapy for vaginal and perirectal lesions in recurrent ovarian cancer. Gynecol Oncol Rep 2021; 37:100808. PMID:34169134.

Zamorano AS, Wilson EM, Liu J, Leon A, Kuroki LM, Thaker PH, McCourt CK, Fuh KC, Powell MA, Mutch DG, Evanoff BA, Colditz GA, Hagemann AR. Text-message-based behavioral weight loss for endometrial cancer survivors with obesity: A randomized controlled trial. Gynecol Oncol 2021 June:S0090-8258. Online ahead of print.
Gupta VG, Hirst J, Petersen S, Roby KF, Kusch M, Zhou H, Clive ML, Jewell A, Pathak HB, Godwin AK, Wilson AJ, Crispens MA, Cybulla E, Vindigni A, Fuh KC, Khabele D. Entinostat, a selective HDAC1/2 inhibitor, potentiates the effects of olaparib in homologous recombination proficient ovarian cancer. Gynecol Oncol 2021; 162(1):163-172. PMID: 33867143.

Wilson EM, Zamorano AS, Liu J, Morris D, Leon A, Kuroki LM, Thaker PH, McCourt CK, Fuh KC, Powell MA, Mutch DG, Colditz GA, Hagemann AR. Obese endometrial cancer survivors' perceptions of weight loss strategies and characteristics that may influence participation in behavioral interventions. Gynecol Oncol Rep 2021; 36:100719. PMID: 33665293.

Mullen MM, McKinnish TR, Fiala MA, Zamorano AS, Kuroki LM, Fuh KC, Hagemann AR, McCourt CK, Mutch DG, Powell MA, Wildes TM, Thaker PH. A deficit-accumulation frailty index predicts survival outcomes in patients with gynecologic malignancy. Gynecol Oncol 2021; 161(3):700-704. PMID: 33648746.

Kuroki LM, Morris DH, Greenwade M, Landon M, Hagemann AR, Thaker PH, Massad LS, McCourt CK, Fuh KC, Powell MA, Mutch DG, Khabele D, Vanderlan JR. Impact of employment and insurance status on distress in gynecologic oncology patients. Gynecol Oncol 2021; 161(2):477-482. PMID: 33546868.