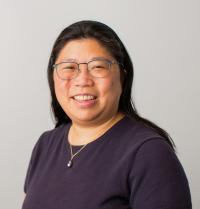 Lee-may
Chen, MD, FACS, FACOG
Clinical Professor & Director
Division of Gynecologic Oncology
Board Certified Gynecologic Oncologist
John A. Kerner Distinguished Professor in Gynecologic Oncology
 
Contact Information
Mailing Address:

Division of Gynecologic Oncology
Dept of Ob/Gyn & Reproductive Sciences
490 Illinois Street, Floor 10, Box 0132
San Francisco, CA 94143

Academic Phone:
415-885-5761 / 415-885-7204
Academic Fax:
415-885-3586
Department:
Obstetrics, Gynecology & Reproductive Sciences
Research/Clinical Interests
Dr. Lee-may Chen is a board certified in gynecologic oncology as well as hospice palliative medicine. Dr. Chen specializes in gynecologic malignancies at the University of California, San Francisco, Helen Diller Family Comprehensive Cancer Center. Dr. Chen has a particular interest in surgical and medical management of ovarian cancer. Her research focuses on early detection in women who are at a high risk of developing gynecological cancer, symptom management, decision-making in the treatment of gynecologic cancers and the effects of psychosocial support on patients. Dr. Chen is an active clinician and surgeon and is the principal investigator of several novel chemotherapeutic clinical trials in gynecologic cancers through the Gynecologic Oncology Group.  As a clinical professor, she is highly involved in the academic development and training of fellows, residents and medical students at UCSF, and was elected to the UCSF Academy of Medical Educators in 2008. She is also a member of the Society of Gynecologic Oncology. On a national level, Dr. Chen has worked on the creation of a formal learning objectives program with leaders from the Society of Gynecologic Oncologists. Her research projects involving hereditary gynecologic cancer risk and treatment have been published in The New England Journal of Medicine, Journal of Clinical Oncology and Obstetrics and Gynecology, among other influential medical journals. Dr. Chen also speaks Mandarin and medical Spanish.
Education/Training
| Year | Institution & Location | Degree | Field of Study |
| --- | --- | --- | --- |
| 1989 | University of Michigan, Ann Arbor | B.S. | Biomedical Sciences & Chinese Studies |
| 1992 | University of Michigan Medical School, Ann Arbor | M.D. | Medicine |
| 1996 | University of Michigan Medical School, Ann Arbor | Internship & Residency | Obstetrics & Gynecology |
| 1999 | University of California, Los Angeles School of Medicine | Fellowship | Gynecologic Oncology |
| 2006 | University of California, San Francisco School of Medicine |   | Teaching Scholars Program |
| 2010 | Clinical & Translational Science Institute University of California, San Francisco |   | Mentor Development Program |
Achievements & Recognition
Year
Major Honors
1990-91

J. Robert Willson Award for Excellence in Obstetrics & Gynecology

1997

Berlex Oncology Foundation, Genetics in Oncology Course
Berlex Oncology Foundation, Epidemiology / Clinical Trial Design Course

2003

ACOG/CREOG National Faculty Award, 2003

2006

Teaching Scholars Program, UCSF School of Medicine

2006
Cancer Liason Physician Outstanding Performance Award
2008

Academy Chair in Obstetrics and Gynecology Education Innovations Proposal Awards

2010

Helen Diller Family Comprehensive Cancer Center Quality Award

2010

The Ernie H. Rosenbaum, MD Commitment to Patient Care Award

2010

Edward C. Hill, MD, Endowed Chair

2012

Clinical & Translational Research Institute Resident Mentor of the Year

2013

Exceptional Faculty Award in Medical Student Teaching

2014

Outstanding Resident Teaching Award, UCSF Ob/Gyn Department

2015
John A. Kerner Distinguished Professor in Gynecologic Oncology
Selected Recent Publications
RJ Morgan Jr, RD Alvarez, DK Armstrong, B Boston, RA Burger, L Chen, L Copeland, MA Crispens, D Gershenson, HJ Gray, PW Grigsby, A Hakam, L Havrilesky, C Johnston, S Lele, UA Matulonis, DM O'Malley, RT Penson, SW Remmenga, P Sabbatini, RJ Schilder, JC Schink, N Teng, TL Werner. Epithelial Ovarian Cancer. J Natl Compr Cancer Netw 2011; 9: 82-113.
C Casey, L Chen, and MW Rabow. Symptom management in gynecologic malignancies. Expert Rev. Anticancer Ther 2011; 11: 1077-1089.
JK Chan, AE Sherman, DS Kapp, R Zhang, KE Osann, L Maxwell, L Chen, H Deshmukh. Influence of Gynecologic Oncologists on the Survival of Endometrial Cancer Patients. J Clin Oncol 2011; 29: 825-831.
D Gupta, MJ Gunter, K Yang, S Lee, L Zuckerwise, L Chen, GL Goldberg, GS Huang. Performance of serum CA125 as a prognostic biomarker in patients with uterine papillary serous carcinoma. Int J Gynecol Cancer 2011; 21: 529-534.
JT Rabban, A Mackey, CB Powell, B Crawford, CJ Zaloudek, L Chen. Correlation of Macroscopic and Microscopic Pathology in Risk Reducing Salpingo-oophorectomy: Implications for Intraoperative Specimen Evaluation. Gynecol Oncol 2011; 121: 466-471.
CB Powell, L Chen, J McLennan, B Crawford, C Zaloudek, JT Rabban, DH Moore, J Ziegler. Risk-reducing Salpingo-oophorectomy [RRSO] in BRCA Mutation Carriers: Experience with a Consecutive Series of 111 Patients Using a Standardized Surgical-Pathological Protocol. Int J Gynecol Cancer 2011; 21: 946-851.
JS Chapman, CB Powell, J McLennan, B Crawford, J Mak, N Stewart, L Chen. Surveillance of Survivors: Follow-up after risk-reducing salpingo-oophorectomy in BRCA mutation carriers. Gynecol Oncol 2011; 122: 339-343.
KY Yang, AB Caughey, SE Little, MK Cheung, L Chen. A cost-effectiveness analysis of prophylactic surgery versus gynecologic surveillance for women from hereditary non-polyposis colorectal cancer (HNPCC) families. Fam Cancer 2011; 10: 535-543.
R Ruskin, RR Urban, AE Sherman, L Chen, CB Powell, DH Burkhardt, L Chen. Predictors of ICU Utilization in Gynecologic Oncology Surgery. Int J Gynecol Cancer 2011; 21: 1336-1342
MR McLemore, BE Aouizerat, KA Lee, L Chen, B Cooper, M Tozzi, C Miaskowski. A comparison of the cyclic variation in serum levels of CA125 across the menstrual cycle using two commercial assays. Biol Res Nurs 2012; 14 (3): 25-256.
SB Kaye, J Lubinski, U Matulonis, JE Ang, C Gourley, B Karlan, A Amnon, KM Bell-McGuinn, L Chen, M Friedlander, T Safra, I Vergotek, M Wickens, J Carmichael, B Kaufman. A phase II open-label, randomzed multicenter study to compare the efficacy and safety of olaparib, a poly (ADP-ribose) polymerase (PARP) inhibitor, and pegylated liposomal doxorubicin (PLD) in patients with BRCA1 or BRCA2 mutations and recurrent ovarian cancer. J Clin Oncol 2012; 30 (4): 372-379.
JG Cohen, AE Sherman, T Kiet, DS Kapp, KE Osann, L Chen, P O'Sullian, JK Chan. Characteristics of Success in Mentoring and Research Productivity – A Case-control Study of Academic Centers. Gynecol Oncol 2012, 125: 8-13.
R Urban and L Chen. Perioperative and Critical Care. In BY Karlan, RE Bristow, and AJ Li, eds. Gynecologic Oncology: Clinical Practice and Surgical Atlas. McGraw Hill Medical: New York, pp. 345-372, 2012.
P Venkat, L Chen, N Young-Lin, T Kiet, G Young, D Amatori, B Dasverma, X Yu, DS Kapp, JK Chan. An economic analysis of robotic versus laparoscopic surgery for endometrial cancer: costs, charges, and reimbursements to hospitals and professionals. Gynecol Oncol 2012; 125: 237-240.
X Yu, D Lum, TK Kiet, K Fuh, J Orr, R Brooks, S Ueda, L Chen, DS Kapp, JK Chan. Utilization of and Charges for Robotic versus Laparoscopic versus Open surgery for endometrial cancer. J Surg Oncol 2013; 107 (6): 653-658.
WT Lin, M Beattie, L Chen, K Oktay, SL Crawford, EB Gold, M Cedars, M Rosen. Comparison of age at natural menopause in BRCA1/2 mutation carriers with a non-clinic-based sample of women in northern California. Cancer 2013; 119 (9): 1652-1659.
CB Powell, EM Swisher, I Cass, J McLennan, B Norquist, RL Garcia, J Lester, BY Karlan, L Chen. Long term follow up of BRCA1 and BRCA2 mutation carriers with unsuspected neoplasia identified at risk reducing salpingo-oophorectomy. Gynecol Oncol 2013; 129 (2): 364-371.
KH Lu, FD Loose, MD Yates, GM Nogueras-Gonzalez, MF Munsell, L Chen, H Lynch, T Cornelison, S Boyd-Rogers, M Rubin, MS Daniels, P Conrad, A Milbourne, DM Gershenson, RR Broaddus. Prospective, multicenter randomized intermediate biomarker study of oral contraceptive vs. depo-Provera for prevention of endometrial cancer in women with Lynch Syndrome. Cancer Prev Res 2013; 6 (8): 774-781.
Ang JE, C Gourley, CB Powell, H High, R Shapira-Frommer, V Castonguay, J De Greve, T Atkinson, TA Yap, S Sandhu, S Banerjee, L Chen, ML Friedlander, B Kaufman, AM Oza, U Matulonis, LJ Barber, I Kozarewa, K Fenwick, I Assiotis, J Campbell, L Chen, JS de Bono, ME Gore, CJ Lord, A Ashworth, SB Kaye. Efficacy of chemotherapy in BRCA1/2 mutation carrier ovarian cancer in the setting of poly (ADP-ribose) polymerase inhibitor resistance: a multi-institutional study. Clinical Cancer Research 2013; 19 (19): 5485-5493.
Lefkowits C, MW Rabow, A Sherman, T Kiet, R Ruskin, JK Chan, and L Chen. Predictors of High Symptom Burden in Gynecologic Oncology Outpatients: Who should be referred to outpatient palliative care?Gynecol Oncol 2014; 132 (3): 698-702.
Rabban, JT, SM Calkins, AN Karnezis, JP Grenert, A Blanco, B Crawford, and L Chen. Association of Tumor Morphology with Mismatch Repair Protein Status in Older Endometrial Cancer Patients: Implications for Universal versus Selective Screening Strategies for Lynch Syndrome. Am J Surg Pathol 2014; 38 (6): 793-800.
Rabban JT, K Garg, B Crawford, L Chen, C Zaloudek. Early detection of high grade tubal serous carcinoma in women at low risk for hereditary breast and ovarian cancer syndrome by systematic examination of fallopian tubes incidentally removed during benign surgery. Am J Surg Pathol 2014; 38 (6): 729-742.
Miaskowski C, BA Cooper, M Melisko, L Chen, J Mastick, C West, SM Paul, LB Dunn, BL Schmidt, M Hammer, F Cartwright, F Wright, DJ Langford, K Lee, and BE Aouizerat. Disease and treatment characteristics do not predict symptom occurrence profiles in oncology outpatients receiving chemotherapy. Cancer 2014, Epub ahead of print.
MI Edelson, L Chen, and WM Burke. Postoperative radiation therapy for endometrial cancer: Where do we go from here? Practical Radiation Oncology 2014; 4: 145-146.
Yadav BS, George P, Sharma SC, Gorsi U, McClennan E, Martino MA, Chapman J, Chen LM, Prakash G, Malhotra P, Tantravahi SK, Glenn MJ, Werner TL, Baksh K, Sokol L, Morris GJ. Primary non-Hodgkin lymphoma of the ovary.Semin Oncol. 2014 Jun;41(3):e19-30. doi: 10.1053/j.seminoncol.2014.05.001. Epub 2014 May 16.
Usach I, Blansit K, Chen LM, Ueda S, Brooks R, Kapp DS, Chan JK. Survival differences in women with serous tubal, ovarian, peritoneal, and uterine carcinomas. Am J Obstet Gynecol. 2015 Feb;212(2):188.e1-6. doi: 10.1016/j.ajog.2014.08.016. Epub 2014 Aug 18.
Lancaster JM, Powell CB, Chen LM, Richardson DL; SGO Clinical Practice Committee. Society of Gynecologic Oncology statement on risk assessment for inherited gynecologic cancer predispositions. Gynecol Oncol. 2015 Jan;136(1):3-7. doi: 10.1016/j.ygyno.2014.09.009. Epub 2014 Sep 17.
Fuh KC, Shin JY, Kapp DS, Brooks RA, Ueda S, Urban RR, Chen LM, Chan JK. Survival differences of Asian and Caucasian epithelial ovarian cancer patients in the United States. Gynecol Oncol. 2015 Mar;136(3):491-7. doi: 10.1016/j.ygyno.2014.10.009. Epub 2014 Oct 16.
Chapman JS, Jacoby V, Chen LM. Managing symptoms and maximizing quality of life after preventive interventions for cancer risk reduction. Curr Opin Obstet Gynecol. 2015 Feb;27(1):40-4. doi: 10.1097/GCO.0000000000000146.
McLemore MR, Miaskowski C, Lee K, Chen LM, Aouizerat BE. Differences in the Molecular Species of CA125 Across the Phases of the Menstrual Cycle. Biol Res Nurs. 2015 Jan 7. pii: 1099800414565879. [Epub ahead of print]
Landrum LM, Blank S, Chen LM, Duska L, Bae-Jump V, Lee PS, Levine L, McCourt C, Moore KN, Urban RR. Comprehensive care in gynecologic oncology: The importance of palliative care. Gynecol Oncol. 2015 May;137(2):193-202. doi: 10.1016/j.ygyno.2015.02.026. Epub 2015 Mar 4.
Walker JL, Powell CB, Chen LM, Carter J, Bae Jump VL, Parker LP, Borowsky ME, Gibb RK. Society of Gynecologic Oncology recommendations for the prevention of ovarian cancer. Cancer. 2015 Mar 27. doi: 10.1002/cncr.29321. [Epub ahead of print]
Wright F, D'Eramo Melkus G, Hammer M, Schmidt BL, Knobf MT, Paul SM, Cartwright F, Mastick J, Cooper BA, Chen LM, Melisko M, Levine JD, Kober K, Aouizerat BE, Miaskowski C. Predictors and Trajectories of Morning Fatigue Are Distinct from Evening Fatigue. J Pain Symptom Manage. 2015 Mar 27. pii: S0885-3924(15)00152-9. doi: 10.1016/j.jpainsymman.2015.02.016. [Epub ahead of print]
Wright F, D'Eramo Melkus G, Hammer M, Schmidt BL, Knobf MT, Paul SM, Cartwright F, Mastick J, Cooper BA, Chen LM, Melisko M, Levine JD, Kober K, Aouizerat BE, Miaskowski C. Trajectories of Evening Fatigue in Oncology Outpatients Receiving Chemotherapy. J Pain Symptom Manage. 2015 Mar 27. pii: S0885-3924(15)00151-7. doi: 10.1016/j.jpainsymman.2015.02.015. [Epub ahead of print]
Makker V, Filiaci VL, Chen LM, Darus CJ, Kendrick JE, Sutton G, Moxley K, Aghajanian C. Phase II evaluation of dalantercept, a soluble recombinant activin receptor-like kinase 1 (ALK1) receptor fusion protein, for the treatment of recurrent or persistent endometrial cancer: An NRG Oncology/Gynecologic Oncology Group Study 0229N. Gynecol Oncol. 2015 Apr 16. pii: S0090-8258(15)00796-9. doi: 10.1016/j.ygyno.2015.04.006. [Epub ahead of print]