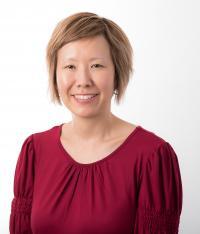 Stefanie
Ueda, MD, FACOG
Associate Professor
Board Certified Gynecologic Oncologist
Contact Information:
Mailing Address:

Division of Gynecologic Oncology
Dept of Ob/Gyn & Reproductive Sciences
490 Illinois Street, Floor 10, Box 0132
San Francisco, CA 94143

Academic Phone:
415-885-7204 / 415-885-7561
Academic Fax:

415-885-3586
Research/Clinical Interests
Dr. Stefanie Ueda's primary interests at UCSF are ovarian cancer, robotic surgery, uterine serous cancer, biologically targeted therapies and international health.  During the last two years she has pioneered a program in Uganda's Mulago Hospital and Makerere University aimed at improving cancer care and surgical training in an effort to treat the 80-100 patients seen on the oncology ward each week.  She is helping to revolutionize treatment and outcomes with the introduction of twice-weekly ward rounds, a follow-up outpatient clinic and telemedicine consultation via e-mail and Skype.  In spite of limited resources, she hopes to introduce chemotherapy and improve laparoscopic and surgical capabilities.
Education/ Training
| Year | Institution & Location | Degree | Field of Study |
| --- | --- | --- | --- |
| 1997 | Stanford University, Stanford, CA | B.A. | English |
| 2002 | New York University School of Medicine, New York, NY | M.D. | Medicine |
| 2006 | University of Hawaii, Honolulu, HI | Residency | Obstetrics & Gynecology |
| 2010 | Johns Hopkins School of Medicine, Baltimore, MD | Fellowship | Gynecologic Oncology |
Achievements & Recognition
| Year | Major Honors |
| --- | --- |
| 2007 | HERA Foundation Award in Ovarian Cancer Research |
| 2007 | Entertainment Industry Foundation Award in Ovarian Cancer Research |
Ueda SM, Yap, KL, Davidson, B et al. Expression of fatty acid synthase depends on NAC1 and is associated with recurrent ovarian serous carcinomas. J Oncology 2010;2010:285191.
Krill LS, Ueda SM, Gerardi M, Bristow RE. Analysis of postoperative complications associated with the use of anti-adhesion sodium hyaluronate-carboxymethylcellulose (HA-CMC) barrier after cytoreductive surgery for ovarian, fallopian tube and peritoneal cancers. Article in press for Gynecol Oncol. 2011 Feb; 120(2):220-3
Skaznik-Wikiel ME, Ueda SM, Frasure HE, Rose PG, Fleury A, Grumbine FC, Nickles-Fader A. Abnormal cervical cytology in the diagnosis of uterine papillary serous carcinoma: earlier detection of a poor prognostic cancer subtype? Acta Cytol 2001;55(3):255-60.
Bristow RE, Ueda S, Gerardi MA, Ajiboye OB, Ibeanu OA. Analysis of racial disparities in stage IIIC epithelial ovarian cancer care and outcomes in a tertiary gynecologic oncology referral center. Gynecol Oncol 2011;122(2):319-23.
Giuntoli RL, Gerardi MA, Yemelyanova AV, Ueda SM, Fleury AC, Diaz-Montes TP, Bristow RE. Stage I non-invasive and minimally invasive uterine serous carcinoma: comprehensive staging associated with improved survival. Int J Gynecol Cancer 2012;22(2):273-9.