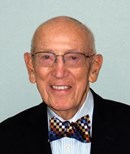 Dr. Ed Hill, a man of great integrity, intellect, and scholarship, passed away on April 1, 2017 of colon cancer. Dr. Hill, an Emeritus Professor of Obstetrics, Gynecology, and Reproductive Sciences, was a leader in our Department and continued to be a strong supporter after his retirement from UCSF. He made major contributions to women's health at UCSF and nationally, especially in Gynecology and Gynecologic Oncology. He supported women's reproductive rights and was a generous donor to our Department over many years. Dr. Hill endowed two chairs in our Department. One is within the Division of Gynecologic Oncology and was held for many years by Dr. Lee-may Chen. The second is for ongoing support to the Department Chair. Dr. Hill was also highly supportive of our global health programs, including our resident rotation in Uganda.
Dr. Hill recently published his memoirs, titled "The Joys and Sorrows of GYN: Memoirs of a Male Gynecologist," detailing his early years, education, medical career and loving marriage to his wife, Joy. A talented amateur cook and baker, he also recently compiled a book of "Forty Favorite Foods".
Dr. Hill attended the University of Idaho Southern Branch and George Washington University for his undergraduate and medical school education; he interned at King County (Harborview) Hospital in Seattle, WA, served three years in the U.S. Air Force as a flight surgeon, and served as a resident and subsequently as a faculty member at UCSF in the Department of Obstetrics, Gynecology and Reproductive Sciences for over sixty years. Dr. Hill was President of the Pacific Coast Obstetrical and Gynecological Society in 1985.
Ultimately giving up obstetrics in order to specialize in GYN Oncology, he mentored countless residents who now serve all over the country. He contributed over 50 peer-reviewed articles to the medical literature and introduced colposcopy and laparoscopy to the West Coast.
Betsy Minkler, his dear friend, was also a strong supporter of the Department and we were graced with both their presence at many events.
A celebration of his life occurred on Saturday May 13, 2017.
A special fund has been set up in Dr. Hill's name for donations to our department. Please follow this link to make a gift.