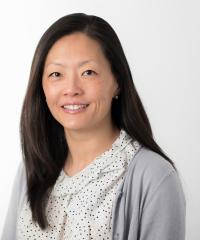 Yvonne
Lin-Liu, MD, MS, FACOG
Physician
Board Certified Gynecologic Oncologist
Contact Information 
Mailing Address:
Division of Gynecologic Oncology
Dept of Ob/Gyn & Reproductive Sciences
490 Illinois Street, Floor 10, Box 0132
San Francisco, CA 94143
Practice Phone:
415-353-9600
Practice Fax:
415-353-7657
Research/Clinical Interests
Dr. Yvonne G. Lin-Liu is a board-certified gynecologic oncologist with particular expertise in novel cancer therapies for gynecologic malignancies. She was a physician-scientist at the University of Southern California (USC) studying the role of metabolic and protein stress on cancer development and progression. Her clinical research studied new ways to harness and re-direct the body's immune system as part of cancer treatment. She has received grants from the NCI and several foundations towards these efforts, before transitioning into a full-time role at Genentech-Roche to advance the development of new targeted cancer therapies for women with cancer.
Dr. Lin graduated from the Massachusetts Institute of Technology, then completed graduate studies at the Harvard School of Public Health before embarking on a Fulbright Fellowship to Taiwan. She returned to medical school, earning her medical degree from the University of California, Irvine, before returning to Boston to complete her residency in obstetrics-gynecology at the Beth Israel Deaconess Medical Center. Subsequently, Dr. Lin completed her gynecologic oncology fellowship at the University of Texas, M.D. Anderson Cancer Center were she was a T32 grant recipient. Her research has been presented at multiple meetings and published in prominent journals, such as Cancer, NEJM, JNCI, Clinical Cancer Research, and Oncogene.
Dr. Lin is currently an assistant medical director at Genentech-Roche.
Education/Training  
| Year | Institution & Location | Degree | Field of Study |
| --- | --- | --- | --- |
| 1993 | Massachusetts Institute of Technology, Cambridge, MA, | SB | Chemistry |
| 1995 | Harvard School of Public Health, Boston, MA, | MS | Epidemiology |
| 2001 | University of California-Irvine College of Medicine, Irvine, CA | MD | Medicine |
| 2005 | Beth Israel Deaconess Medical Center, Boston,MA | Residency | Obstetrics & Gynecology |
| 2009 | The University of Texas M.D. Anderson Cancer Center, Houston, Texas | Fellowship | Gynecologic Oncology |
Achievements & Recognition
| Year | Major Honors |
| --- | --- |
| 2013 | NIH/NCI Career Development Award |
| 2011 | Gynecologic Cancer Foundation/St. Louis Ovarian Cancer Awareness Research Award |
Selected Publications
1. Lin YG, Shen J, Yoo E, Liu R, Yen HY, Mehta A, Rajaei A, Yang W, Mhawech-Fauceglia P, DeMayo FJ,Lydon J, Gill P, Lee AS: Targeting the glucose-regulated protein-78 abrogates Pten-null driven AKT activation and endometrioid tumorigenesis. Oncogene [Epub ahead of print] 2015. [PMID:25684138.]
2. Wu E, Rogers A, Ji L, Sposto R, Church T, Roman L, Tripathy D, Lin YG: Escalation of oncologic services at the end of life among patients with gynecologic cancer at an urban, public hospital. J Oncol Pract. [Epub ahead of print], 2015. [PMID:25604595]
3. Gray MJ, Mhawech-Fauceglia P, Yoo E, Yang W, Wu E, Lee AS, Lin YG: AKT inhibition mitigates GRP78 (Glucose-regulated Protein) expression and contribution to chemoresistance in endometrial cancers. Int J Cancer, 133(1): 21-30, 2013. [PMID:23280503]
4. Matsuo K, Gray MJ, Yang DY, Srivastava SA, Tripathi PB, Sonoda LA, Yoo EJ, Dubeau L, Lee AS, Lin YG:The endoplasmic reticulum stress marker, glucose-regulated protein-78 (GRP78) in visceral adipocytes predicts endometrial cancer progression and patient survival. Gynecol Oncol 128:552-9, 2013.[PMID:23200913]
5. Merritt WM, Lin YG, Han LY, Kamat AA, Spannuth WA, Schmandt R, Urbauer D, Pennacchio LA, Cheng JF, Nick AM, Deavers MT, Mourad-Zeidan A, Wang H, Mueller P, Lenburg ME, Gray JW, Mok S, Birrer MJ,Lopez-Berestein G, Coleman RL, Bar-Eli M, Sood AK: Dicer, drosha, and outcomes in patients with ovarian cancer. N Engl J Med 359:2641-50, 2008. [PMID:19092150]
6. Lin YG, Immaneni A, Merritt WM, Mangala SL, Kim S, Shahzad M, Tsang Y, Armaiz-Pena GN, Lu C, Kamat AA, Han LY, Spannuth WA, Nick AM, Landen CN, Wong KK, Gray MJ, Coleman RL, Bodurka D, Brinkley W, Sood AK: Targeting aurora kinase with MK-0457 inhibits ovarian cancer growth. Clin Cancer Res 14: 5437-46, 2008. [PMID:18765535]
7. Merritt WM, Lin YG, Spannuth WA, Fletcher MS, Kamat AA, Han LY, Landen CN, Jennings N, De Geest K, Langley RR, Villares G, Sanguino A, Lutgendorf SK, Lopez-Berestein G, Bar-Eli MM, Sood AK: Effect of interleukin-8 gene silencing with liposome-encapsulated small interfering RNA on ovarian cancer cell growth. JNCI 100:359-72, 2008. [PMID:18314475]
8. Halder J, Lin YG, Merritt WM, Spannuth WA, Nick AM, Honda T, Kamat AA, Han LY, Kim TJ, Lu C, Tari AM, Bornmann W, Fernandez A, Lopez-Berestein G, Sood AK: Therapeutic efficacy of a novel focal adhesion kinase inhibitor TAE226 in ovarian carcinoma. Cancer Res 67:10976-83, 2007. [PMID:18006843]
9. Landen CN, Lin YG, Armaiz-Pena GN, Das PD, Arrevalo JM, Kamat AA, Han LY, Jennings NB, Spannuth WA, Thaker PH, Lutgendorf SK, Savary CA, Sanguino AM, Lopez-Berenstein G, Cole SW, Sood AK: Neuroendocrine modulation of STAT3 in ovarian cancer. Cancer Res 67:10389-96, 2007.[PMID:17974982]
10. Lu C, Kamat AA, Lin YG, Merritt WM, Landen CN, Kim TJ, Spannuth W, Arumugam T, Han LY, Jennings,NB, Logsdon C, Jaffe RB, Coleman RL, Sood AK: Dual targeting of endothelial cells and pericytes in antivascular therapy for ovarian carcinoma. Clin Cancer Res 13:4209-17, 2007. [PMID:17634550]
11. Landen CN, Lin YG, Immaneni A, Deavers MT, Merritt WM, Spannuth WA, Bodurka DC, Gershenson DM, Brinkley WR, Sood AK: Overexpression of centrosomal protein Aurora A kinase is associated with poor prognosis in epithelial ovarian cancer patients. Clin Cancer Res 13:4098-104, 2007. [PMID:17634535]
12. Lin YG, Kunnumakkara AB, Nair A, Merritt WM, Han LY, Armaiz-Pena GN, Kamat AA, Spannuth WA, Lutgendorf SK, Aggarwal BB, Sood AK: Curcumin inhibits tumor growth and angiogenesis in ovariacarcinoma by targeting the nuclear factor-κB pathway. Clin Cancer Res 13:3423-3430, 2007.[PMID:17545551]
13. Lin YG, Han LY, Kamat AA, Merritt WM, Landen CN, Deavers MT, Fletcher MS, Urbauer DL, Kinch MS,Sood AK: EphA2 overexpression is associated with angiogenesis in ovarian cancer. Cancer 109:332-40,2007. [PMID:17154180]
14. Thaker PH, Han LY, Kamat AA, Arevalo JM, Takahashi R, Lu C, Jennings NB, Armaiz-Pena G, Bankson JA, Ravoori M, Merritt WM, Lin YG, Mangala LS, Kim TJ, Coleman RL, Landen CN, Li Y, Felix E, Sanguino AM, Newman RA, Lloyd M, Gershenson DM, Kundra V, Lopez-Berestein G, Lutgendorf SK, Cole SW, Sood AK: Chronic stress promotes tumor growth and angiogenesis in a mouse model of ovarian carcinoma. Nature Med 12:939-44, 2006. [PMID:16862152]