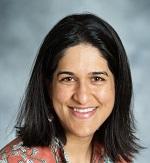 MaliniNijagal, MD, MPH
Obstetrics and Gynecology
Associate Professor
If a patient, please do not contact this physician by email without her prior expressed consent due to confidentiality concerns.
Contact Information
Mailing Address:

490 Illinois St, 93G
San Francisco, CA 94143

Clinic Location:
Zuckerberg San Francisco General Hospital
Clinic Phone:
415-206-3409
Academic Fax:
415-353-3533
Research/Clinical Interests
Dr. Malini Nijagal provides both obstetric and gynecologic care at Zuckerberg San Francisco General (ZSFG) and UCSF. Dr. Nijagal's clinical practice includes inpatient and outpatient obstetrics, and outpatient gynecology. Her academic interests focus on "high-value" health care, maternity care innovation, payment reform, midwifery care, and laborist care.
Education/Training
| Year | Institution | Degree | Field of Study |
| --- | --- | --- | --- |
| 2016 | Harvard T.H. Chan School of Public Health | M.P.H.  | Healthcare Management |
| 2006 | University of California, Los Angeles Medical Center | Residency | Obstetrics & Gynecology |
| 2002 | University of California, San Francisco School of Medicine | M.D. | Medicine |
| 1996 | University of California, Davis | B.S. | Biochemistry |
Achievements & Recognition
| Year | Major Honors |
| --- | --- |
| 2008-2014 | Outstanding Teaching Award, UCSF Undergraduate Medical Education |
| 2011 | Champion Award, Operation Access |
Publications on PubMed