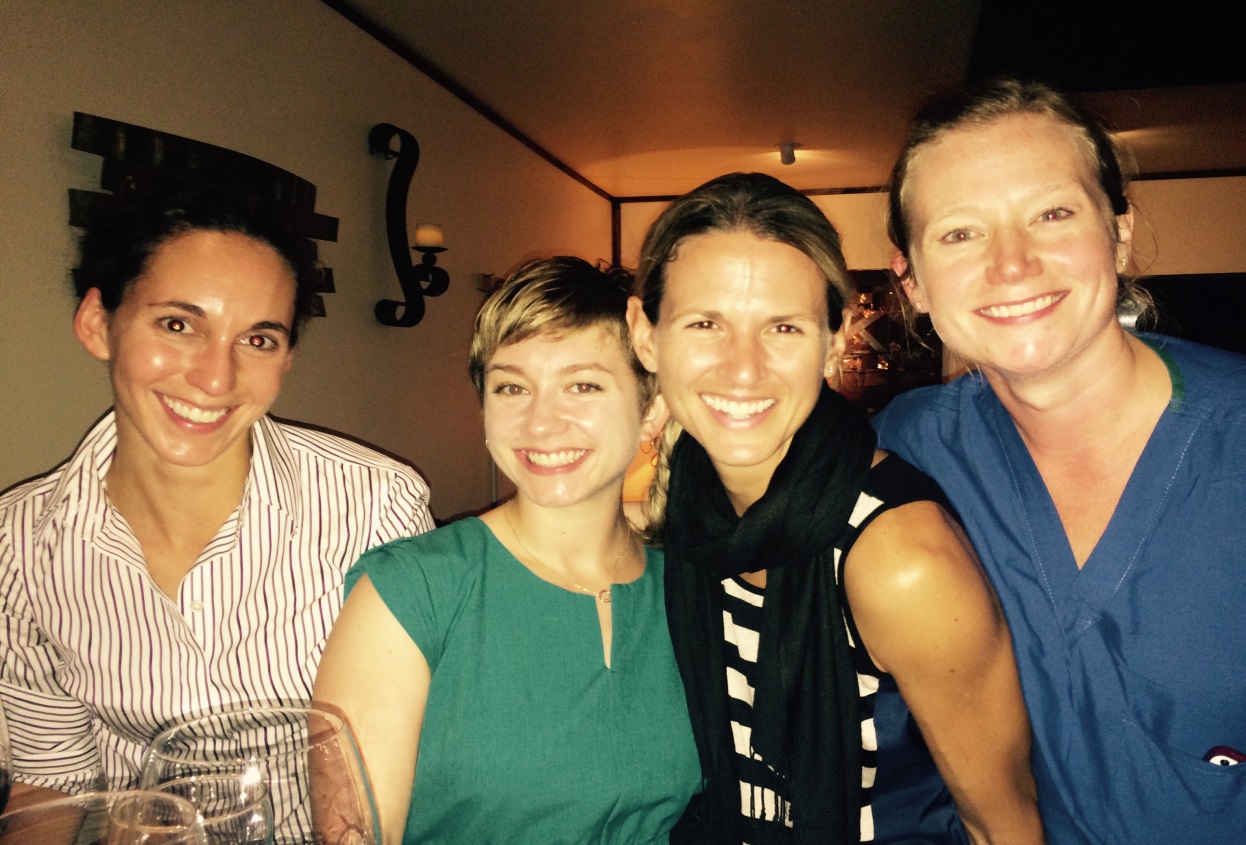 UCSF/KPSF Gynecologic Oncology Fellowship
The University of California, San Francisco (UCSF) School of Medicine and Kaiser Permanente San Francisco (KPSF) offer a three year joint Gynecologic Oncology Fellowship Program. Our fellowship Program is accredited program by accredited by Accreditation Council for Graduate Medical Education (ACGME). Our program is approved for 3 fellowship positions. One fellow is recruited each year. Fellows are trained at Bakar Cancer Hospital and Ron Conway Gateway Medical Building at the UCSF Mission Bay Campus, Zuckerberg San Francisco General (ZSFG) and Kaiser Permanente Medical Center, San Francisco (KPSF).
Our fellows will spend the first 6 month of their fellowship in a clinical rotation at UCSF follow by a 12 months protected time for research in gynecologic malignancies at a location based on the candidate's research interests. After the research year, fellows will continue with their clinical at either KPSF / ZSFG or UCSF. Senior fellows will have an opportunity to do a one month rotation at the UCSF Intensive Care Unit as well as an elective month of their choice in clinical oncology, surgical oncology, or dysplasia.
The residency program at UCSF is also an ACGME-accredited program and has nine residents per year, for a total of 36 residents. Residents rotate through Gynecologic Oncology for a period of 5-7 weeks each year. Residents also participate in the daily activities of the inpatient service and surgery with the fellows.
Goals and Objectives
Our fellowship program's educational objectives are structured according to the core competencies of the ACGME Outcomes Project.
Interpersonal skill and professional communication objectives are critical to acquiring knowledge and conveying results and recommendations to patients and providers alike.
Medical knowledge objectives emphasize learning for diagnosis and management of each of the major gynecologic tumor sites, but also modalities of treatment including radiation, chemotherapy, and palliative care.
Patient care objectives including complete assessment using history, physical examination findings, and laboratory test results, and selection and performance of diagnostic and therapeutic interventions, including radical pelvic and minimally invasive surgery.
Practice-based learning includes evidence based medicine, critically considered research, self-reflection as part of the evaluation process, while system-based learning includes quality improvement and multidisciplinary team collaboration. Throughout all educational activities, professionalism is essential for good performance and lifelong learning.
Fellowship Training Schedule / Block Gird
| | | | | | | | | | | | | |
| --- | --- | --- | --- | --- | --- | --- | --- | --- | --- | --- | --- | --- |
|   | July | Aug | Sept | Oct | Nov | Dec | Jan | Feb | Mar | April | May | June |
| Year 1 | UCSF | UCSF | UCSF | UCSF | UCSF | UCSF | RES | RES | RES | RES | RES | RES |
| Year 2 | RES | RES | RES | RES | RES | RES | KPSF or ZSFG | KPSF or ZSFG | KPSF or ZSFG | KPSF or ZSFG | KPSF or ZSFG | KPSF or ZSFG |
| Year 3 | KPSF or ZSFG | KPSF or ZSFG | KPSF or ZSFG | KPSF or ZSFG | KPSF or ZSFG | ICU | ELECT | UCSF | UCSF | UCSF | UCSF | UCSF |
Res = Research, KPSF = Kaiser Permanente San Francisco, ZSFG Zuckerberg San Francisco General, Elect = Elective
Curriculum
Surgical and Clinical Management
Radiation Therapy
Chemotherapy
Palliative Care
Genetic Counseling
Pathology
Critical Care
Research
IRB Training
Grant Writing
Statistical Analysis
Quantitative Techniques /Epidemiology/Study Design
Manuscript Preparation
Thesis presentation and defense
Elective Options
Radiation Oncology
Phase I
Surgical Oncology
Urologic Oncology
Colorectal Surgery
Dysplasia
Fellowship Training Activities
| | |
| --- | --- |
|   | UCSF |
| Daily Rounds | Daily at 6:30am |
| Teaching Rounds | Twice/ three times a week |
| Weekend Rounds and Calls | Share with Chief Residents |
| Grand Rounds | Weekly Tuesdays at 9:00am |
| Tumor Board | Weekly Tuesdays at noon |
| Fellow's didactic Lecture | Weekly Tuesdays at 5:30pm |
| Journal Club | quarterly* |
| M&M/Case Conference | Quarterly* |
| Fellowship College | Quarterly* |
| National Conference | SGO, WAGO, or other |
| Teaching Medical Students/ Residents/ External Rotation Fellows/ Visiting Scholars | As Assigned |
Research Projects
Megan Swanson, M.D. M.P.H.

Project 1:

Identifying barriers and facilitators to optimal cervical cancer care at Mulago Hospital, Kampala, Uganda

Investigator(s):

Anthony Okoth, MD, Jane Namugga, MD, Elizabeth Namukwaya, MD, Israel Lutu, MD, Stefanie Ueda, MD

Mentor(s):

Lee-may Chen, MD, Megan Huchko, MD

 
 

Project 2:

Prevention and Early Detection of Cervical Cancer through Self-Administered Screening in the Community

Investigators:

Megan Huchko, MD, Miriam Nakalembe, MD

Mentor:

Megan Huchko, MD

Current Fellows (UCSF remains merged with Stanford in fellowship training through 2016-2017. Beginning in July 2017, our program is merged with Kaiser Permanente San Francisco
Nichole Marjon, M.D., PhD
Rosa Guerra, M.D.
Jana Freeman, M.D.
Graduates (through 2016-2019 UCSF remains merged with Stanford in fellowship training through 2016-2017. Beginning in July 2017, our program is merged with Kaiser Permanente San Francisco)
| | |
| --- | --- |
| Megan Swanson, M.D., M.P.H. 2016-2019 | UCSF, Faculty Position                                                                                  |
Graduates (through 2016-2017, UCSF was merged with Stanford in fellowship training)
| | |
| --- | --- |
| Leah McNally, M.D. 2014-2017 | Duke University, Faculty Position |
| Gina Westhoff, M.D. 2012-2015 | Private Practice, Oregon |
| Jocelyn Chapman, M.D. 2012-2015 | UCSF, Faculty Position |
| Elise Simons, M.D. 2011-2014 | University of Utah, Faculty Position |
| Katherine Fuh, M.D 2009-2012 | Washington University St Louis, Faculty Position |
| Renata Urban, M.D. 2008-2011 | University of Washington, Faculty Position |
| Katherine Yang, M.D. 2007-2010 | Willamette Valley Cancer Institute and Research Center , Oregon |
| Valerie Sugiyama, M.D. 2006-2009 | Boston University, Faculty Position |