Mercedes Rose, NP
Mercedes Rose is a nurse practitioner who cares for women with gynecologic malignancies, including cervical, endometrial, ovarian, and vulvar cancers. She collaborates with a multidisciplinary team to provide personalized, comprehensive care to patients during all stages of treatment, including diagnosis, surgery, radiation and chemotherapy.
Mercedes earned her bachelor's degree in nursing from UCSF and her master's degree in nursing from the University of California, Los Angeles. She is a member of the Oncology Nursing Society. She has more than 20 years of nursing experience and has worked at UCSF since 2008.

Katie Merrill, NP
Katie Merrill is a nurse practitioner who cares for women with gynecologic cancers. She collaborates with a team of providers to help patients manage their symptoms after surgery and during chemotherapy.
Merrill earned both a bachelor's and a master's degree in nursing at the University of Virginia. She is a member of the Oncology Nursing Society and California Association for Nurse Practitioners.

Carrie Mancini, NP-BC
Carrie joined UCSF from Memorial Sloan Kettering Cancer Center in NYC where she started as a RN with inpatient Breast and Gynecologic Oncology patients. She then gained two years of experience as a Nurse Practitioner in Breast Oncology. Her last two years at Sloan Kettering were spent in Palliative Care. Carrie's educational background includes a Bachelors in Economics from Fordham University, a Bachelors in Nursing from Pace University and Masters in Nursing from Hunter-Bellevue School of Nursing.

From Left to right: Christine Oeur, Pauline Beggs, Jocelyn Parrott
Pauline Beggs, RN
Pauline Beggs is a registered nurse in gynecologic oncology at the UCSF Helen Diller Family Comprehensive Cancer Center, where her patients have valued her clinical expertise and warm demeanor for more than 10 years. Additionally, she is highly regarded for the calm, confident way that she works with her newly diagnosed patients and their families. Pauline also skillfully cares for her patients as they progress through treatment and she works with them to mitigate side effects. These skills and her 30 years of nursing experience have helped make her an integral member of the UCSF gynecologic oncology practice. Pauline received her nursing education in the United Kingdom and went on to complete postgraduate training in stress management.

She is the recipient of the prestigious 2011 Ernest H. Rosenbaum, MD Symptom Management Service Commitment to Patient Care Award for her passionate devotion to providing exceptionally high-quality patient care. Additionally, she is a member of the American Holistic Nurses Association, which emphasizes treating the whole person and viewing healing as a partnership between a patient and their practitioner. She is also active in Imagery International and she has lectured around the country on the health and wellness benefits of guided imagery and stress management. Another one of Pauline's interests is patient education. Each year, she organizes and moderates the "Living with Gynecologic Cancer" events at UCSF. These popular programs raise awareness and bring support to her patients and the community. In addition, Pauline Beggs is one of the honorees of the prestigious the DAISY Award for Extraordinary Nurses in 2016.

Christine Oeur, RN
Christine Oeur is a registered nurse in gynecologic surgical oncology clinic. She holds a Bachelor of Science Degree in Nursing from California State University, Sacramento and currently pursuing a Doctorate in Nursing Practice at University of San Francisco. Christine has worked at UC Davis Comprehensive Cancer Center and Stanford Cancer Center. She has been an oncology nurse for over six years with experience in oncology patient care, chemotherapy and symptom management education. Christine also holds a certification in oncology nursing.

Jocelyn Parrott, RN, BSN, OCN
Jocelyn is a registered nurse in gynecologic surgical oncology in the outpatient setting. She holds a Bachelor of Science Degree in Dietetics from Miami University in Ohio and a Bachelor of Science in Nursing from Pace University in New York. Jocelyn started her Nursing career in oncology at Memorial Sloan-Kettering Cancer Center and has over ten years of experience working with oncology patients. She has maintained a certification in oncology as well as a chemotherapy and biotherapy provider card. She works primarily with patients triaging symptoms over the phone and participating in chemotherapy education. Jocelyn enjoys the opportunity to support and show compassion to her patients through the challenges of the cancer journey.
Melissa Pond, MA
Melissa is our medical assisting supervisor for gynecologic oncology and head & neck surgery practice at UCSF. She was initially hired to help with the transition to the new Mission Bay campus and has been involved in creating systems and workflows for the new location. Melissa is from Boston, Massachusetts and moved to the Bay Area six years ago. She is honored to be a part of the prestigious Gyn Onc team and works hard every day to administer UCSF's excellent providers with outstanding medical assisting support.

Allison Zaitchik, MSW, LCSW
Allison Zaitchik is a clinical social worker who cares for patients with urologic and gynecologic cancers. She works as part of an interdisciplinary care team, providing psychosocial support and advocacy to patients, families and caregivers facing the emotional and practical consequences of a cancer diagnosis.
Zaitchik earned her master's degree in social work, with a certificate in trauma treatment, from the Boston University School of Social Work. Before joining UCSF, she was a social worker at Massachusetts General Hospital.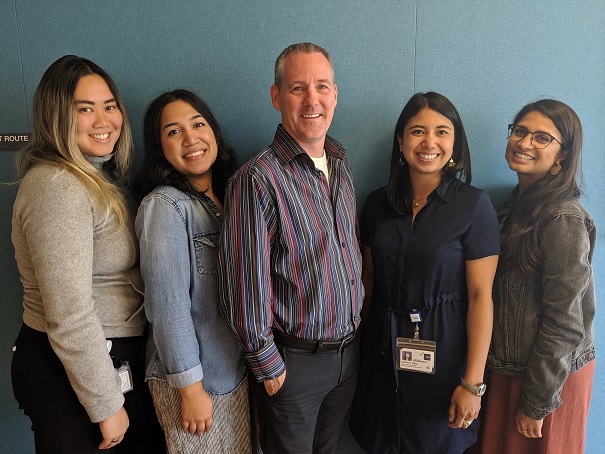 From left to right: Christina Munsayac, Emilia Calderon, Kevin Anderson, Katherine Bigay, Rebecca Gaffar, 
Katherine Bigay, MPH
Katherine is the Clinical Research Manager for the Gynecologic Oncology team who joined in 2019. She is the main point of contact for study start-up and maintenance and manages the Gyn Onc research program. Prior to joining the Gyn Onc team, She has contributed to research at UCSF with the Metabolic Bone Clinic and the Office of Clinical Research. Katherine has a background in chronic health epidemiology and is passionate about working in women's health and contributing to cancer research. Katherine earned a BS in Biology and Anthropology from Haverford College and a Masters of Public Health in Epidemiology from Rutgers University as a USAID Fellow.
Rebecca Gaffar, BA
Rebecca joined the Gynecologic Oncology clinical research team in 2016. She started her research career while studying at San Francisco State University and was inspired to keep pursuing clinical and academic research. Rebecca is eager to help the patients at UCSF and is dedicated to working with her team to improve the lives of women affected by gynecologic cancers.
Emilia Calderon, BA
Emilia joined the Gynecologic Oncology team in 2018. She graduated from the University of San Francisco with a B.A. in Psychology. Emilia has been involved in different aspects of women's health, fertility and prenatal health. She is motivated to learn and growth with the team to continue to help improve women's health through cancer research.
Theresa Abts, MSW, LCSW
Theresa Abts serves as the chief clinical social worker at the Helen Diller Comprehensive Cancer Center at UCSF Medical Center. Prior to joining UCSF, she was the director of Social Work Services at Doctors Medical Center in San Pablo, Calif. Abts has worked for many years in hospice care, cancer care, palliative care, and geriatrics. She earned a master's degree in social work from California State University, Long Beach and is a licensed clinical social worker.
Will Pierson
Will joined the Gynecologic Oncology research team in 2017. Conducting research under the direction of Jocelyn Chapman, MD, he combines backgrounds in software and biochemistry to better understand the genetic basis of gynecologic malignancies. He also works to modernize the division's tissue banking activities, facilitating distribution of our extensive collection of donated tissue samples to cutting edge cancer researchers.