Updated March 4, 2015
The new UCSF Betty Irene Moore Women's Hospital contains modern facilities, including rooms with natural light to promote healing, meditation rooms, and personalized multimedia systems. But the real heart of the hospital stems from its women-centered approach to caring for its patients.
A key part of this approach is partnering with patients and providing them with options for less invasive treatments. For example, uterine fibroids – noncancerous growths that develop in the uterine muscle tissue – affect up to 25 percent of premenopausal women, said
Vanessa Jacoby
, MD (right), an obstetrician gynecologist.
Historically doctors routinely urged women to undergo hysterectomy if they were bothered by fibroids. Women who opted to avoid surgical removal of the uterus, which would end their ability to bear children, often learned how to live with the pain. Fibroids can cause profuse menstrual bleeding, and benign tumors can grow to cantaloupe dimensions. Some simply wait it out until menopause, when dwindling hormone levels would make the growths shrivel, gradually alleviating pelvic discomfort and other symptoms.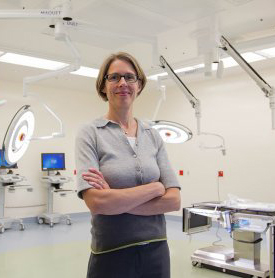 For doctors like Jacoby and her spouse, Alison Jacoby, MD (right), also an OB/GYN, the take-it-all-out or just-put-up-with-it dichotomy seemed shockingly limited for a condition that has serious quality-of-life implications for a sizeable chunk of the patient demographic.
"While hysterectomy may remain the best choice for some women, many of our patients are seeking less invasive but still highly effective treatments. Our focus is on researching these minimally invasive options that may be less likely to cause complications and enable women to return to their normal activities within days rather than weeks," said Vanessa Jacoby, the principal investigator of several clinical trials at UCSF Comprehensive Fibroid Center, which was founded by Alison Jacoby, its director, in 1999.
"We're also especially interested in studying new techniques for women planning future pregnancies that will not compromise the chance of conception or increase risks during pregnancy," she noted.
Better Technology Provides Women Alternatives
At the vanguard of this new class of less-invasive treatment is laparoscopic radiofrequency ablation, a procedure in which a needle-like device guided by a thin telescope delivers heat directly to the fibroids. The heat shrinks the fibroids, many decrease about 40 percent in three months, and relieves symptoms significantly in most cases.
Inside UCSF Betty Irene Moore Women's Hospital
Patients have a private multimedia system where they can watch movies, use social media, e-mail questions to their clinical team, Skype and access physician-prescribed educational videos.
Rooms and hallways are filled with natural light to promote healing, and many many private rooms have garden views.
The center contains meditation rooms and unique artwork to calm and divert patients and their families.
An onsite helipad can transport pregnant women and newborns with serious complications from outlying hospitals.
Luxury private labor and delivery rooms contain spa-like bathtub and family areas with a refrigerator and Wi-Fi.
It's one of the few hospitals in the nation to offer laboring women nitrous oxide, a lower-tech alternative to epidural for pain control.
Inpatient lactation consultants and outpatient breastfeeding clinic is available.
A volunteer doula program assists low-income women in labor.
"Women go home a few hours after the procedure and fully recover in five to nine days," said Vanessa Jacoby, who is tracking women who undergo radiofrequency ablation from five UC campuses. She's following the patients for over three years to determine symptom changes, incidence of fibroid regrowth and what impact, if any, it has on conception and pregnancy. Data suggest regrowth happens in 10 to 20 percent of noninvasive treatments.
A second clinical trial evaluates the effectiveness of MR-guided focused ultrasound, a device that sends highly focused sounds waves to fibroids, which destroys cells causing fibroids to shrink. This study will compare results with an older technique called uterine artery embolization (UAE) that is not offered to women hoping to become pregnant. In UAE, a radiologist uses a catheter to send tiny particles to the blood vessels that feed fibroids in order to block their blood supply. The procedure, which usually requires a one-night hospital stay, reduces fibroid size causing symptoms to ease.
Evaluating Alternative Medicine Options
Investigating the safety and effectiveness of complementary and alternative medicine – something that many fibroid patients favor – is another of Vanessa Jacoby's research interests. She is also analyzing newly acquired data to determine the risk of cancer metastasis from a technique called power morcellation, which cuts up fibrous tissue into tiny pieces that can be removed through small incisions.
Due to fears that power morcellation may accelerate disease progression in women with undiagnosed sarcoma, UCSF gynecologists are following national guidelines to contain the tissue in a bag prior to removing it from the body.
For the Jacobys, the new Women's Hospital, opening February 1, 2015, will embody the patient-partnering approach the two doctors have long espoused, complementing the services that have made UCSF Northern California's only nationally designated Center of Excellence in Women's Health.
"We advocate a treatment plan individualized for each woman that takes into account not only the nuances of fibroids and the symptoms they produce, but her goals and lifestyle plus any plans for pregnancies. The new hospital will embrace this philosophy for all of its patients," said Alison Jacoby.
Birthing Center Promises Bright New Beginnings
Included in the UCSF Betty Irene Moore Women's Hospital is a 36-bed birthing center designed to optimize labor and delivery outcomes without compromising the comfort and personal goals of each expectant mother.
"What is unique about UCSF Betty Irene Moore Women's Hospital is our expertise. Women can labor the way they want to labor knowing that we can handle any complications that develop," said obstetrician gynecologist Elena Gates, MD (left), who has played a leading role in the planning of the new hospital.
"This is your hospital if a doula or midwife are in your birth plan and you anticipate delivery with zero or minimal interventions, and this is your hospital in a high-risk pregnancy involving fetal surgery or the need for intensive monitoring by perinatologists."

UCSF Betty Irene Moore Women's Hospital also recognizes the importance of hospitalized pregnant women being surrounded and supported by other mothers-to-be dealing with complications.
"We will have a dedicated unit with green space and lounge areas, so these patients will cross paths and form community," said Gates.
Prenatal programs offered at other UCSF locations also focus on empowering expectant mothers and connecting them with others. UCSF's Centering Pregnancy Program, which is facilitated by certified nurse midwives, links women at a similar stage of gestation enabling them to share experiences on a regular basis through the postpartum period.
"I'm optimistic that our hospital marks a new chapter in women's health care" said Gates. "We have one of the lowest rates of C-sections and one of the highest rates of breastfeeding in the state. With the opening of UCSF Betty Irene Moore Women's Hospital, women can expect exceptional care in an esthetically pleasing, welcoming and respectful environment."
Women's Health Care: Who's Going Where?
Where will fibroid patients receive their care?
Office visits can be made at the Women's Health Center at the UCSF Mount Zion campus, as well as the new UCSF Betty Irene Moore Women's Hospital. Surgery will be performed at both locations.
What other surgical procedures will be carried out at UCSF Betty Irene Moore Hospital?
Gynecological and urogynecological surgeries will be performed at UCSF Betty Irene Moore Women's Hospital.
Where will the UCSF Women's Continence Center be located?
The center will be known as the UCSF Women's Pelvic Medicine and Reconstructive Surgery Center, to coincide with its opening at Mission Bay. The existing practice will remain at the UCSF Mount Zion campus. Most continence surgeries will be performed at the UCSF Betty Irene Moore Women's Hospital.
Where will pregnant women receive care and give birth?
Both routine and high-risk pregnancies will be monitored at the UCSF Mount Zion campus and the UCSF Mission Bay campus. Labor and delivery and the neonatal intensive care unit will be at UCSF Betty Irene Moore Women's Hospital.
Where will prospective parents go for IVF and other assisted reproductive technologies, including the fertility preservation program for cancer patients?
The UCSF Center for Reproductive Health will move to a new space across from the Mission Bay hospitals at 499 Illinois Street.
Where will women go for mammograms and breast cancer surgeries?
Mammograms and same-day surgeries will take place at the UCSF Mount Zion campus. For breast cancer treatment requiring longer stays, patients will go to the UCSF Parnassus campus.
Where will women go for screening and treatment of cervical dysplasia?
The Dysplasia Clinic will remain on the UCSF Mount Zion campus moving from the Helen Diller Family Comprehensive Cancer Center to the Women's Health Center.
Related Link