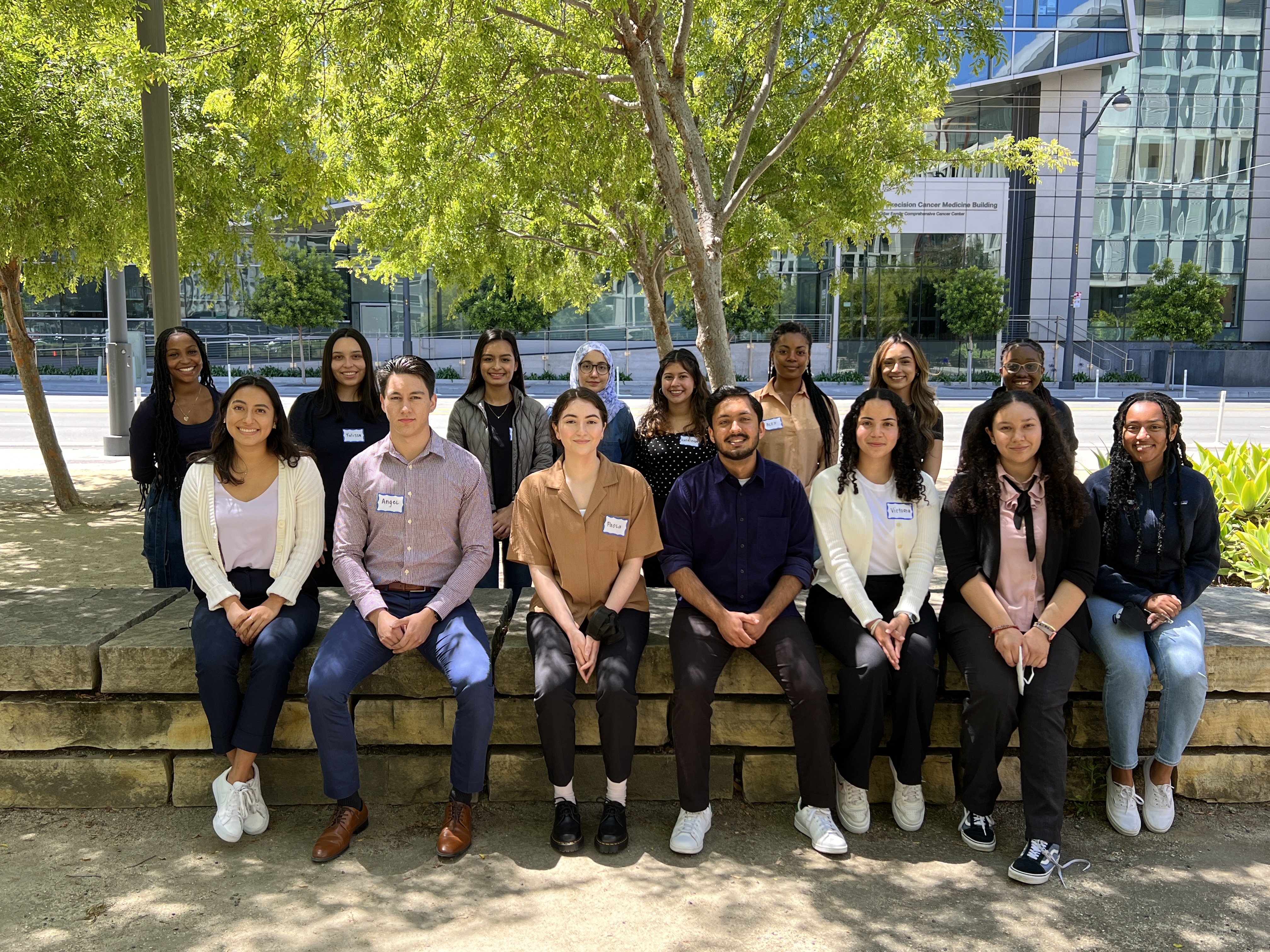 Founded in 2009, the UCSF/ Kaiser Permanente Undergraduate Research Internship (URI) was created to build a supportive pathway for underrepresented University of California, Berkeley, students interested in a career in medicine to address specific challenges these students face.
Annually, URI engages 16 interns in a meaningful summer research project, clinical shadowing at UCSF in OBGYN, Anesthesia and Family Medicine, didactics, leadership training, and extensive mentoring during the 8-week program. The program directors also offer mentoring through the medical school application process.
We are excited to share that we have successfully graduated a group of 16 exceptional students this summer. The 2023 URI interns had the opportunity to work with a diverse team of researchers and participate in various mentoring sessions with our URI leadership. They also had the chance to shadow professionals in specialties such as Ob-Gyn, Pediatrics, Obstetrics, Cardiovascular, and more. We invite you to watch our annual Research Symposium, where the interns presented their research and shared their experiences from their summers during the program. We hope you enjoy their fabulous presentations.
Program Outcomes
Our program has graduated 200 students as of 2022
URI by the numbers (all as of July 2023):
| | | |
| --- | --- | --- |
| Attended or are attending medical school | Matched into Residency | Are Attending Physicians |
| 77 | 38 | 13 |
| Embarked upon a Masters Degree program (MPH, MPP, MEd, MSc) | Currently Practicing as a Nurse Practitioner (NP) | Currently attending a program as a Physician's Assistant (PA) |
| 19 | 4 | 1 |
| Challenged themselves in a joint Masters and Nursing Program (MSN, RN, NP) and are practicing | Embarked upon a Fellowship Program | Are currently a practicing nurse |
| 5 | 4 | 7 |
| Inspired upon a joint MD/PhD program | Attended Dental School (DDS) | Are currently in a Nursing Program (RN) |
| 1 | 1 | 1 |
Please see a

full list of alumna, their achievements and schools attended
Here we are sharing our accomplishments and current stats of our current pathway program as they stand.
Alumni Engagement
The URI program has a growing network of URI graduates who contribute back through peer-to-peer support by mentoring new URI interns, and serving as ambassadors for our program.
Our Leadership
Please consider donating to URI - Our program cannot continue without your support. Donations will help us offset intern stipends and support our continuing effort to increase diversity in the health professions.  Go here to donate.
---
The application period for the Summer 2024 URI Program will begin on October 30, 2023, and will close on January 7, 2024, at 5:00pm PST.
---
Hear from URI Alums

"[URI] is such a motivator. I have never been so certain that I can become a physician one day. I hope other people who have similar goals can feel the same way I feel now." – URI Graduate
"URI restored my passion for medicine and my confidence that in making it. It also made me aware of the many ways to become a physician and gave me access to valuable contacts who can help me achieve my goals.!" - URI Graduate
Video Testimonials 
A few of our URI graduates have shared about their experiences in the URI program. See what they have to say!