This past summer, URI graduated its eighth cohort of UC Berkeley undergraduate students. We have been at the Mission Bay campus for two years now and feel right at home. Since their program, our interns have helped author research papers and presented a poster at Berkeley campus on original research in Anesthesia, while continuing their studies and applying for medical school.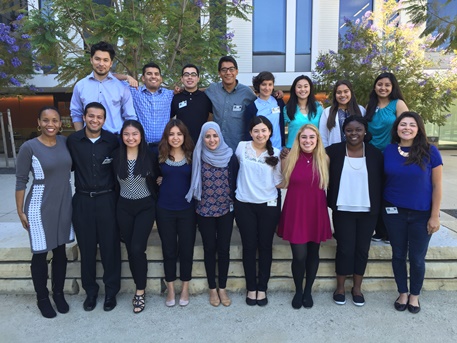 The URI 2016 Cohort with Dr. Andrea Jackson
"URI is life changing. All of the mentors and staff at URI are the reason why I can confidently say I am going to become a doctor. I don't think I would have been able to say that before I participated in the program!" – URI Graduate
"The URI program has been life changing for me. It has provided hope and support where previously there was doubt and fear. Through the friendships and mentorship the program helped harbor I adamantly believe the future of healthcare will be redefined in the years to come to adequately address the disparities and under-representation present. And for that I have the URI program to thank!"
– URI Graduate
Progress of Our URI Grads
Just to give you a quick update for this year, we have had four URI grads enter medical school:

Maribel Patino – UCSD (MD/PhD)
Hannah Yemane – UCSF
Justin Chin – Touro (NYC)
Leah Timbang – UC Davis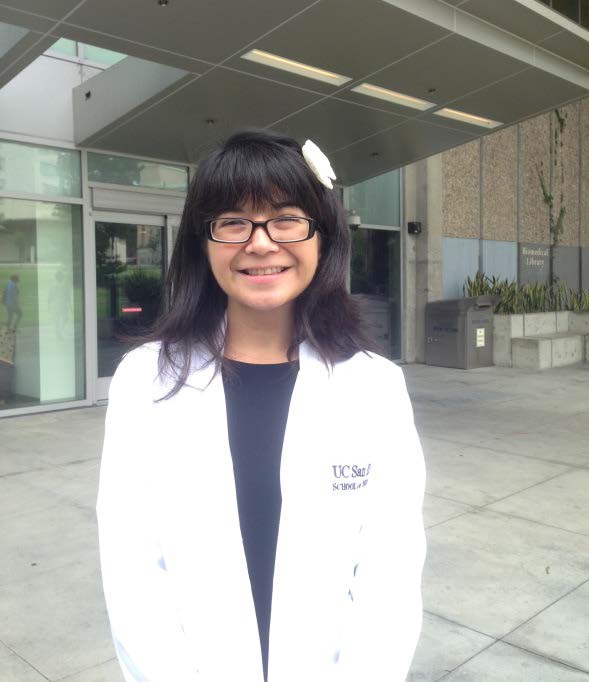 URI graduate Maribel Patino at UCSD Medical School in the MD/PhD program.
And one URI grad has started his residency in 2016: Victor Huang in orthopedic surgery at Las Vegas Community Hospital. We now have 27 URI graduates in health professional schools and are so proud of them, with 8 applying to medical school this year. URI mentoring continues on beyond the URI summer program and into medical school. We also have several URI graduates working at UCSF and Stanford in clinical research during their gap years before applying to medical school.
Research Symposium
The 2016 URI interns were mentored by a diverse group of researchers. This year, our URI interns presented on the following topics at our annual Research Symposium.
Elizabeth Gonzalez | Patient-centered Tools to Improve Shared Decision Making: PROCEED Study (Miriam Kuppermann, PhD, MPH)
Anthony Sanabria | Refining the Future Generations of Healthcare Professionals: Project IGNITE's Unique Error Disclosure Curriculum (Amin Azzam, MD, MA)
Alexis Montoya | Allopregnanolone: The Mechanism (Sindy Mellon, PhD)
Karla Luna Silva | New Public Health Threat: Zika Virus and Pregnancy (Cynthia Harper, PhD)
Jessica Reliford | Cytochrome p450 activity in placenta, fetal liver and adult liver (Joshua Robinson, PhD and Susan Fisher, PhD)
Carlos Molina | The common Hispanic mutation and how it relates to cerebral cavernous malformations (Helen Kim, MPH, MD)
Alondra Saenz-Alvarez | Validating a Photo Tool to Examine the Effectiveness of Water Access in Schools (Anisha Patel, MD)
Luis Rivera | Exposure to Toxic Environmental Chemicals and Reproductive Outcomes (Tracey Woodruff, PhD, MPH)
Cassandra Cu | Continuous Process Improvement: Making UCSF Better (Christy Boscardin, PhD)
Riya Desai | Improving Hospital Care for Breastfeeding Support in Indonesia (Valerie Flaherman, MD) Ana Gonzalez | Investigating Risk Factors that are associated with Diabetes Burnout (Megie Okumura. MD, MAS)
Roberto Mora | Molecular Phenotyping of a novel endometrial cell population expressing p63 (Linda C. Giudice, MD, PhD)
Rabiya Subedar | Contraceptive Effects on the Immune Environment of the Female Reproductive Tract (Karen Smith-McCune, MD, PhD)
Abigail Huliganga | Post-operative Delirium: Incidence Rates and Possible Treatment Options (Art Wallace, MD, PhD)
Alfredo Hernandez | Localization of M-Phase Promoting Factor Activity in Mammal Oocytes (Marco Conti, MD)
Nallely Montes | Disruption in meiotic division and telomere attachments (Jennifer Fung, PhD)