URI's 10th Anniversary Celebration
The Undergraduate Research Internship Program celebrated 10 years during a special anniversary dinner at UCSF Mission Bay on Monday, July 16, 2018.
URI's co-founders, co-directors, research mentors, URI graduates and supporters gathered together to commemorate this milestone and reflect on the many impacts of the program's first decade.
Photographer: Colin Huang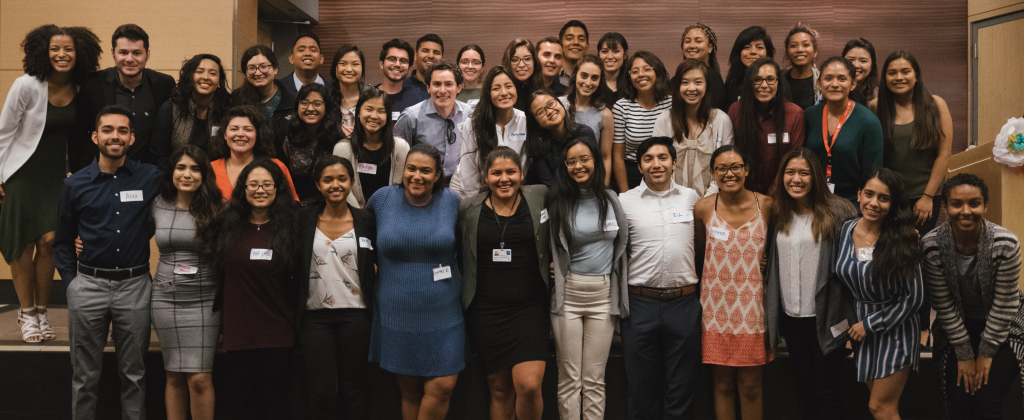 Pictured here: URI Alums and 2018 URI Interns at the 10th Anniversary Celebration in 2018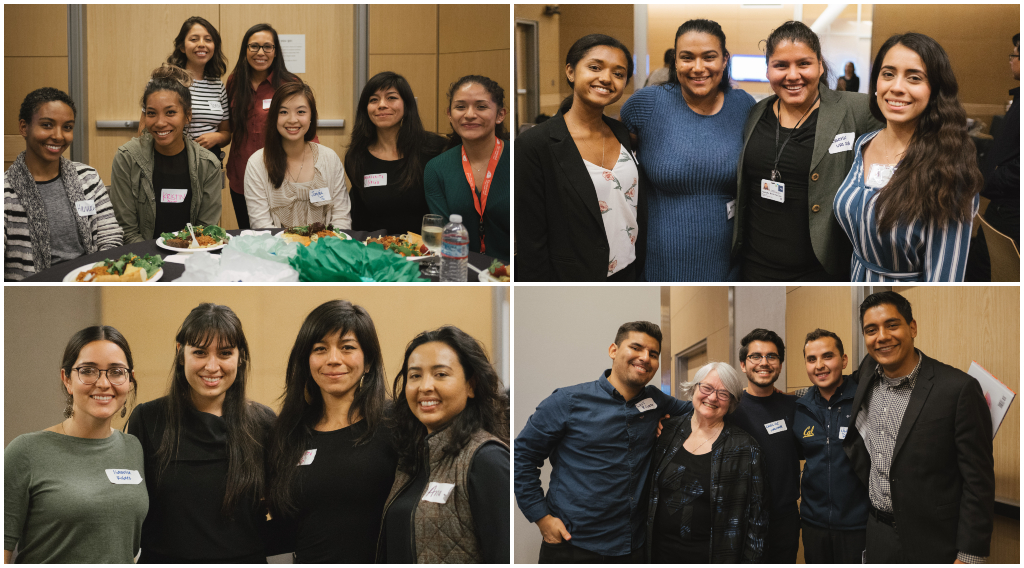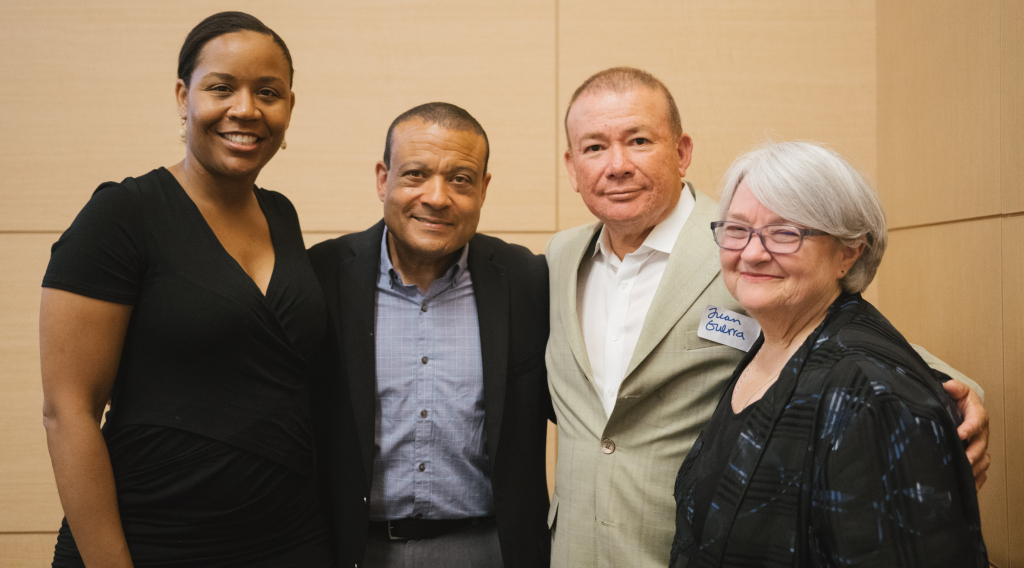 Pictured here: URI Co-Directors Dr. Andrea Jackson, Dr. Juan Guerra, & Dr. Patricia Robertson with Keynote Speaker Dr. Lee Jones
---
URI Program Update
During Summer 2018, URI graduated its tenth cohort of UC Berkeley undergraduate students.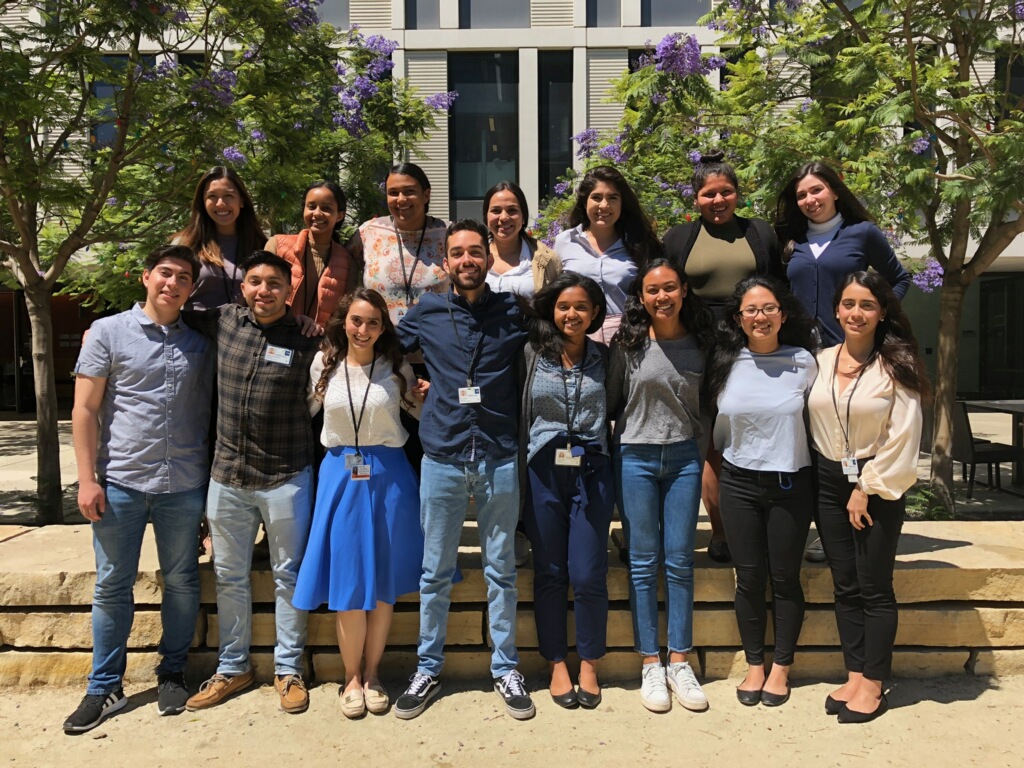 The URI 2018 Cohort
Research Symposium
The 2018 URI interns were mentored by a diverse group of researchers. This year, our URI interns presented on the following topics at our annual Research Symposium.
Betty Birbo | Patient-Centered Educational and Decision Support Tools (Miriam Kuppermann, PhD, MPH)
Natalie Aceves | Investigating Risk Factors that are Associated with Parent-Child Conflict in Patients with Type 1 Diabetes (MegieOkumura, MD, MAS)
Nina Nguyen | The Role of ERK 1/2 in Inflammatory Critical Illness (Judith Hellman, MD)
Alexander Felix | Perfusion Imaging of Brain Metastasis after Stereotactic Radiosurgery (Javier Villanueva-Meyer, MD)
Nhi Chu | Research on Expecting Moms and Sleep Therapy (REST) (Jennifer Felder, PhD)
Antonio Avalos-Perez |Role of Terlomerasein Promoting Homolog Fidelity via Telomere-led Chromosome Movement during Mecosis (Jennifer Fung, PhD)
Crystal Rubalcava | A Scoping Review to Understand the Impact on Healthcare Providers of Addressing Patient Social and Economic Needs in Clinical Care (Laura Gottlieb, MD)
Yessenia Hernandez-Cruz | Nonimmune Fetal Hydrops (Mary Norton, MD)
Fernanda Aguila | Improving Teens' Access & Knowledge of Contraceptives (Cynthia Harper, PhD)
Maria Del Toro | NIRSIT: Clinical Testing of Near Infrared Spectroscopy for Quantitative Assessment of Depression (Art Wallace, MD, PhD)
Semira Sherief | Postpartum Maternity Readmissions Project (Amanda Calhoun, MD)
Alejandra Rivas | Environmental Influences on Children Health Outcomes (Tracey Woodruff, PhD, MPH)
Kristiana Jordan | How to make a good egg: translation termination is decoupled from maternal mRNA stability during oocyte maturation in mice (Marco Conti, MD)
Rafael Verduzco | Worldwide Intelligence Kept-on Internet (WIKI) (Amin Azzam, MD, MA)
Maité Garcia | Navigating Error Disclosure Methods Through Health Professional School Curricula (Amin Azzam, MD, MA)
Julie Ho | Can zipcodepredict hypertension control at a student free clinic? (Manuel Tapia, MD, MPH)