This past summer, URI graduated its fifth cohort of UC Berkeley undergraduate students. 
2015 URI Cohort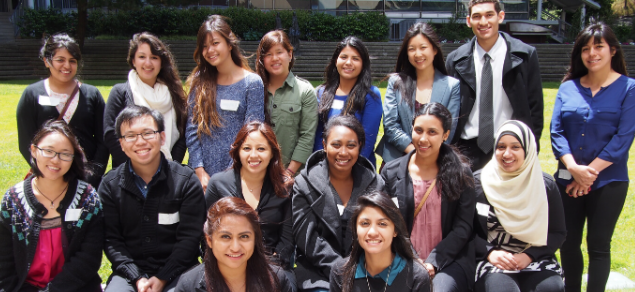 2013 Research Symposium
The 2013 URI interns were mentored by a diverse group of researchers. This year, our URI interns presented on the following topics at our annual Research Symposium.
Justine Huynh |Breast Pumping Experiences Among Mothers With Milk Supply Concern (Valerie Flaherman, MD).
Anahi Martinez | Spotlight on the Female Reproductive System: Investigations on the Molecular Basis of Endometrium Pathologies (Linda C. Giudice, MD, PhD, MSc).
Melanie Zamora | A Randomized Trial: Coding Patient and Provider's Exposure to Long-Acting Reversible Contraception Methods (Cynthia Harper, PhD).
Elizabeth Corral |Measuring oxidative stress markers of in vivo and in vitro fertilized blastocysts by Liquid Chromatography-Mass Spectrometry (Roy Roberto Gerona, PhD)
Diana Lopez | Mechanism through which Allopregnanolone treats inflammatory and neurodegenerative disease.
Justin Chin | The Effects of ECM Substrates on PGC Migration and Morphology.
Margarita Cobian | Provider trust in Patients.
Liliana Zarate | The Integration of 1st Year Medical Students into the Health Care Delivery System
Linda Pacheco | Pregnant Women's Attitudes and Preferences towards Non-Invasive Prenatal Testing (Miriam Kupperman, PhD, MPH).
Maggie Luu | Kinetics of Homologous Chromosome Pairing During Meiosis (Bennet Kalafut, PhD).
Fay Pon | Follicular Reserve in the Model of Decreased Mouse Fertility (Marco Conti, MD).
Karen Kwaning | Improving Water Intake Among Students in Middle Schools (Anisha Patel, MD)
Joseph Sandoval | An Analysis of The Jason Moore PBL Case.
Fabiola Guttierez | 21st Century Pregnancy: Technological interventions in the prenatal setting (Seth Bokser, MD)
Hira Safdar | The Combined Effect of Maternal Stress and Environmental Toxins on Fetal Development: A Systematic Review.