This past summer, URI graduated its ninth cohort of UC Berkeley undergraduate students. Since their time in the program, our graduates have gone on to attend medical school, published research articles, and traveled the world!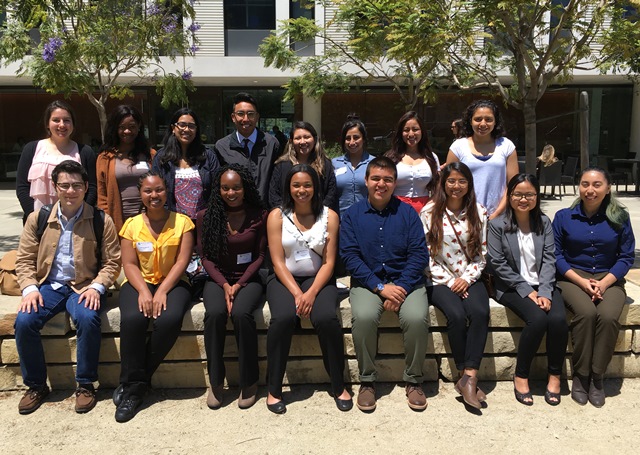 The URI 2017 Cohort
"[URI] is such a motivator. I have never been so certain that I can become a physician one day. I hope other people who have similar goals can feel the same way I feel now." – URI Graduate
"URI restored my passion for medicine and my confidence that in making it. It also made me aware of the many ways to become a physician and gave me access to valuable contacts who can help me achieve my goals!" - URI Graduate
Progress of Our URI Grads
Just to give you a quick update for this year, we have had two URI grads enter medical school:
Jessica Dominguez – UCSD
Jennifer Tu – Touro University California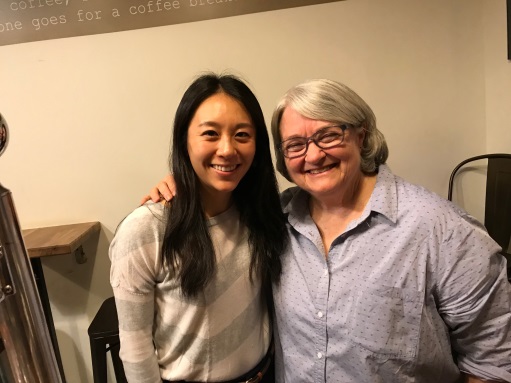 URI graduate Amy Yu with URI Co-Director Dr. Patricia Robertson
Research Symposium
The 2017 URI interns were mentored by a diverse group of researchers. This year, our URI interns presented on the following topics at our annual Research Symposium.
Seraina Aguilar |The Development of the Microbiome: A Study Conducted on Infants at UCSF (Valerie Flaherman, MD, MPH)
Jessica Flores | PROCEED Study: The way in which Latinas make a delivery choice (Miriam Kuppermann, PhD, MPH)
Cassandra Quijada |Are Neurosteroids ligands for the TGR5 receptor? (Sindy Mellon, PhD)
Kristin Hildreth | Contraceptive Educational Intervention in Community Colleges (Cynthia Harper, PhD)
Luis Galvan | Critical Analysis of Chronic Care Management at Clinica Martin-Baro (Manual Tapia, MD, MPH)
Nancy Gutierrez | UCSF's Program on Reproductive Health and the Environment: Chemicals in Our Bodies (Tracey Woodruff, PhD, MPH)
Sanskriti Saxena | IGNITE-ing the Flame for IPE (Amin Azzam, MD)
Lule DeShields | How does doctor-patient communication affect medicine adherence for African Americans with Cardiovascular disease? (Richard Grant, MD, MPH)
Oluchi Okwu | The Impact of School Water Access and Promotion Intervention on Student's Beverage Intake (Anisha Patel, MD, MSPH)
Conny Rios | Comparison of implantation sites in embryos generated in vivo or by in vitro fertilization (IVF) (Paolo Rinaudo, MD, PhD)
Joselvin Galeas | Is the function of the RNA binding protein Dazl necessary for oocyte maturation? (Marco Conti, MD)
Audrey Koti | NIRSIT: Clinical Testing of Near Infrared Spectroscopy (NIRS) for Quantitative Assessment of Depression (Art Wallace, MD, PhD)
Shivany Condor Montes| Data Metrics to Improve Clinical Practice of Residents and Fellows (Christy Boscardin, PhD)
Hanh Do | Chromosomal Microarray in Prenatal Genetic Testing: Who is getting the offer? (Mary Norton, MD)
Laura Rojas Miranda | NTSV C-Section Rates of Induced Patients (Amanda Calhoun, MD, MPH)
Raul Ruiz Perez | NTSV C-Section Rates of Induced Patients (Amanda Calhoun, MD, MPH)