Our Volunteer Clinical Faculty (VCF) members are crucial to our mission of teaching women's health to our UCSF medical students, residents and fellows. From facilitating small group learning in the first two years of medical school, to teaching pelvic exams, to supervising the learning of surgical technique in the operating room, our VCF faculty impart their expertise in women's health to the next generation of clinicians in obstetrics and gynecology. Our teaching sites include the UCSF Mission Bay/Mount Zion campus, Zuckerberg San Francisco General Hospital, Marin Maternity Services, California Pacific Medical Center, Kaiser Oakland, San Francisco, Daly City, Redwood City, Union City, and Highland Hospital, as well as Kaiser Walnut Creek, Alta Bates, and Kaiser Honolulu for our residents.
We deeply appreciate the countless hours and intense passion for teaching, so generously donated by our Volunteer Clinical Faculty.
Thank you!
Mary Norton, MD
Professor and Interim Chair
Meg Autry, MD
Professor and Director of the Residency Program
Jeannette Lager, MD, MPH
Professor and Director of Medical Student Education
Naomi Stotland, MD
Associate Professor and VCF Director of Medical Student Education
---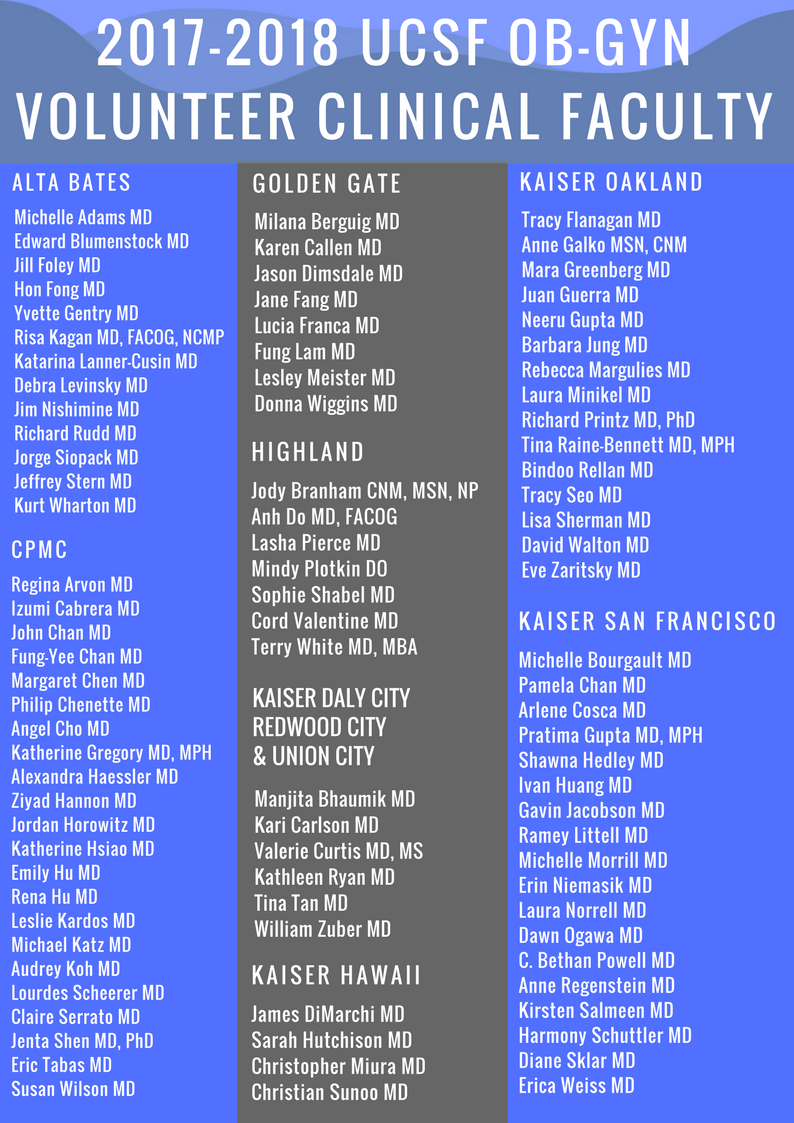 ---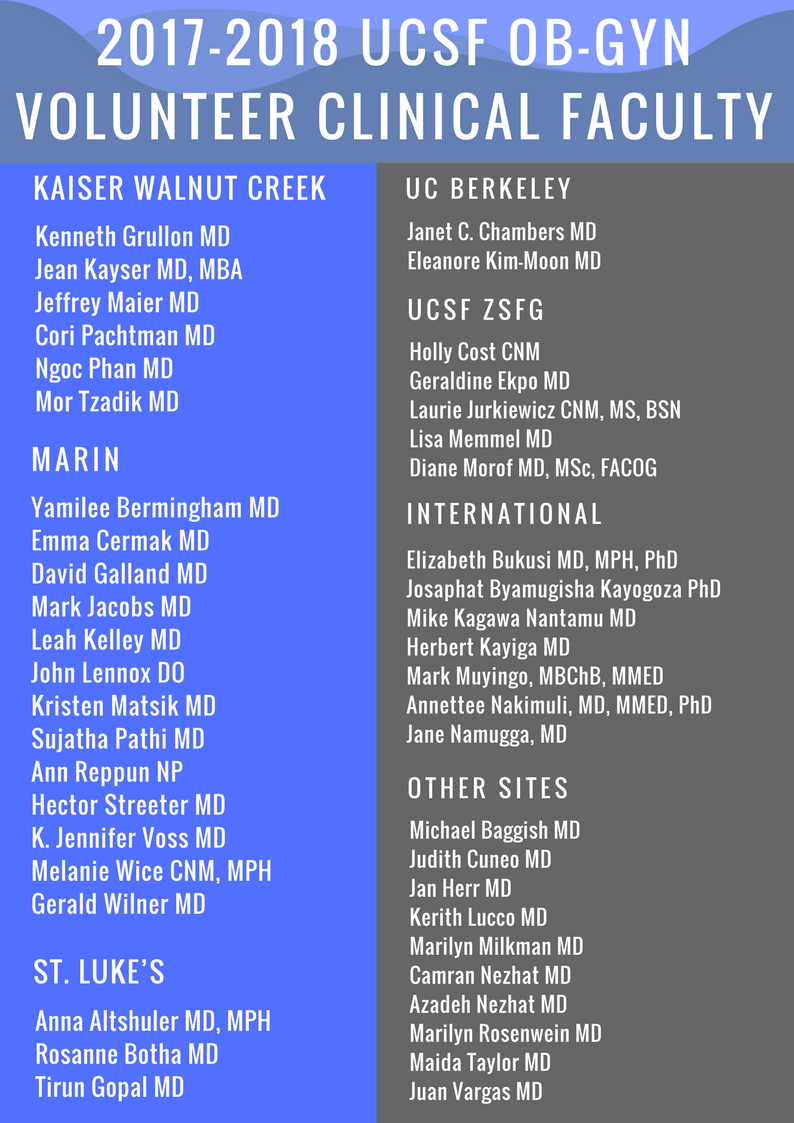 ---
We are happy to announce our 2016-17 Annual Teaching Awardees!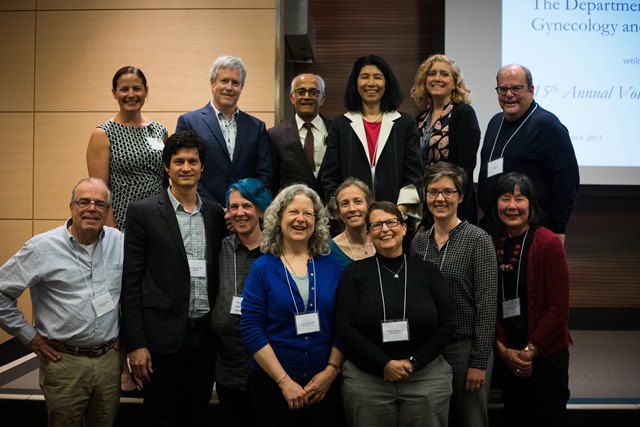 2016-17 VCF Medical Student Teaching Awardees Pictured Above 
---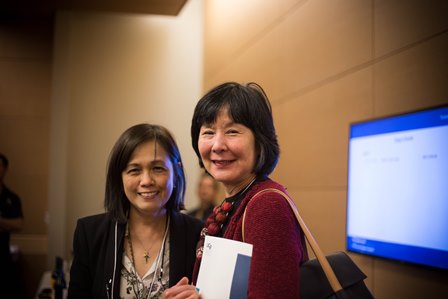 We are particularly grateful to two of our Outstanding Teaching Awardees, Dr. Lourdes Scheerer and Dr. Margaret Chen, for their many years of service teaching UCSF medical students.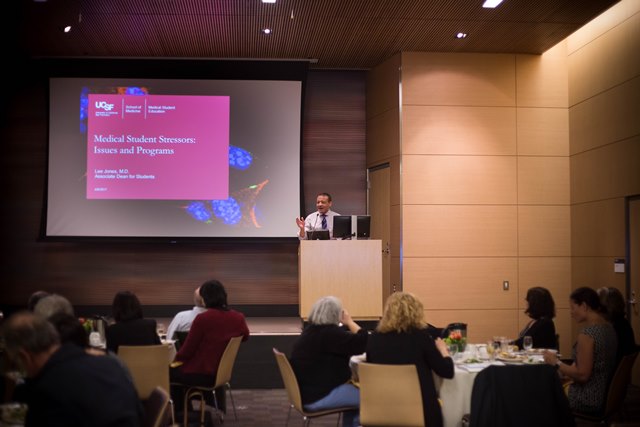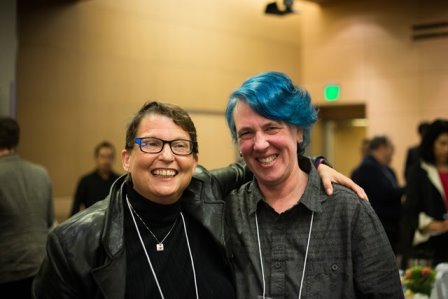 VCF Sites

2016-2017 UCSF VCF Teaching Awards for Excellence in Medical Student Teaching
in Obstetrics and Gynecology

Alta Bates Summit Medical Center
California Pacific Medical Center (CPMC)
Highland Hospital
International
Kaiser Antioch
Kaiser Daly City
Kaiser Honolulu, Hawaii
Kaiser Oakland/Richmond
Kaiser Redwood City
Kaiser San Francisco
Kaiser Walnut Creek
Marin
San Francisco General Hospital (SFGH)
St. Luke's
University of California, Berkeley, Joint Medical Program

Manjita Bhaumik, MD (Kaiser Redwood City)
Michelle Bourgault, MD (Kaiser Daly City)
Emma Cermak, MD (Marin)
John Chan, MD (CPMC)
Margaret Chen, MD (CPMC)
Philip Chenette, MD (CPMC)
Valerie Curtis, MD, MS (Highland)
Anne Galko, MSN, CNM (Kaiser Oakland)
Tirun Gopal (St. Luke's)
Jordan Horowitz, MD (CPMC)
Gavin Jacobson, MD (Kaiser San Francisco)
Michael Katz, MD (CPMC)
Audrey Koh, MD (CPMC)
Kerith Lucco, MD (La Clinica, Oakland)
Laura Minikel, MD (Kaiser Oakland)
Michelle Morrill, MD (Kaiser San Francisco)
Laura Norrell, MD (Kaiser San Francisco)
Bindoo Rellan, MD (Kaiser Oakland)
Kathleen Ryan, MD (Kaiser Daly City)
Lourdes Scheerer, MD (CPMC)
Sophie Shabel, MD (Highland)
Lisa Sherman, MD (Kaiser Oakland)
Jenta Shen, MD, PhD (CPMC)
Diane Sklar, MD (Kaiser San Francisco)
Eric Tabas, MD (CPMC)
Terry White, MD (Highland)
William Zuber, MD (Kaiser Daly City)

 

2016-2017 UCSF VCF Teaching Awards for Excellence in Resident Teaching
in Obstetrics and Gynecology

 

To Be Posted Soon